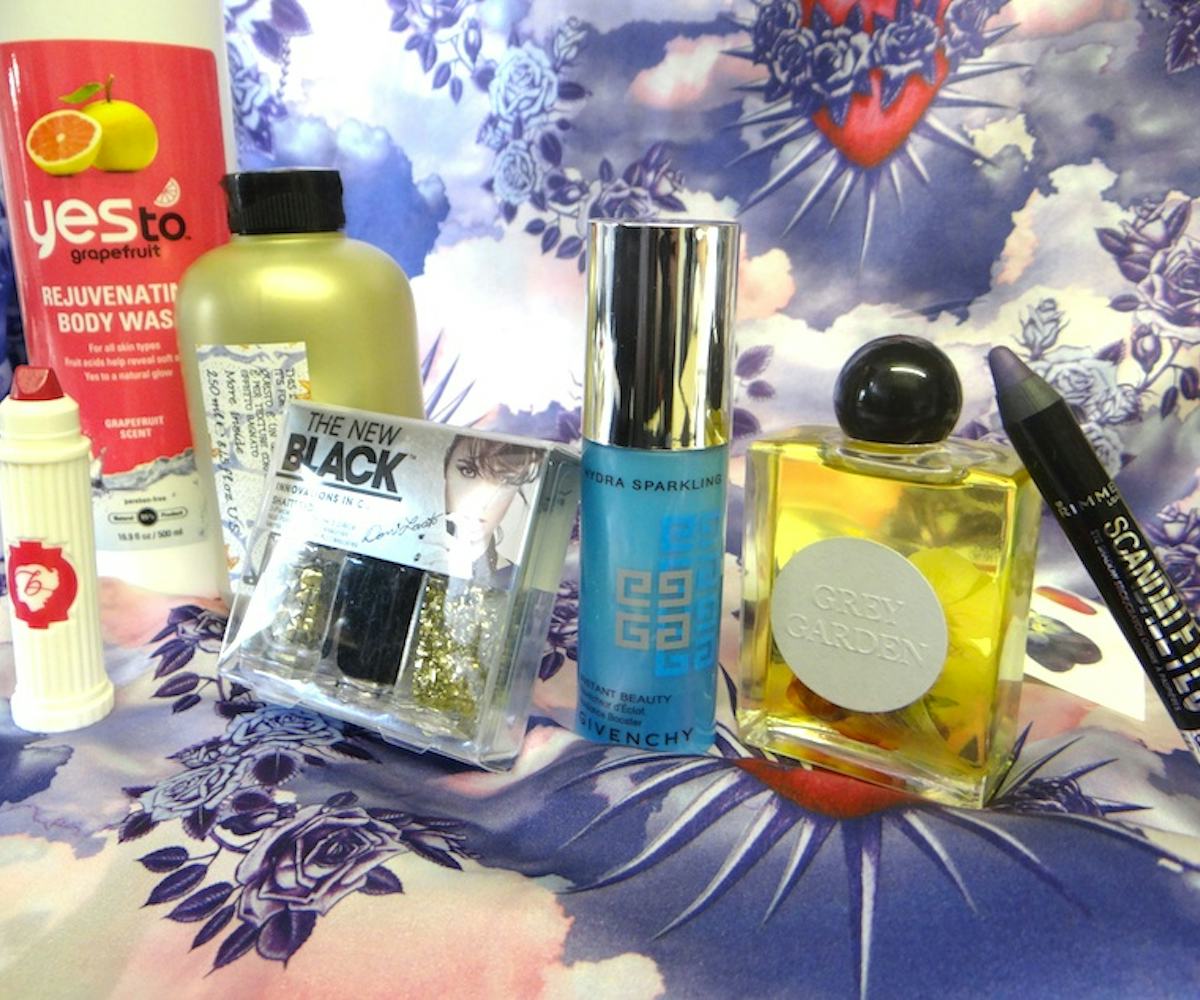 vanity case
demi lovato's nail polish collab and more of our fave products this week!
OLFACTORY GIRL
WHAT IS IT:
WHY I LOVE IT:
The obvious thought when first hearing the name of this scent is, of course, the iconic 1975 documentary
Grey Gardens
starring "Little Edie" and "Big Edie." And to not to be totally gross, but for those who watched the film, it should go without saying that nobody would actually want to smell like them. (Sorry, it's true!) But this scent is all I've been wanting to smell like lately. Made from premium grade rose absolute and plant-based essential oils, the citrusy and bergamot fusion is the perfect balance of fruity and musky. The coolest part? There are pressed blooms (!!!) that float in the fragrance, and for a limited time it comes with a complimentary set of assorted pressed flower temporary tattoos!
FOR THOSE:
Who like to hoard fragrance.
FLAMING LIPS
WHAT IS IT:
Benefit Cosmetics Hydra-Smooth Lip Color in Dare Me
WHY I LOVE IT:
Lipsticks have shape-shifted since they were first conceived, but these brand new Hydra-Smooth Lip Color's have certainly made their mark (pun totally intended). They're equipped with a double-slanted marker tip purposely designed to define, fill, and layer pigment on your lips, and are available in 10 awesome colors, each with different coverage levels. My fave? "Dare Me," a fuchsia-red hybrid that goes on smooth--thanks to the shea, mango butter, and vitamin E ingredients found inside--and lasts all day.
FOR THOSE:
Who also like to hoard lipstick.
EYES WIDE SHUT
WHAT IS IT:
Rimmel London Scandal'Eyes Shadow Stick in Paranoid Purple
WHY I LOVE IT:
In last week's
I explored burgundy eyeshadow, and now, I'm experimenting with a purple shadow stick. (Who am I?) For years I've opted for the conventional nude color palette when it comes to eye makeup, but recently, I've been really digging throwing in various shades of purple to my normal routine. Maybe it's because they're flattering with my hazel eyes, maybe I'm getting more ballsy with my eye makeup, or maybe it's because I'm going through a quarter-life crisis--I'm not totally sure. This Shadow Stick in Paranoid Purple has a super jumbo applicator--to use as an eyeshadow or an eyeliner--and leaves an intense color payoff with a luminous finish.
FOR THOSE:
Who aren't afraid to try something new.
CLAWS OUT
WHAT IS IT:
The New Black Demi Lovato Shattered 3-Piece Set
WHY
I LOVE IT:
Our cover girl Demi Lovato has certainly proven in the past few years that hard work pays off. Besides gracing the most awesome magazine in the world, Lovato is continuing to build her empire with her newest collaboration with nail geniuses The New Black. Launching three $14 three-piece kits and two $22 five-piece kits, the sets come with everything that Lovato is known for: bold colors, studs, and glitter. The standout? A three-piece "Shattered" kit that comes with black nail polish, textured gold leaf foil, and black gold studs. The nail art possibilities may be endless, but no matter what your DIY vision is, you know it's going to look f****** awesome.
FOR THOSE
: Who love Demi Lovato, duh.
BODY ELECTRIC
WHAT IS IT:
Yes To Grapefruit Rejuvenating Body Wash
WHY I LOVE IT:
Earlier this year Yes To added a new fruit to their beauty bounty: grapefruit! Why? Because it's rich in Vitamin C and Lycopene, both of which help to even skin tone and enhance luminosity for smoother and softer skin, duh. The entire line of Yes To Grapefruit is genius (truly, I recommend it highly), but my latest obsession has been the Rejuvenating Body Wash. The exfoliating fruit acids perk you up while the refreshing citrus promotes healthy skin--not to mention, it smells amazing. 
FOR THOSE:
Who like to sing in the shower.
FACE TIME
WHAT IS IT:
Givenchy Hydra Sparkling Radiance Booster
WHY I LOVE IT
: Fact: we all want to be naturally radiant looking. Harsh fact: this almost never happens during the brutal winter months. However, I may have found the cure in Givenchy's Hydra Sparkling Radiance Booster, a lightweight serum-esque liquid that erases gray skin tones and any signs of dullness with one layer. I've been using it for a week now and I can already see a huge difference of that "natural glow" people always rave about, which I honestly believed to be a myth. Needless to say, I'm stocking up on this magic juice during the season.
FOR THOSE:
Who hate the cold.
HAIR METAL
WHAT IS IT:
Davines This Is A Medium Hold Modeling Gel
WHY I LOVE IT:
To be honest, hair gel makes me cringe. Maybe it was those countless hours I spent during middle school slathering it on my hair for that "crunchy" look--remember that?--or maybe it's because every time I've used it my hands end up sticky and gross, regardless of how many times I wash them. So, naturally, I was a bit jaded when I attended the launch of Davines "More Inside" collection and was told that their This Is A Medium Hold Modeling Gel, "Doesn't feel like a normal hair gel." Reluctantly, I placed the product in my hand, massaged it together in my hands, and holy shit, it didn't feel sticky or gross at all. Obviously, I was amazed, so I vowed to start using it in my hair, and I'm so glad I did: The formula defines, structures, dries quickly sans residue, gives body to curls, eliminates frizz, and can produce an awesome looking wet look style if desired. For day-to-day use I apply it on any flyways or frizz I have, but for special occasions I've been using it for clean-looking, slicked-back pony tails and buns--and no, I won't be trying to revive the "crunchy look" any time soon.
FOR THOSE:
Who had as many beauty regrets in middle school as I did.