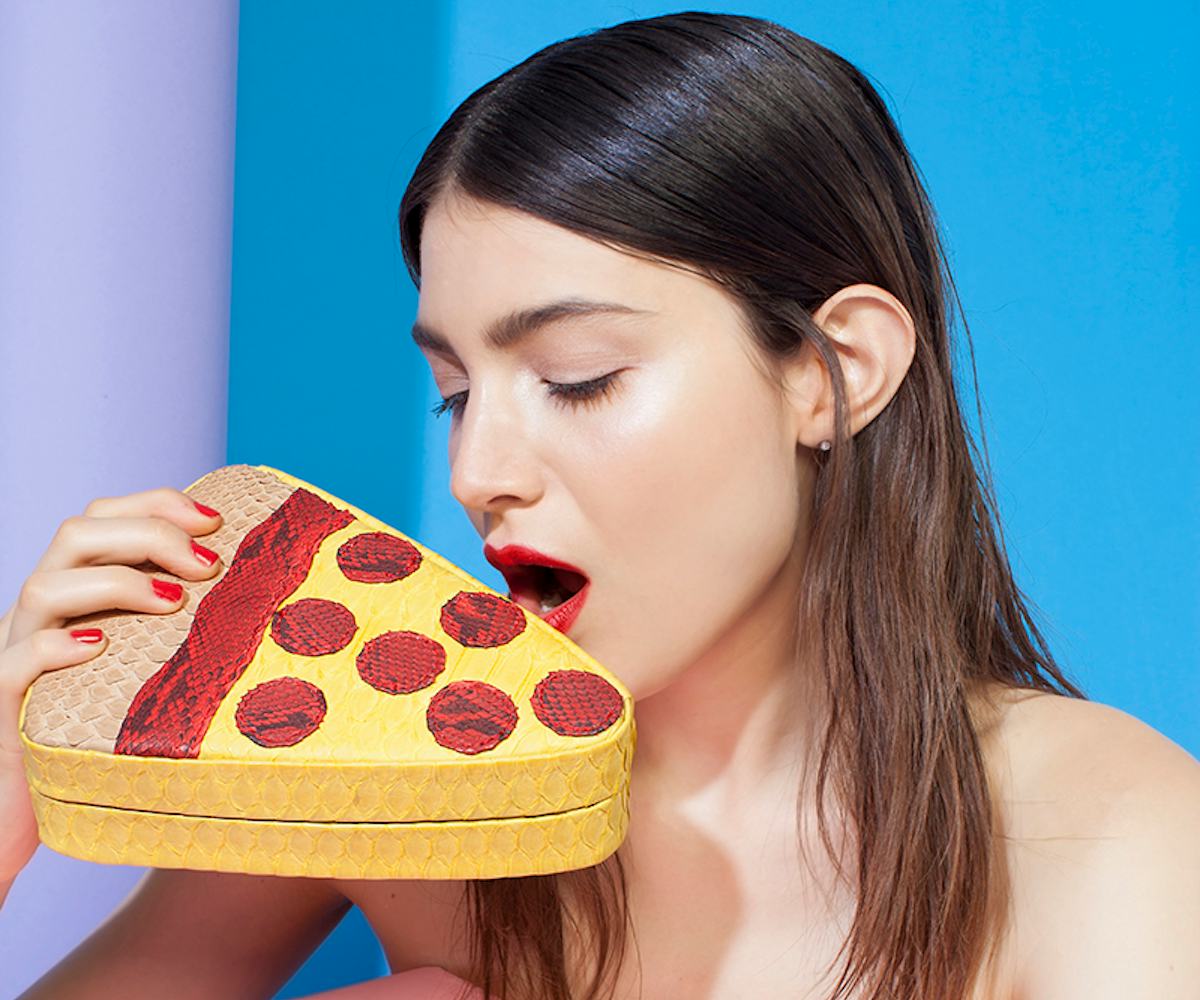 Photo courtesy of Gelareh Mizrahi.
Get To Know The Designer Behind The Coolest Clutches In The World
designer dispatch: gelareh mizrahi
Iranian-born accessories designer Gelareh Mizrahi was going to be a lawyer before her fashion calling became undeniable. The 32-year-old Parsons grad launched her eponymous brand in 2013 and grew it on a shoestring budget with her own two hands (and some help from YouTube tutorials when necessary). By now you've seen her playful python clutches—from pizza to a gap-toothed pout—all over fashion week and Instagram. Here, Mizrahi tells us about herself and her work.
Hometown: North Potomac, Maryland.
Astrological sign: Virgo.
Design philosophy: "I do what I want." I started saying this to tease my husband when we first got married. Now it's become a set of words to live by that reflects an inner rebellion—a quest to do what I love, not just what's expected.
Muse: A human hybrid of Angelica Pickles and Method Man
Materials of choice: At the moment, it's python. Python power! But I know the python bags are super special and expensive, so I have also started making pins and other little goodies to share my vision in a more accessible way.  
Sartorial scenario: A magical universe set atop Chloe Nørgaard's head in between her colorful locks  
Fun fact: The day after I gave birth to my son I had to send out my two largest shipments. While I was in bed with my baby, my husband went home from the hospital, packed up boxes of bags, made all of the packing slips and invoices, and shipped everything out for me. 
Inspiration for fall '15: It's called The Trip Collection, the follow-up to The Stoned Collection. It's all about saying "peace out" to this universe and going for a ride in your rocket ship to the other side of the rainbow where little green men rock out to the Wu-Tang Clan. 
Personal wardrobe staple: Super-tight high-waisted black jeans, super-soft round-hem long black T-shirt, black YSL leather jacket, four-inch heels or higher, and my black python bucket bag with a hidden smiley face detail.
Last novel you loved: The Final Testament of the Holy Bible by James Frey.
Favorite film of all time: District 9. It reminds me of when I first moved to New York and was living on my cousin's couch while going to Parsons. 
Daily soundtrack: "HYFR" by Drake.
Drink order: Michelada.
Standby snack: Super sour Mexican candy.