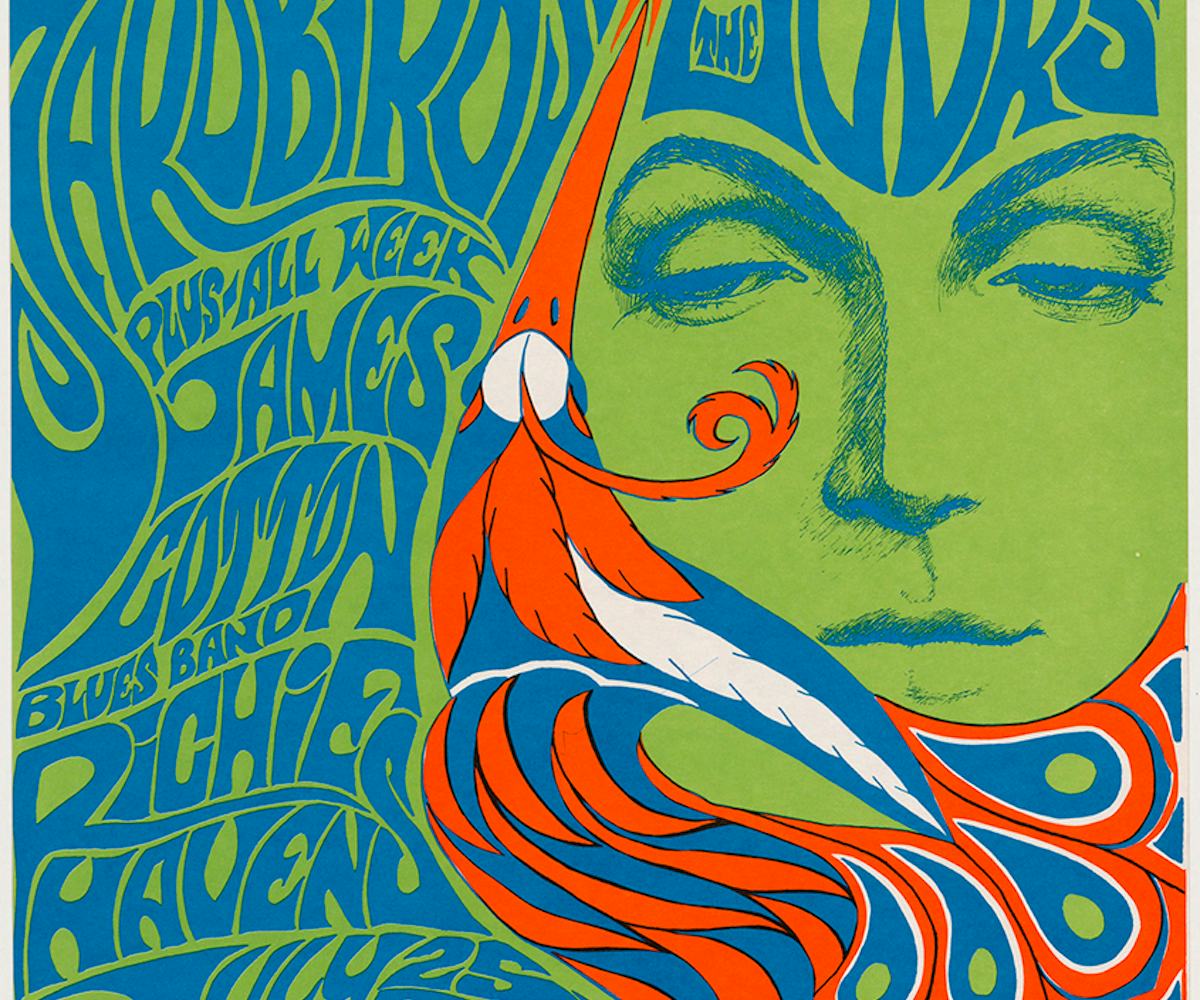 artwork by Bonnie Maclean (American, born 1949). The Yardbirds, The Doors. 1967. Offset lithograph, 21 ¼ x 14? (54 x 35.5 cm). The Museum of Modern Art, New York. Purchase
art attack: designing modern women
the museum of modern art takes on patti smith and blondie.
When you think of women in design you probably think of one of two things: female fashion designers or marathons of Designing Women on TV Land. (Both are awesome, we'll admit.) Designing Modern Women: 1890-1990 at the Museum of Modern Art in New York is about to broaden your horizons with a retrospective of female contributions to the broader field of design. 
This isn't just a showcase of the Ray Eames or Sophie Tauber Arps of the art and design worlds, nor is it a heady exploration that non-art nerds won't be able to relate to; this exhibit runs the gamut of mediums, artists, and movements meaning there is truly something for everyone to love. From Anni Albers' Bauhaus designs for wall hangings to Robert Mappelthorpe's photos of Patti Smith to Jules Cheret's famous posters for Loie Fuller at Folies Bergere, the galleries are full to the brim with inspirational and interesting objects for, by, and about women. 
Perhaps the coolest pieces in the exhibit are Bonnie MacLean's concert posters from the '60s for bands like Pink Floyd, The Doors, Buffalo Springfield and more for shows at San Francisco's Fillmore Auditorium. MacLean's creations combine sweeping Art Nouveau stylizations with LSD-inspired colors. Translation: these are the best posters ever. But if the '60s aren't your scene, maybe you'll find yourself at home in the exhibit's punk section featuring Roberta Bailey's photograph of The Ramones that became their first album cover, Linder's provocative poster design for The Buzzcocks, and a truly radical poster by Luba Lukova showing the tuning pegs of a guitar as knives. 
If this seems low on mid-century modernism so far, think again, folks. For the first time on view is a kitchen design by Charlotte Perriand and Le Courbusier that will make your Easy Bake Oven look a little sad. (Or is it more sad that in my mid-twenties the only oven I know how to use is of the Easy Bake sort?) There are of course, a few Eames pieces to love as well as some objects from other modernism greats like Mies van der Rohe and Frank Lloyd Wright.
So, if you're feeling a little down and in need of a dose of girl power, I'd recommend getting on the train to the MoMA (that's the E or M to 53rd/Fifth Ave.) or checking our the objects on view from the exhibition online here. Just remember: Girls rule, boys drool!