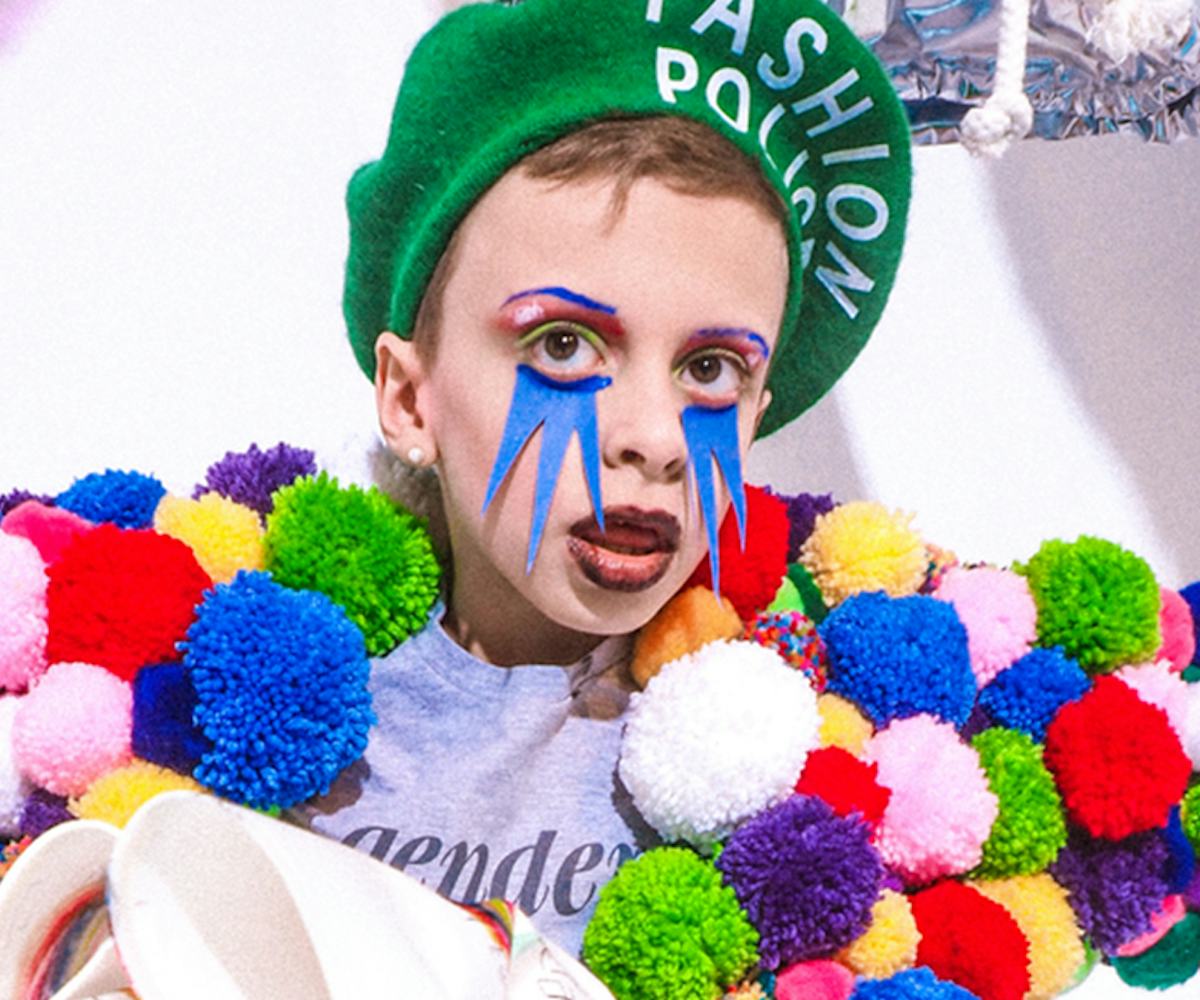 Photo by Felicia McGowan
Next Gen Drag Queens Have An Amazing Young Role Model
Get to know 11-year-old Desmond Is Amazing
The concept of "you do you" has no age restriction these days. Need proof? Just look at 11-year-old Desmond Is Amazing, aka Desmond Napoles, one of a growing population of colorful "drag kids" that includes 8-year-old Cotton Candy, 11-year-old Pinky Punch, 10-year-old Lactacia, and 14-year-old Queen Dee. In fact, Desmond and a handful of glittery pre-adolescent and teenage peers recently took the stage at NYC's Wigstock with some of drag's biggest stars and legends and posed for a Bricks Magazine editorial.
Raised by parents Wendy and Andrew in Brooklyn, Desmond demonstrated a flair for dressing up even as a toddler. He identifies as male and gay and has a deep appreciation for seminal LGBTQ icons, artists, and activists like Marsha P. Johnson, Keith Haring, and Divine. In 2014, he appeared as a flapper in a music video by RuPaul's Drag Race winner Jinx Monsoon, and went full-on viral a year later when he caught the media's eye at NYC's Pride. This past June, he was interviewed on the TODAY show. Just on Friday, he walked in the Disney Villains x The Blonds NYFW show.
While Desmond has accrued thousands of followers and fans, called "Amazies," the hatred and venom from homophobes and online trolls can get intense. Comments like "Kill yourself!" "Burn It With Fire!" and even accusations he's involved with the cockamamie "Pizzagate" conspiracy routinely plague Desmond's social media. Yet he remains literally sparkly, as well as upbeat and adorably eccentric. Wendy, who acts as his full-time manager and publicist (Andrew's an IT technician), accompanies Desmond to media appearances, including NYLON's chat at a Manhattan Starbucks. Desmond arrives dressed in a purple-and-black stipe muumuu, black wig with squiggly neon green bow and matching Chimera eyelashes, googly-eyed goggles, and a camouflage jacket emblazoned with "Drag Kid."
Check out our conversation with Desmond, below.
So when did you get bit by the drag bug, Desmond?Desmond: When I was two years old, I watched RuPaul's Drag Race. I was playing with my toys, and I looked up and stopped playing and pushed the toy trains to the side.
And you remember this, at two years old?D: Yes. Weeerrrkkk.
Wendy: To me, his reaction was similar to when kids see the Disney princesses or something. They're such bright, happy, colorful characters, that it attracted him in the same way. I thought it was pretty harmless—any double entendre on the show or adult material went over his head. It still does, he doesn't understand some of the jokes.
What do you like most about embodying a female character? What does it allow you to be or do?D: I can do whatever I want, as long as it's not provocative. I don't think drag kids should be provocative. It should be fun, amazing, cool, and you can do whatever you want!
Is there something you can express in drag that you can't when you're just Desmond the boy?D: I'm the same person, except not doing interviews. I'm just playing around with my toys and video games. I think I'm a normal person. I am a normal kid. I do drag, and that's the only difference.
Wendy: He doesn't really have a character in drag. He's himself but in a more artistic way.
How do you feel about the media attention?D: I love the media attention, but I don't like the hate. Hating on me because I'm expressing myself is not okay. I'm not hurting you, I'm not hurting him, or the person on the sidewalk. I'm not hurting anyone.
W: I think it's absolutely fabulous because he's able to inspire so many people out there. There are kids out there hurting or not sure how their parents would react or can't be themselves at school. The fact they have someone to look up to because of to his visibility, I'm proud of that. But at the same time, there's a lot of hate we deal with every day that's a heavy burden to bear.
The other day a gay nine-year-old in Denver named Jamel Myles killed himself because of bullying. What is your reaction to those kinds of reports, Desmond?D: I heard about it today. I thought, That can't happen nowadays. I want little gay boys to not commit suicide because you have a future ahead of you. And yet schools decline to have anti-bullying classes. Why would schools not want to have anti-bullying classes? Or preventing fights in your school?
What was your last experience with personally being bullied or harassed? D: A couple of weeks ago when some construction workers in Tribeca said, "That better not be a boy in a dress." I rolled my eyes at them and said, "Well, it is." I just shaded them.
W: We've had adults pass him and say things like, "You don't belong in America." Or, say, "Fag." To a kid!
No one should ever have to say they're used to hate, but after seven years of this, I'm used to hate. If a kid is getting bullied, we tend to sit down with [that kid] and talk, but [we don't] with the kid who is bullying, and I think that kid is having issues, and by punishing them, you're bullying them back. It doesn't solve the issue that's underlying. It's not a good way to make bullying stop. But I'm not about to confront his haters on why they want to burn him!
What are your friends like?D: I have drag kid friends, but I don't really have many friends at school because they don't want to be near me. I'm starting a new school, so maybe I'll have a fan there.
Who are some of the women you admire?D: Lady Gaga. Madonna. My mom. Diana Ross.
I see you did a photo shoot recently with other drag kids. Have you met any little girl "drag kings" yet? D: No.
Would you like to see that?D: Definitely. Drag kings need to be more out there.
Who are your favorite designers?D: Alexander McQueen. My mom, because we always make my outfits together. Vivienne Westwood, Betsy Johnson. Milan Britton. Me and my mom are great friends with Milan. Richie Rich. Comme Des Garçons. Jean-Paul Gaultier.
What about today's ensemble? Where did you get it?It's thrift. Go to Out of the Closet for the most fabulous thrift store clothes. And do not shop at fast fashion stores like H&M, Zara, Uniqlo, Old Navy, Gap, Urban Outfitters, etc., because they make poor people in countries like Bangladesh work in very poor conditions, even some collapsing buildings have fallen. I hate fast fashion, honestly.
W: He watched the documentary The True Cost, and it affected him greatly.
Let's talk politics. What do you do when you see Donald Trump or hear his name?D: I think of that giant poisonous snail with Donald Trump's hair color from the Harry Potter and the Philosopher's Stone video game.
Do you wish you could vote in the upcoming elections? Should kids have a say?D: Yeah, now that Donald Trump is president. But I think it's good to wait until you're 18. Little kids should learn about politics and how to vote before you're 18.
Is there anything else you really want people to know about you, Desmond?D: That I'm not being forced to do this. If you just realize that I'm expressing myself nicely, and my mom's not abusing me, you might see me in a different perspective. Be yourself always, no matter what everyone says, and pay the haters no mind because they will never be as fierce as you and I.
Desmond Is Amazing will appear at RuPaul's Drag Con NYC this month and speak about being a child social media influencer at NYC's Abrons Arts Center on October 25.