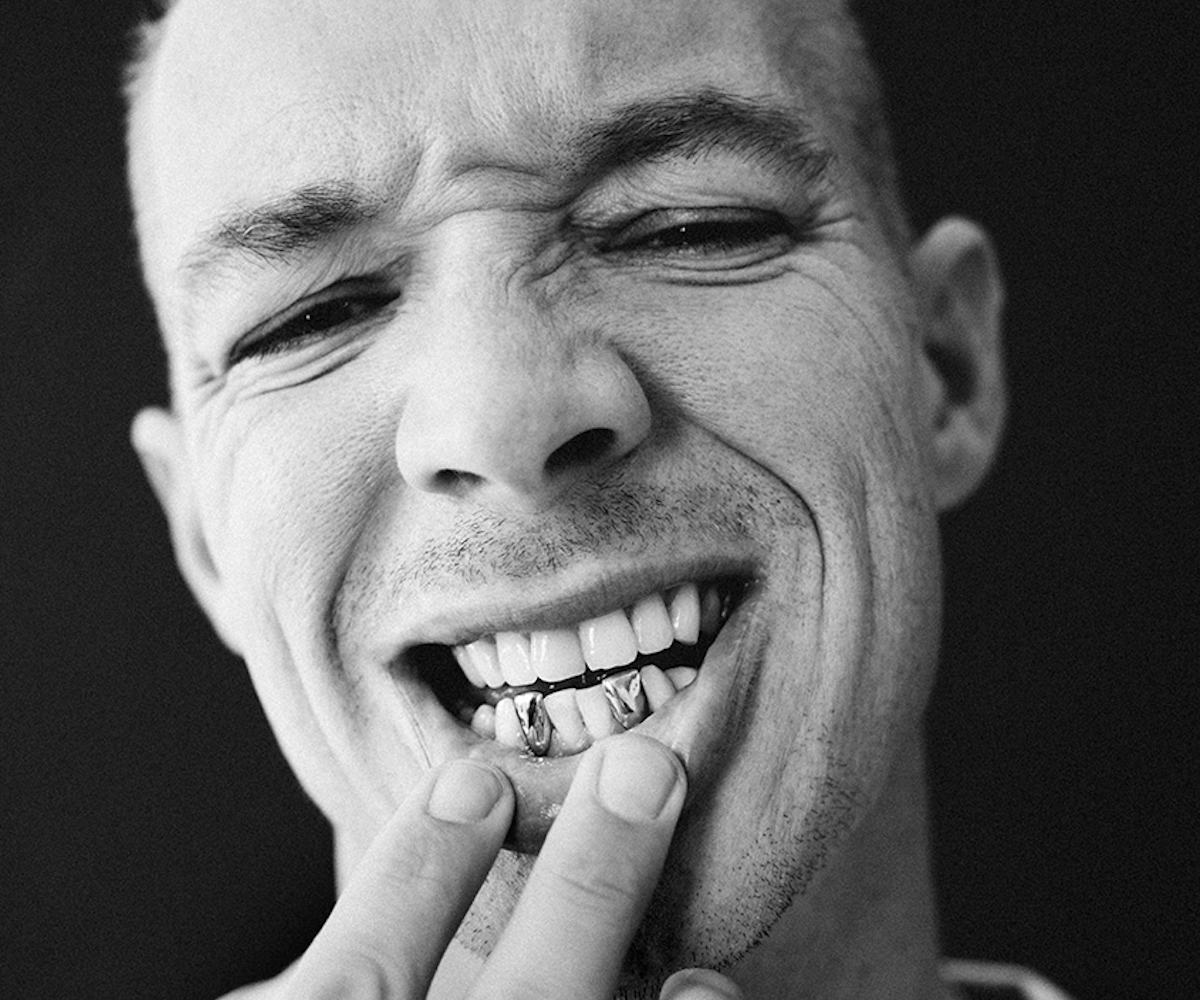 Photographed by Shane Mccauley
diplo may be music's greatest urban explorer
As Diplo, he's made viral videos with Madonna and produced beats for Beyoncé. As EDM powerhouse Major Lazer, he's anchored festivals worldwide and produced his own animated series. And as the Mad Decent label mogul, he's resurrected the block party. But as Wes Pentz, he's only just begun exploring this brave new world.
"We were like, 'Yo, the river's getting kinda fast—maybe we should swim to the side and get out of here!' But we couldn't, the water was getting so crazy. I remember seeing this little Tibetan girl on the hillside, screaming because she saw two people floating by her. And I'm dying at this point, like, I'm getting dragged deep into the water," says Diplo, growing more animated as he spins his tale. While the story sounds like something out of a John Irving novel, as so many of Diplo's anecdotes do, it was just another transcendent moment in a life steeped in exploration and cultural crate digging. This one taking place in the Himalayan town of Rishikesh, when, barely 20 years old, he and his mate rode their motorcycles to the Ganges River for a swim. Things apparently turned south quickly.
"I'm being thrown around the rapids so much that I get dragged far down. It's pitch black; I can't see any light anymore. I give up my breath. I'm just like, I'm done," he says. "Then all of a sudden I get pushed up to the air again, I puke my water out and somehow pull myself up on this rock, barely, the water rushing by me. I can't even move my body, my energy level was so low, and there's blood dripping all over like crazy because these rocks are just cutting, slicing into my chest. It took me 10 minutes to kinda regain consciousness."
You ever think that you actually died there on that bloody rock, I ask, and this is all just a lucid, post-Ganges dream? "A dream?" he asks, blue eyes flickering around the room, wondering the thought aloud for the first time. "That would suck so bad!" he laughs. "That would really be like a bad dream. Because I think I have a lot more to do."
Considering all that Diplo has accomplished in the decade and a half since that Himalayan whirlpool, it's sort of alarming to think of what he might still have in store. Sitting in this bright, airy photo studio just off the Sunset Strip, he seems as far away from a bloody rock on the Ganges as possible. The flip-flops and baggy black T-shirt may be similar, but very little else. 
Click through the gallery to read the rest of the story.
In 2015 alone, Diplo's got a lot going on. Together with Skrillex, he released an album in February under the moniker Jack Ü. The lead single, "Take Ü There," with Kiesza was followed by the Justin Bieber crooner "Where Are Ü Now." Combined, the tracks have over 20 million views on YouTube alone. His dancehall-EDM hybrid act, Major Lazer, dropped its third studio album, Peace Is the Mission, on June 1. "Lean On" with DJ Snake and Danish singer MØ has been massive, and "Powerful"—boasting Ellie Goulding on vocals—promises to light up dance tents across the globe. 
Then there's Major Lazer, the show, anchoring FXX's late-night Animation Domination High-Def program block. Hitting its mid-season stride, the neon-psychedelia-infused cartoon is essentially what a pro-weed PSA would look like on whatever planet the Thundercats are from. And all summer Diplo will be touring across America and Canada with his Mad Decent Block Parties—a perennial throwdown that has grown in seven years from a small gathering in Philly into a full-blown 19-city extravaganza. 
And that's not even mentioning Diplo's recent sophomore album, Random White Dude Be Everywhere. A more accurate album title the world has never seen. "I've never had time to sit back and digest what's happened to me, what I've done. I've never had time to sit back and be like, 'Damn, I just worked with Madonna! I brought M.I.A., I did a Katy Perry record,'" says Diplo between stabs of kale salad and the careful deconstruction of a turkey sandwich. "It's like all I've accomplished in creating Major Lazer and traveling the world and doing Mad Decent Block Parties, I've never sat back and thought about it. But you honestly can't, you just can't. Because you're only as good as your last record."
You could say he's EDM's Forrest Gump, that one white guy who turns up all over the place. But just like that epic swim in the Ganges, the course hasn't been easy. Nor has it been calculated. Rather, his path has seemed more instinctual, a gut chase that's led him around the planet a couple dozen times. From growing up in Florida to his days throwing the legendary Hollertronix parties in Philly. From shaping M.I.A.'s early sound as her producer (and ex-boyfriend) to filming baile funk documentaries in Rio de Janeiro. From putting on soca concerts in Trinidad to cutting reggae records in Kingston to barely surviving white waters in Rishikesh. The idea has always been the same: flip over rocks, and see what cultural ores reside underneath.
All of it, everything, in one form or another, has been about exploration for Diplo. Discovery. 
"I think naturally we come from similar backgrounds, in the sense that we spent a lot of time growing up traveling, making music with a lot of different people," says Skrillex about the explorative kinship he shares with Diplo. "And I think what fits with us musically is the fact that we're always willing to try new things. We don't necessarily care about what's popular as much as we care about pushing the sound, all the time."
"Culture moves and spreads like water," explains Diplo as he packs up his laptop. "You can't control where it goes or what it does. And I've always been someone who says, instead of controlling it, let's fucking build it, let us fucking make it go crazy, let's make it go to further and weirder places. That's what my motivation's always been." He stands, slips on a green aviator jacket and throws his bag over his shoulder. "That [India trip] was kind of an eye-opening experience, to go around the world by my wits—no money, buying records, fixing motorcycles, selling drugs, whatever. After that I was like, 'This is it. I can do anything I want now.'"