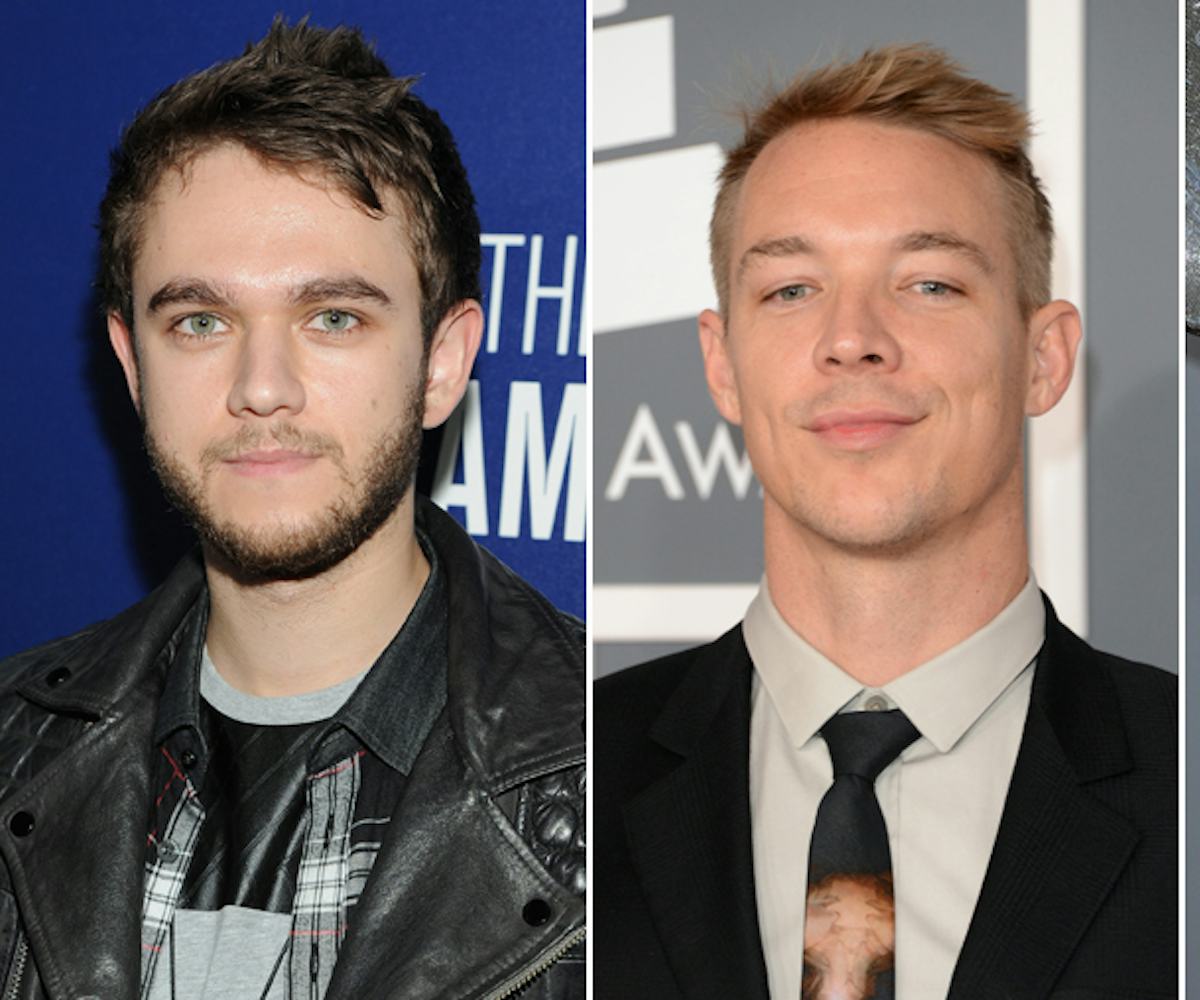 Photos by Angela Weiss and Jason Merritt/Getty Images
Diplo, Zedd, and Deadmau5 Square Off In A Twitter Battle For The Ages
What exactly is it about bro-ish DJ/producers these days? You'd think that between making umpteen dollars, dating famous women, and having millions spin their tunes, they'd prefer to sit back in a lounge chair poolside at a five-star hotel, sip restaurant-quality lemonade, and not get into petty spats on social media with each other. You'd think that, but, friend, you would be wrong.
Nope, bro-ish DJ/producers are super cranky social media fusspots and the super crankiest of them all is none other than EDM stalwart Diplo. Why, just yesterday, the former Thomas Wesley Pentz put down his lemonade and picked up his iPhone solely to drag the hell out of electro phenom Zedd. 
Well, does Diplo have a point? Yeah, he kinda does have a point, but that didn't stop Zedd from—quite correctly—dragging him right back. 
My, my. Then, as these bro-ish DJ/producer spats tend to, stuff got even more nasty—so much so that Diplo would eventually erase the fire he threw from Twitter. Here are his comments as captured by Complex:
@Zedd your young and rich and a great musician.. Use that to your advantage.. Don't be such a pompous cornball loser also I fucked your girl — DiPL0 (@diplo) March 22, 2016
@diplo *you're — Zedd (@Zedd) March 22, 2016
@Zedd was running out of space sorry for the grammar — DiPL0 (@diplo) March 22, 2016
@Zedd you aren't a bad person . I just know you can do better that's all .. I'm just praying for you
At least one possible famous "girl" of Zedd comes to mind here, but we're keeping that name out of our mouths because we're classy like that. Oh, and since bro-ish DJ/producer Deadmau5 has never seen a schoolyard fight he didn't want to be a part of, he jumped up on the train by turning Diplo's comments about money back at him.
Which, in turn, precipitated this: 
And this:
Sparkling conversation, yes? Did we miss anything? Oh, yes, there's also this: 
Indeed. And this has been your latest episode of Bro-ish DJ/Producer Social Media Theater. Tune in next time.