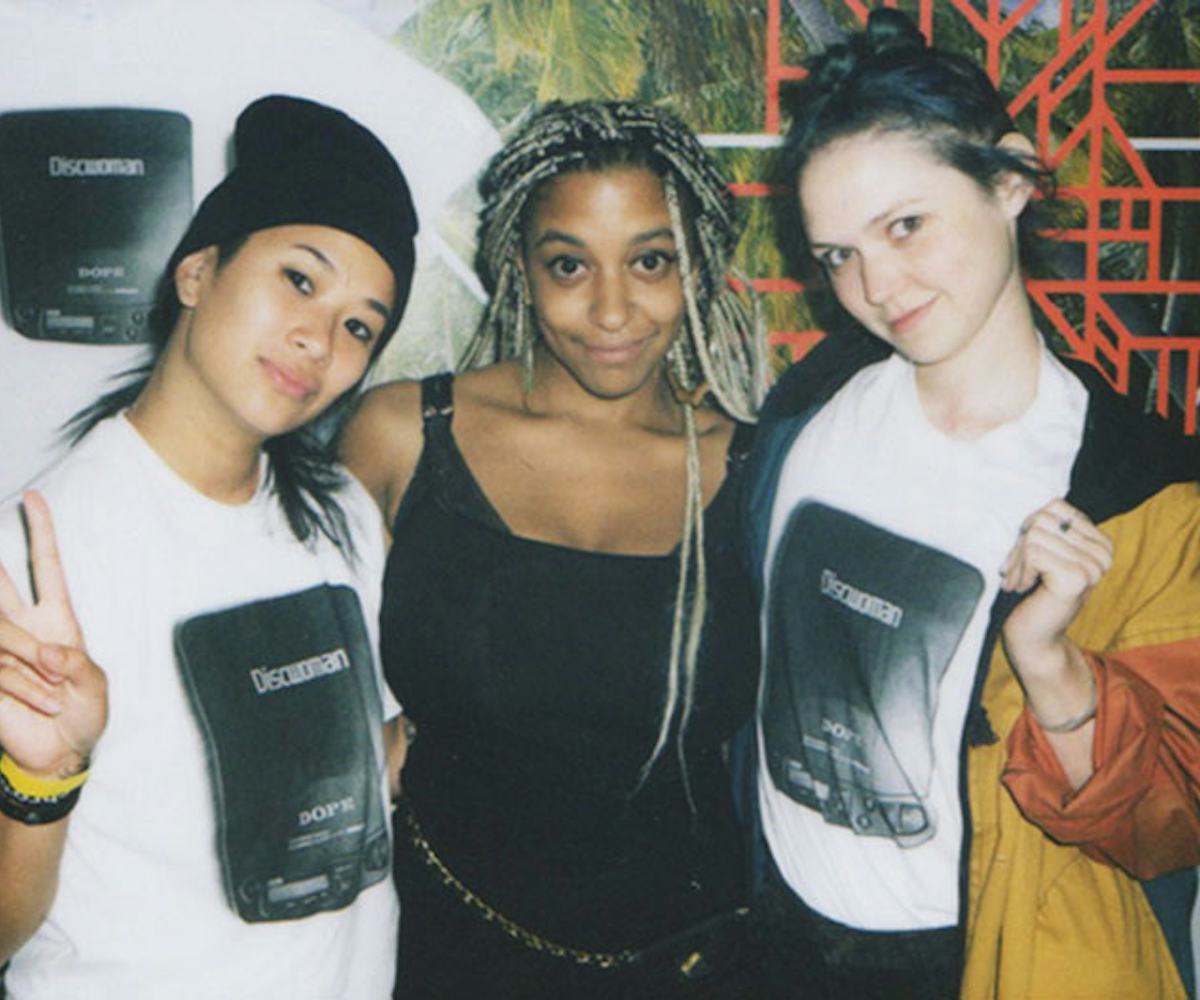 Photo courtesy of Discwoman
meet five of discwoman's most promising female-identified producers
girls to the front, please!
Currently, the highest-paid DJs in the world are all men. Talk about a snooze sausage fest. On the flip-side, reports on female DJs and producers are speculative at best. It's an unfortunate reality that the majority of tunes we send climbing up the charts have, more or less, been largely produced by men. Acts like NERVO and Rebecca & Fiona are working to disrupt the scene, but change like this is not an overnight thing. It's through headstrong acts and collectives like Brookyn's DISCWOMAN that elevate the women tirelessly hustling out there to new heights.
Created in 2014 by Frankie Hutchinson, Emma Burgess-Olson, and Christine Tran, DISCWOMAN, according to Tran, "Is a platform showcasing and representing the wealth of female-identified DJ talent in the electronic-music community." It's a feminist revolution spun over thumping beats by women, for women. Ahead, meet five of its producers that put the power in Girl Power. 
Suzi Analogue started producing beats when she was 15 on computer programs like CakeWalk and Sound Forge. Her vocals and arrangements are soulful and take you on a wavy, electronic journey artfully showing her eclectic range.
The 21-year-old Via App presents psychadelic percussive sample-based music composed on hardware synthesizers. Her scattered vocal samples and noisy mixes create a totally captivating live performance that she redesigns every time.
Tygapaw produces spacey trance- and trap-influenced club remixes and original songs. She layers slowed-down vocals and distant R&B samples to create a soft new take on club music.
After her successful first live performance at Bossa Nova Civic Club a few weeks back, Ponybreakr, 21, proved her skill and put a stamp on her immersive musical style. The many layers to her productions lead you into a trippy stupor that you most definitely don't want to leave.
Sanyu Nicolas, who records as Cryptolect, boasts productions that are so satisfyingly dark and industrial, it's easy to imagine the sounds being the soundtrack for and equally dark film. Aspects of Cryptolect's sounds are reminiscent of some of Bjork's productions.