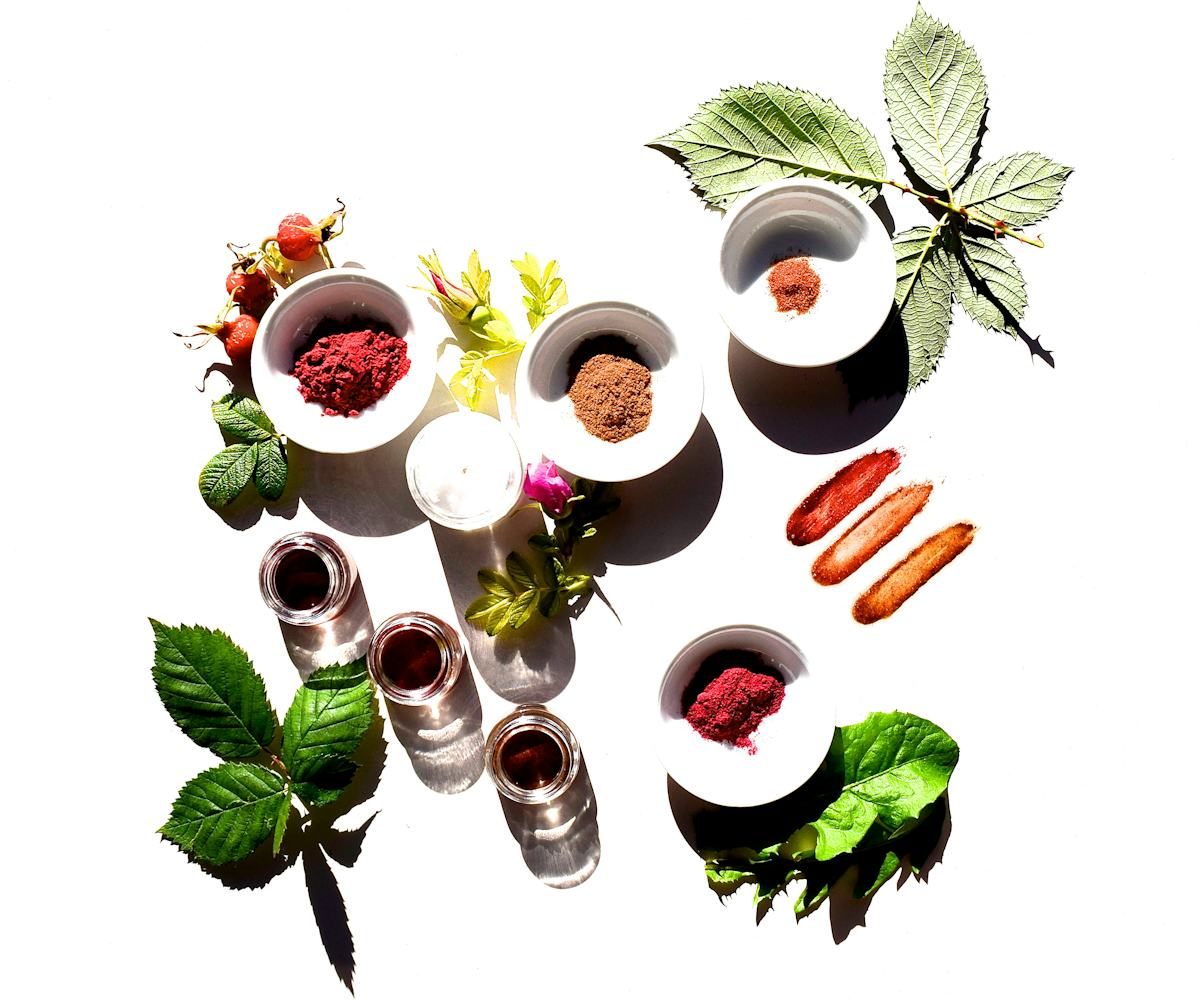 Photo courtesy of Plant Makeup
Start Your Own Natural Beauty Movement With These Three Recipes
We teamed up with Plant Makeup for the ultimate DIY cosmetics
We can't deny that today's beauty industry can be a bit scary at times. With so many brands filling their products with "mystery ingredients" (which may end up being toxic carcinogens) or testing on animals, we have to be wary of what we purchase. However, all this controversy has definitely sparked a natural beauty movement, with a ton of brands putting out cleaner products, and completely organic lines emerging out of the indie beauty scene.
Being that it's fall—in our opinion, the best time to pursue a DIY hobby and stay busy on a gloomy, cold day—we felt inspired to give making our own cosmetics a try. What if we could create awesome makeup out of things we already have in our kitchen, cosmetics that are completely natural, safe, and worry-free.
We teamed up with Jes, the brains behind Plant Makeup, to come up with three solid recipes for pigmented cosmetics that actually work. Also known as OrangePeelMystic, Jes is an artist who has been studying plants for 12 years. Her mission is to "inspire others to connect more with nature," and she created Plant Makeup based on this idea. "Nature is the greatest gift in reminding us of who we truly are," she says.
Below, she walked us through three versatile recipes for a bronzer or blush, a lip or cheek stain (even a lip plumper!), and a variety of eyeshadow shades. All are comprised of ingredients you may already have tucked away in your cupboard or refrigerator (and can be purchased at either a health food store or from a natural herb store, if not).
Click through the gallery below to check out each recipe, and get ready to play.
100 percent natural, plant-based, and vegan eyeshadow
Below, Jes outlines how to create three different shades eyeshadow: a golden cocoa, a berry pink, and a deep green, in both cream and powder formulas. When it comes to gathering ingredients, she stresses that it's always best to use 100 percent organic, fair trade, GMO-free, and sustainably harvested ingredients whenever possible.
Ingredients
Base:
1/4 teaspoon arrowroot powder or 1/2 teaspoon shea butter
Colors:
1/4 teaspoon cocoa powder
1/4 teaspoon turmeric powder
1/4 teaspoon rose petal powder
1/2 teaspoon hibiscus petal powder
1/4 teaspoon spirulina powder
To get started, you'll first need to find small jars to store your finished products in and a small mixing bowl and spoons. Then, gather your ingredients. "All the color powders are optional, and you can pretty much try any edible powder as color in this eye shadow recipe," she says.
Each color can be made as a powder or cream, using either the arrowroot powder or shea butter as a base. 
For golden cocoa:
Take either your arrowroot powder or shea butter base, and combine with turmeric powder and cocoa powder.
For berry pink:
Take either your arrowroot powder or shea butter base, and combine with hibiscus flower powder and rose petal powder.
For deep green:
Take either your arrowroot powder or shea butter base, and combine with spirulina powder.
"The recipe amounts above are for super-small amounts, so feel free to double or triple the amounts to create a bigger stash," she says. "Totally feel free to play around with the measuring amounts to find your dream textures or colors."
100 percent natural, plant-based, and vegan blush or bronzer
Below, Jes explains how to create your own blush or bronzer, which is surprisingly simple and easy.
Ingredients:
Base:
1/2 teaspoon arrowroot powder
Blush:
1 teaspoon beetroot powder
1/4 teaspoon cocoa powder
Bronzer:
2 teaspoons cocoa powder
1/2 teaspoon cinnamon powder
Once again, first gather your ingredients based on which formula you'd like to create, your small jars, and mixing utensils.
To create a blush, mix your arrowroot powder with beetroot and cocoa powder. For a natural bronzer, mix the arrowroot powder with cinnamon and cocoa powder.
According to Jes, mixing in a bit of ginger root powder will help add in a bit of shimmer to your concoction. Another expert tip? Sifting all your powders beforehand (using a tea strainer) will help keep your ingredients as light and fluffy as possible.
100 percent natural, plant-based, and vegan lip/cheek stain or lip plumper
Below, Jes outlines how to create a lip/cheek stain, and even an all-natural lip plumper.
Ingredients
Stain:
1/2 ounce coconut oil
2 teaspoons beetroot powder
To plump:
3/4 teaspoon cinnamon powder
1/8 teaspoon cayenne powder (optional)
1 drop peppermint essential oil (optional)
Gather your ingredients depending on which formula you're making, jars, and mixing utensils.
For lip/cheek stain:
To make a natural stain, Jes uses beetroot powder for a bold, berry color. While she suggests using 2 teaspoons, you can adjust the amount for deeper shades. First, scoop out your coconut oil and add into a small bowl. If the consistency is too solid, you can melt it in direct sunlight for about five minutes. Combine with beetroot powder, and voila! You have a versatile (and moisturizing) stain.
For lip stain with lip plumper:
For a formula that plumps your lips, combine your stain concoction with cinnamon and either cayenne pepper or peppermint essential oil. 
After you have mixed your ingredients, you can let the contents solidify away from sunlight. Though Jes' recipe calls for coconut oil, she said you can substitute with any of your favorite oils. "Coconut oil has the best consistency for this recipe, but olive and almond oil are two other great choices," she says.