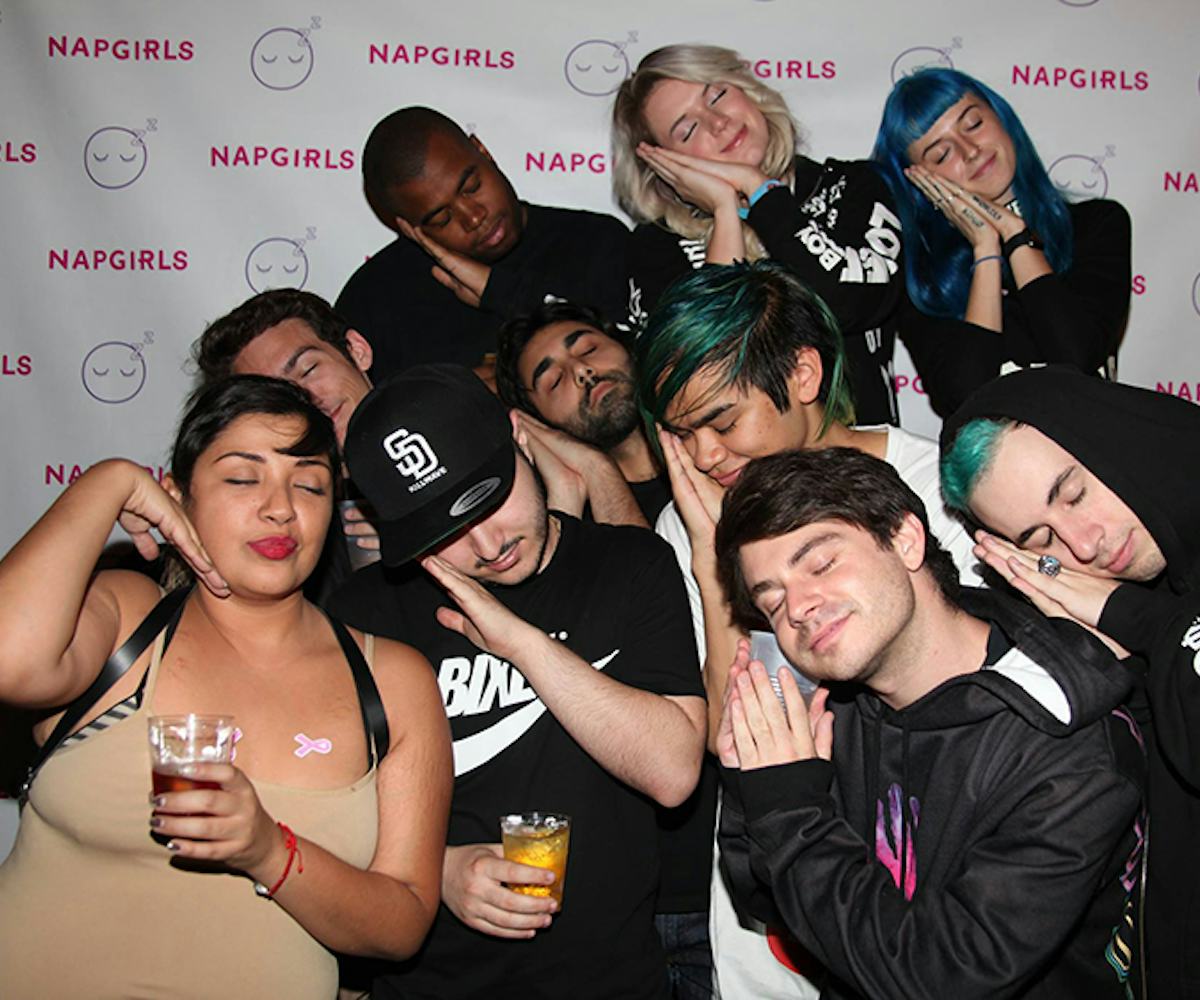 A Talk With LA Group Nap Girls About Sexism And DJ Justin James
"be beautiful, and talented, and be a woman"
The topic of sexism in EDM is not a new one, and certainly, it can be said that giant strides have been taken in the past few years to address the lack of women on festival lineups and in the studio. From the rise of Discwoman, an all-female DJ collective in New York, to rapidly ascending producers like Deadmau5 protégé Rezz, women in dance are becoming much more visible. Sometimes though, just when you think everything is on the up-and-up, a stray comment comes your way to remind you that the more things change, they more they stay the same.
Such was the case when Florida-based DJ Justin James recently posted an advertisement to a Facebook group called "Support FEMALE DJs !!!!!!!!" calling for women artists who met a certain criteria. For musicians, it's not unusual to be asked for things like an EPK (Electronic Press Kit) or social media statistics. What was unusual about James' ad though, were the age, height and weight requirements, stated as 21 to 32 years old, between 5 feet 2 inches and 5 feet 7 inches tall, and in the range of 105 to 120 pounds. He also requested to only talk to the applicants firsthand, no managers or agents. Oh, and you must not suck as a DJ. Afterthought.
The post went viral not just because of the overt sexist overtones, but a subsequent private follow-up message where he said, "If [venues] wanted talented DJs, then they would just hire men." People took offense not only to the obvious, but also other subtler messages. Why, as someone who in his post self-proclaimed to run an agency (and thus, respect chains of command), would he want to only talk to female artists directly and bypass any management? Why make it a point in the ad to say he "books female DJs from time to time?" Why did he feel okay posting this to a group centered on supporting female artists? James recently issued an apology on his Facebook fan page, but as many pointed out there, it carries every hallmark of a "sorry, not sorry" response.
In the wake of this, the EDM industry has been ablaze with both men and women in every scope of work voicing their opinions. "All the backlash to this shows me we're making tangible strides in equality," says Nathan Beer, managing editor at NESTHQ (Skrillex's online imprint). "And if those at fault don't want to admit it and take responsibility, we're more than happy to make them."
Taking the issue to task today is L.A.-based non-profit Nap Girls, a group of women in the entertainment industry who seek to empower other women in creative fields and make sexism in music a thing of the past. Click through to read James' original posts and our enlightening discussion with the Nap Girls in their wake.
Participants: Ascia Johnson, social media manager for SBCR and American Authors and publicist at MOOVS; Molly Hankins, music journalist; Joséphine Huan, music journalist; Jess Stadler, assistant at Warpath Group; Angela Samartano, social media manager for Tiësto, Seven Lions and others at Red Light Management; Jill Brown, artist; Reid Rosson, artist, founder of Play Me Records; Morgan Neiman, artist and founder of Club Aerobics; Kelsey Saunders, artist.
What was your reaction when you first saw these posts?Reid Rosson: At first I was confused. I thought he was looking for purely talented DJs. then came shock & awe that he was really putting such a misogynistic statement in a "female DJ group." Then came sadness realizing there is a market for the bullshit he is peddling.
Kelsey Saunders: Honestly, it struck a chord with me because it reminded me of a time that I was scouted in a similar manner, except it was a one-on-one situation. He didn't even know that I produced and wanted to turn me into a character "novelty" DJ/nude model. It made me feel like nothing but a product to be sold, and I didn't go for it.
Molly Hankins: My reaction was, sadly, gratitude—but only because many people don't believe this kind of discrimination exists towards women. 
What did you think of his apology?Ascia Johnson: I completely understand that he was simply being forward about what the promoters want (which is a whole other issue), but to claim that he is the "FURTHEST thing from a misogynist," yet still continue to work with people who hold this criteria for female DJs completely discredits everything he is attempting to convey in his "apology."
Kelsey Saunders: Well, his apology wasn't an apology. His reaction to all of this is sadly similar to the reaction of a few of my male industry friends who took his side: don't blame me for how things are, I'm just trying to play the system and be successful, blah, blah, blah. Why do you think the industry is like this? THIS is why it's like this. And using it as an excuse does not absolve you of responsibility. YOU are reinforcing it. YOU are the problem.
Molly Hankins: No one is born hateful or discriminatory, that's learned behavior. I don't believe we can help this guy unlearn his misogynistic programming if we continue to shame him. I would rather say we forgive you for blindly continuing a practice that undermines our hard work, talent, body image, and entire sense of self as artists because if you knew what kind of destructive negativity you were promulgating in the world you wouldn't be doing it. We forgive you for keeping it 1000 AD around here.
Can you give a specific example of sexism you've experienced within your job in the EDM community?Angela Samartano: As a woman in the management field, standing backstage at shows can be extremely interesting. Women who are backstage at shows automatically get questions like, "Who is she sleeping with? How did she get back here?" Meanwhile there could be plenty of male hanger-ons that will never be questioned.
Joséphine Huon de Penanster: Always being told when doing artist hospitality, "Make sure you wear a skirt and you smile. Be pretty." And the fact that I got told, "Your career would evolve way faster if you actually sucked dicks."
Jill Brown: A male figure in the scene cyber-bullied me, even making a website making fun of me. I was pulled off a show just because of this person's cruel words and was the target of a lot of nasty messages from his followers. It made me hide for a while hoping and praying it would stop. I spent hours during this time period crying in my work bathroom stall or while driving home, etc. and fell into a deep depression.
What did you think of the Internet's overwhelming response to James' posts?Kelsey Saunders: It is really great to see industry heavyweights chiming in on this, and I love how many male industry folks joined in and denounced this behavior. Changing the status quo requires participation from all genders.
Ascia Johnson: There are so many people who could have just taken his "apology" and supported his argument, and for a long time many people did accept that behavior. Now we're in such an incredible time where so many female DJs, managers, publicists, etc. (and male counterparts!) are actively working towards gender equality in the music industry and ready to call out this kind of stuff without fear of their career being hurt.
Jess Stadler: The positive responses towards women were so awesome. It's unfortunate that sometimes it takes someone posting something like this to see that there is so much positivity towards women in this industry. We are working really hard as a collective to always bring positivity to women and I know some people sit back and are afraid to speak up and this made a lot of people speak up about how they felt which was super cool!
Now that people are talking, how do we get things to change?Kelsey Saunders: Sexism doesn't just come from people like Justin James, it comes from people who don't actively do anything to book females or even notice when they're missing from lineups. I think the way to do this is to just be out there and be great. Don't downplay your looks or gender. Be beautiful, and talented, and be a woman. Don't feel the pressure to be "one of the guys" to be taken seriously. Demand it.
Molly Hankins: I want the bros to know that female artists need support more than sympathy, and to keep an eye out for these kinds of attitudes/practices and help us eradicate them by supporting, and thus normalizing, female artists in this space.
Morgan Neiman: To a guy who's "not like that": congratulations on being woke! Use your enlightened awareness to check your friends and peers. Don't wait until it gets to DJ Justin James level—push back against less blatant forms of sexism and fight to change underrepresentation. Take small positive actions every time you can. It will add up.
Check out new music from the artists who participated in this discussion:
Reid Rosson, aka Reid Speed: The Walking Sticks, "The News" (Reid Speed Remix)
Morgan Neiman, aka DUCKY: "Winter Song"
Kelsey Saunders, aka Non Sequitur: "Vitreous Humor"