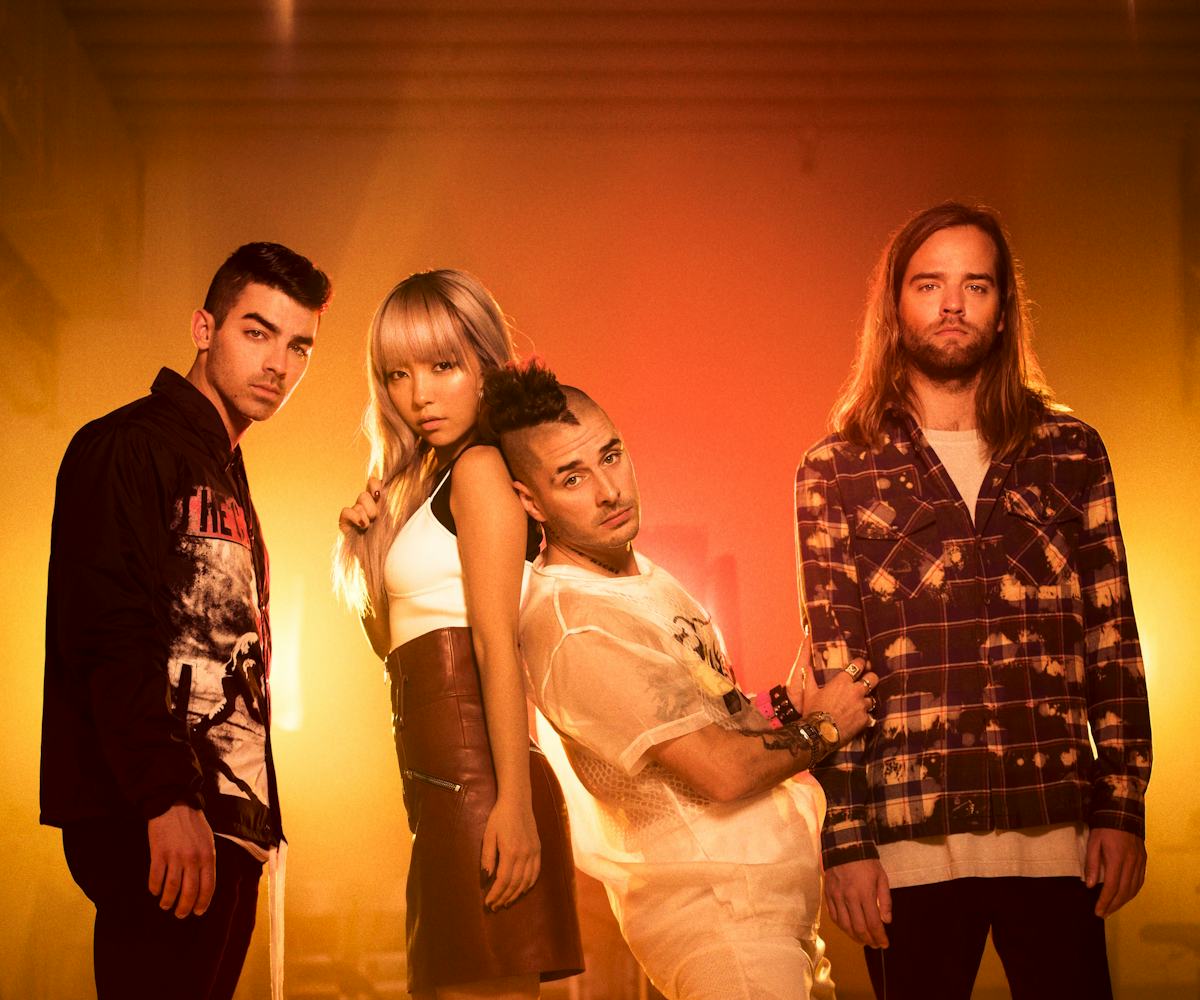 Photographed by Steven Taylor. Styled by Marissa Smith.
DNCE Is Ready For World Domination With Their New Album
The following feature appears in the December/January 2017 issue of NYLON.
One month and one day before the November 18 release of their eponymous debut album, DNCE are huddled together in Manhattan's Root Studios. Since releasing their debut single, "Cake by the Ocean," in September of 2015, they've been moving nonstop, hopping around the United States and Europe for a string of headline shows and opening performances for Selena Gomez's Revival tour, infecting small towns and big cities alike with their own brand of funk. Now, the four-piece band—composed of frontman Joe Jonas, bassist-keyboardist Cole Whittle, guitarist JinJoo, and drummer Jack Lawless—finally has a chance to sit down, but not for long. In an hour, they'll head to a photo shoot and then straight to their album release party, where they'll finally play DNCE for friends, family, and label execs. In the greater scheme of their lives, and possibly the pop-music landscape, it's the calm before the storm.
"When I listen to it, I think of it like a house party," says Whittle of the album. "You go in and you walk around, and you go into all the different rooms. Some of them are dark and sexy, some of the rooms are crazy, and some of the rooms have locked doors and some real stuff going on inside."
Adds Jonas: "It's a feel-good record that has some quirky lyrics, and may bring you back to an era of music that you grew up with or your parents played in the house." DNCE melds sonic elements from the last 50 years, from '70s funk to '90s pop. Similarly so, the band's cited influences—Hall & Oates, Earth, Wind & Fire, Weezer, Led Zeppelin, and Prince—are across the board.
The one constant, though, is that their music will compel you to jump around (or, at the very least, sway from side to side). And that's exactly what has led to their instant appeal. "Last year around this time, the music was just starting to connect," says Jonas, recalling the virtually overnight success of the band's first single. "We all kind of felt it. We weren't even sure what the lyrics meant, but the world seemed to react to it. People were falling in love with the music before the band."  
Click through the gallery to read the rest of the feature. 
From left, on Jonas: jacket by No. 21, jeans by J Brand, sneakers by Nike; on JinJoo: tops by A.L.C., skirt by coach 1941, shoes by Christian Louboutin, earrings by Vita Fede; on Whittle: shirt by Off-White c/o Virgil Abloh, tank top by Sacai, shorts by Gypsy Sport, sneakers and socks by Vans, all jewelry Whittle's own; on Lawless: top by Louis Vuitton, t-shirt by John Elliott, pants by DSQUARED2, sneakers by Vans.
At that point, they were as fresh-faced as a band of mischief-makers with impressive résumés could possibly be. Lawless was the drummer from Jonas Brothers; JinJoo was playing with the likes of Charli XCX, CeeLo Green, and Jordin Sparks; Whittle was in Semi Precious Weapons—and Jonas had gathered them all to concoct DNCE. "From that moment on, we knew it wasn't just a project," says Whittle.
The swift nature with which the band originated likely contributes to its explosive energy. No matter the setting—a small, overcrowded basement of a hidden venue in New York's Meatpacking District or an arena in Cincinnati—DNCE always bring a contagious, entropic enthusiasm to every performance. They enter the stage to Queen's "We Are the Champions," litter venues with balloons and cardboard cutouts of various celebrities, run directly into the crowd, and shred their instruments to bits.
While their live shows haven't cooled since their debut, they certainly have developed. "We're still as wild and crazy as you saw us on the first day, but I think we kind of lock it in now, too," says Jonas. "On top of being able to run around like maniacs, we also want to be great musicians."
The group's liveliness could also stem from its dynamic. "We're like superheroes who came together from different backgrounds of life to bring some funky rock to the world," the lead singer says. And, as Whittle suggests, it's the wide range of their personalities that allows them to explore all of their creative outlets: "Some days, we're like four grandmas going on a cruise together and Cuba Gooding Jr.'s there. Some days, we're like the new Ninja Turtles movie. Others, we're like The Goonies—a bunch of 11-year-olds that don't know anything and just cause trouble all day. And then sometimes we're like Striptease—really sexy." After spending nearly every moment together for the better part of 16 months, their bond has only grown stronger. "I can't even imagine life without these guys," says JinJoo. "Sometimes I ask myself: 'How did I live without these three guys, like, around me all the time?'"
But maybe the reason behind DNCE's infectious energy is even simpler: "There's no ego involved," says Lawless. "We've all been in bands our whole lives, and we're all really happy to still be doing it. That's why when we go on stage, we give it 100 percent every time."
Their debut EP, Swaay, caused a frenzy among fans. The accompanying videos for their singles "Toothbrush," a sweet ode to the beginning of a relationship, and "Body Moves," an innuendo-riddled song that Maroon 5 probably wish they had written, both racked up eight-figure views on YouTube. Plus, they were awarded best new artist at the VMAs, an honor previously given to Lady Gaga, Justin Bieber, One Direction, and Tyler, the Creator. But while expectations for their debut album have inevitably been high, DNCE aren't sweating it. "Starting this [band], we had the great support of just working on music without any pressure," says Jonas. Instead of nerves, there are troves of excitement. "We've always had a blast together," adds Whittle. "The only difference is that in the beginning we slept six hours a night, and now we sleep two hours a night."
Clockwise from left, on Whittle: coat by DSQUARED2; on Lawless: top by 3.1 Phillip Lim; on JinJoo: dress by Dion Lee, earrings by Vita Fede; on Jonas: top by 3.1 Phillip Lim. Grooming: Matthew Tuozzoli at Atelier Management using Dior Homme. Hair (for JinJoo): Seiji at The Wall Group using Bumble and bumble. Makeup (for JinJoo): Nick Barose at Exclusive Artists Management using M.A.C Cosmetics. Special thanks to ROOT Studios.