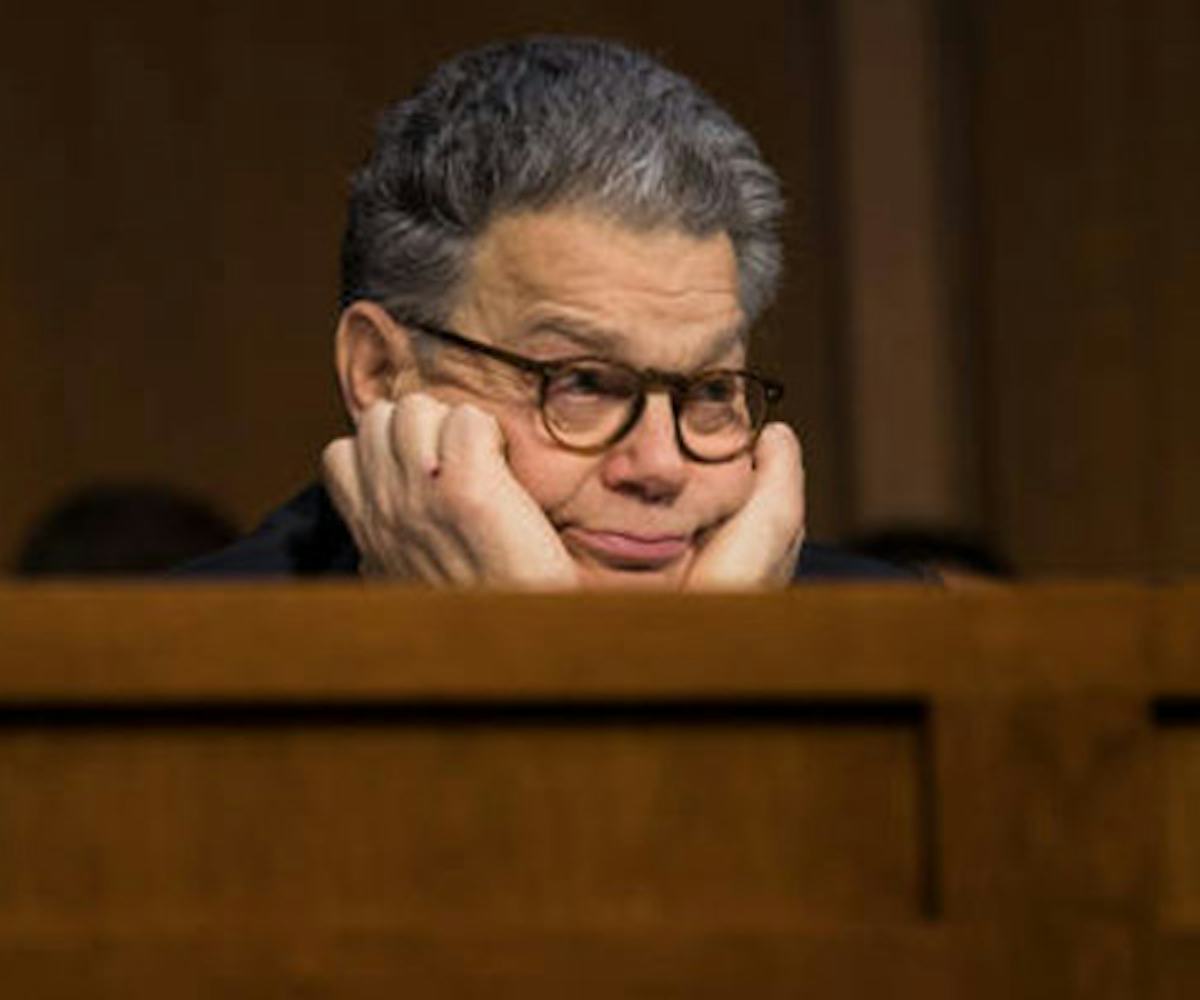 Photo by Drew Angerer/Getty Images
Donald Trump Attacks Al Franken Despite Sexually Assaulting Women Himself
At this point he thinks he's untouchable
Donald Trump has gone a full year in office with almost no one from the GOP ever bringing up the 15 women that have accused him of sexual harassment and assault. While many Republicans openly condemned Harvey Weinstein, and some even spoke out against Senate candidate Roy Moore, none have ever been critical of Trump's past crimes. He's, in fact, one of the only openly abusive powerful men who hasn't had to face any consequences after the fallout of the Weinstein story. Now,
for groping a woman, with no sense of irony whatsoever.
"The Al Frankenstien picture is really bad, speaks a thousand words," he wrote, misspelling Frankenstein. A photo has circulated of Franken touching radio news anchor Leeann Tweeden's breasts while she's asleep. "Where do his hands go in pictures 2, 3, 4, 5 & 6 while she sleeps? ....."
It's disturbing that he's asking us to envision how this scenario gets worse, but then again, everything about a Trump presidency is disturbing. And you know what that long trail of ellipsis means, he's not done yet.
"And to think that just last week he was lecturing anyone who would listen about sexual harassment and respect for women," Trump continued. "Lesley Stahl tape?" He's referring to a sketch that Franken pitched on Saturday Night Live back in 1995 which would've involved him drugging and raping Stahl, a TV journalist. 
While no one is denying what Franken did was horrific—a lot of Democrats are asking that he resign—Trump is someone who's been accused of raping a 13-year-old girl and admitted on tape that he grabbed women "by the pussy," and he's the president of the United States. 
After the Access Hollywood tape came out, Billy Bush's career was ruined while Trump went on to run the free world. We can't have higher standards for TV hosts than the president of the United States, but evidently, we do. It's telling that Trump feels comfortable enough to call out Franken. He knows at this point he's untouchable. If no one has held him accountable up until this point, will they ever?
"Things just seem to fall off of Trump, I'm extremely disappointed," Jessica Leeds, who alleged that Trump sexually assaulted her while on a flight in the '80s, told People. Some of Trump's other victims, however, feel like his downfall is inevitable. 
"I feel this issue has been 'on hold' all year, but not forgotten," said People writer Natasha Stoynoff, who accused Trump of assaulting her in 2005. "It's been simmering on the stove with the lid on, like a pressure cooker. But now the heat's on and it's going to boil and the lid is going to blast off." Let's hope she's right.