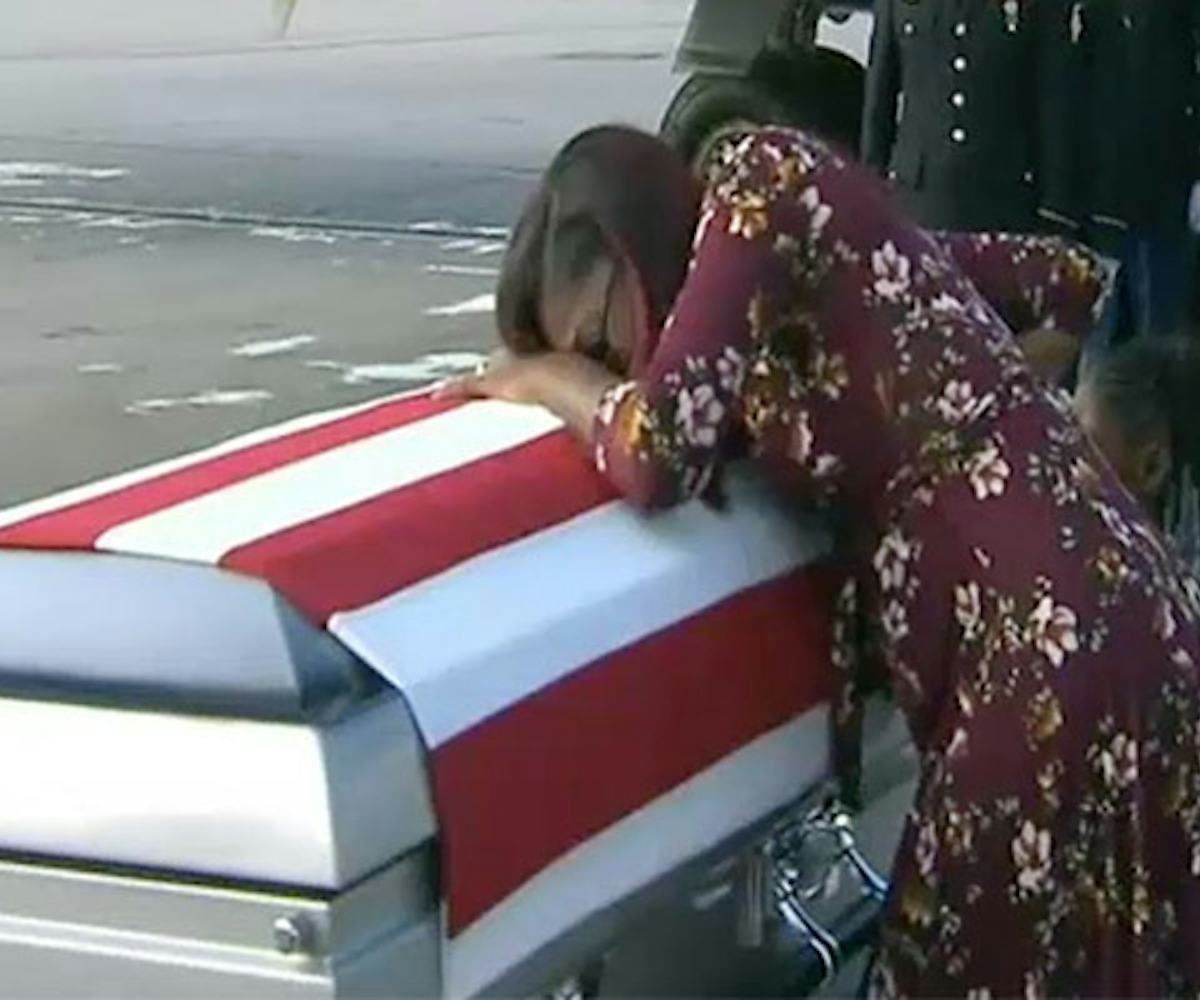 Image via ABC
Trump Tells Pregnant Widow Of Soldier He Knew "What He Signed Up For"
"This man has no feelings"
After being criticized for not calling the families of soldiers killed during an ambush in Niger, Donald Trump reached out to them, and now everyone wishes he hadn't. According to Congresswoman Frederica Wilson, Trump called the pregnant widow of Army Sgt. La David Johnson, Myeshia Johnson, and said, "But you know he must have known what he signed up for." If there is something you should never ever say in a situation, best believe, it's the first thing that will pop into Trump's head.
"How could you say that to a grieving widow?" Wilson told South Florida's NBC affiliate. "I couldn't believe... and he said it more than once. I said this man has no feelings for anyone. This is a young woman with child who is grieved to her soul."
Wilson's immediate reaction was to ask for the phone, she told CNN's Don Lemon. "I wanted to speak with him," she said. "And I was going to curse him out. That was my reaction... I was livid." She added that, after Trump said the soldier "knew what he signed up for," he added, "but it still hurts anyway."
Trump is, of course, already calling Wilson a liar. "Democrat Congresswoman totally fabricated what I said to the wife of a soldier who died in action (and I have proof)," he wrote this morning. "Sad!"
He'd earlier tried to claim that other presidents neglected to reach out to the families of soldiers killed in action, including Barack Obama, but Obama's aids were quick to respond. "That's a fucking lie," former White House Deputy Chief of Staff Alyssa Mastromonaco wrote. "To say president obama (or past presidents) didn't call the family members of soldiers KIA—he's a deranged animal."
In addition to calling Wilson a liar, Trump has, within just the past two hours, claimed that James Comey "protected Hillary Clinton," that Democrats only want to raise your taxes, and scolded the NFL for not demanding that its players stand for the national anthem. This was all before 8am. 
"There's no reason for the president to be so insensitive," Wilson told CNN. "Not only to the family of this soldier, but the impervious rhetoric, it's disrespectful to the family of every soldier who has paid the ultimate price for our freedom."