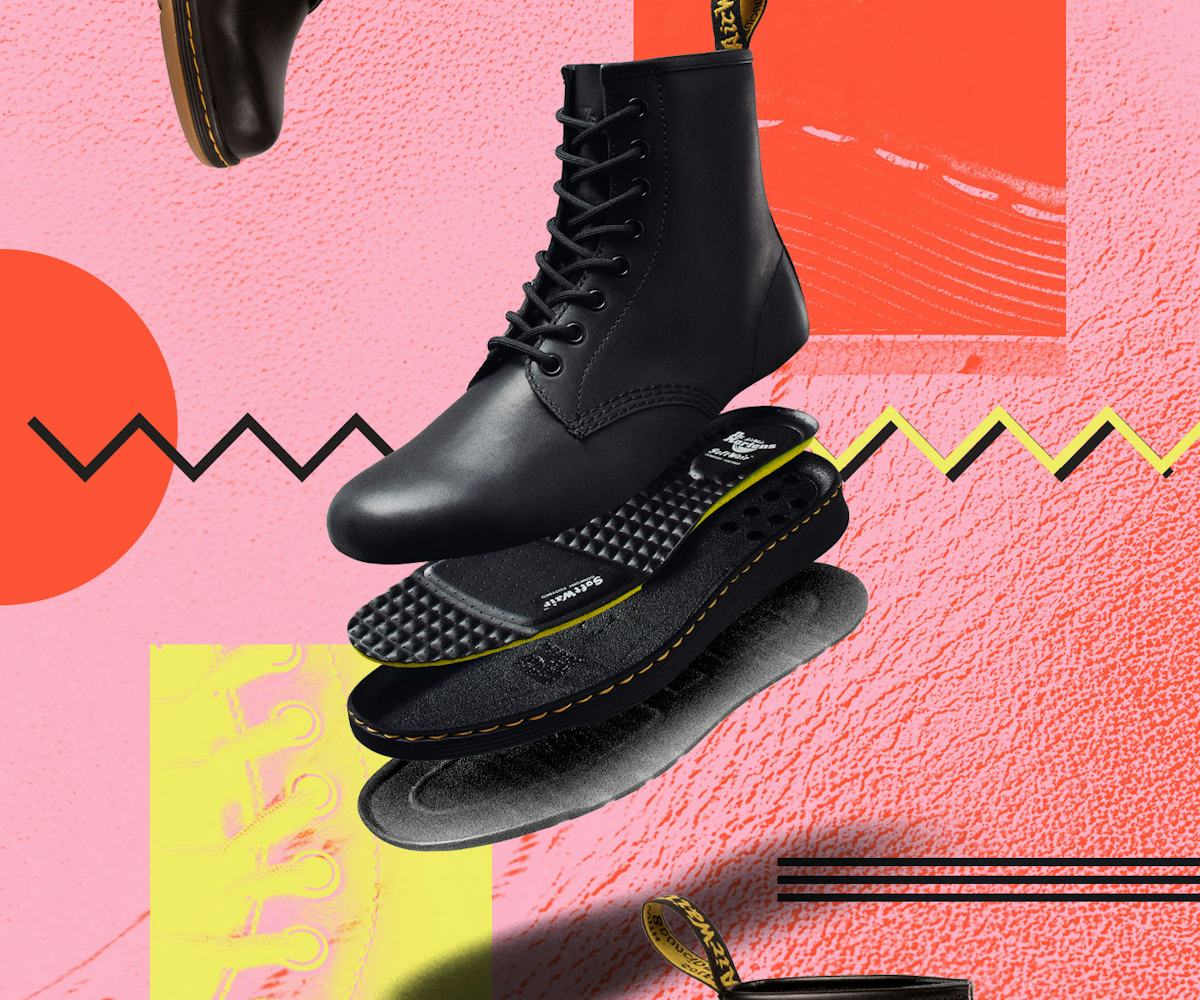 Photo courtesy of Dr. Martens
Dr. Martens Just Revolutionized The Shoe Game
Never break a boot in again
You never forget your first pair of real, adult boots.
For me, they were a pair of classic Dr. Martens 1460s purchased during my first winter as a real adult with a real adult job. I, of course, had known about the brand for a while but didn't think I was cool enough to rock it. That changed after I laced up the pair. I was head over booted heels in love with them—except for the whole breaking in process. Pretty hurts, though, so I was prepared for the pain by the time I walked back in the store and got my hands on the platform versions. After all, isn't part of the boot owning process breaking them in?
Turns out, not really. 
Today, Dr. Martens officially unveils its most revolutionary technology since it debuted the "Airwair with Bouncing Soles" tech back in the '60s. (What a blessing those soles have been.) It's called DM's Lite and it touts the brand's lightest collection of shoes and boots to date. The DM's Lite collection features reimagining of the iconic Newton 8-Eye Boot, Edison Tassel Loafer, and Cavendish 3-Eye Shoe. Two new styles—the Rigal 8-Eye Boot and Solaris 3-Eye Shoe—join the collection, each sporting the DM's Lite technology, only with more contemporary, sporty silhouettes. The concept of sport is key here: DM's Lite technology means slipping into your new Dr. Martens boots feels like slipping into your most tried-and-true sneakers. A SoftWair memory foam insole is equipped with moisture-wicking technology that keeps your feet dry and supported, along with the incredibly lightweight midsole. The premium leather used is soft enough to virtually free you of the breaking in process. They may feel like comfortable sneakers, but the yellow stitching and AirWair heel loops maintain the iconic Dr. Martens DNA. 
After spending a weekend trying them out at Portland, Oregon's MusicfestNW, I can attest to the DM's Lite comfort levels. The process of breaking your new boots in has basically been eradicated, but that doesn't mean you can't (and shouldn't) do everything and anything in them. Dr. Martens are designed to be durable and the DM's Lite technology is exactly that: durable and, thanks to the soft leather, totally do-able—straight out of the box.