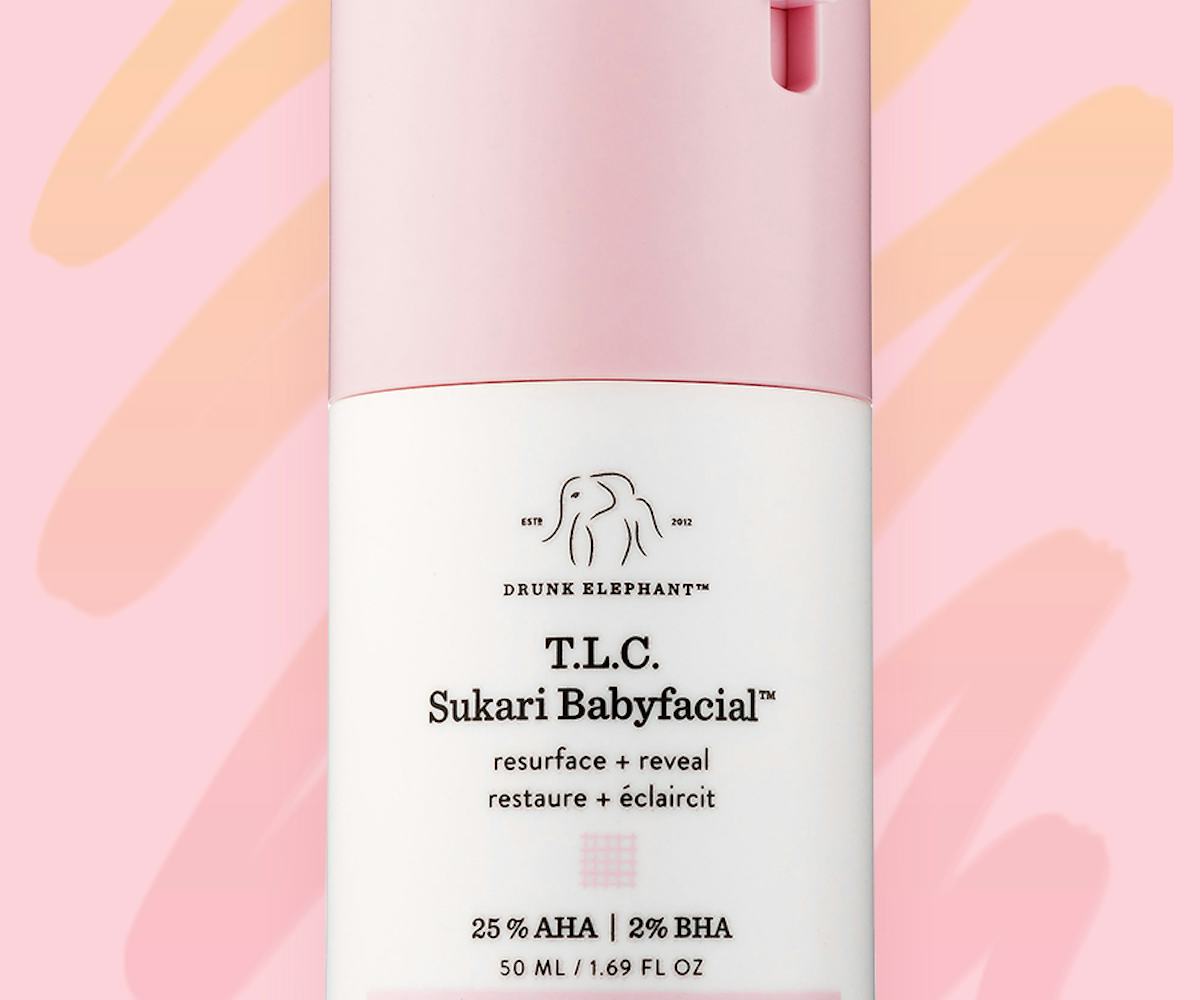 Drunk Elephant's Babyfacial Is A Miracle For PMSing Skin
I am officially a believer of the hype
It was the days leading up to my period, and my skin was feeling particularly rebellious. My monthly constellation of breakouts is something I know is coming but am never fully prepared for—cosmetically or emotionally. What I typically handle with impatience, frustration, and a does-more-harm-than-good pimple popping habit, I instead decided to treat with Drunk Elephant's new T.L.C. Sukari Babyfacial.
Now, I've heard rave reviews of the Drunk Elephant brand during my stint as a beauty editor, but I'd never experienced its products until a couple of weeks ago. And though the reviews pouring in about the Babyfacial help to cement its image as a wunderkind beauty line (the brand couldn't keep it in stock when it was first released earlier this year), I'm automatically cautious of products that promise "youthful" skin and claims that suggest you'll have skin resembling anything close to a newborn baby's. This is an unrealistic goal when the person you're trying to emulate has neither hormones nor stress to deal with. Fact!
My pessimism and I soldiered through anyway. The main draw, for me, was the fact that the product includes 25 percent AHA and 2 percent BHA. I can't scientifically break down what these are and what they do, but, for the most part, they help to exfoliate the skin while evening skin tone and texture. It's like hitting reset on your face.
The product warns that you'll feel slight tingling after applying, and this is true. Mine subsided after a couple of minutes, but if yours continues or graduates to anything greater than a tingle, I'd advise not testing your skins limits. Long-term tingling does not always mean something good is going on underneath it. Usually, it means the complete opposite.
I left mine on for the full 20 minutes the directions recommend, washed it off, applied the marula face oil that comes with the product (also, a special shout-out to that oil: It's glorious and everything a face oil should be), and noticed… not much of a difference. The results definitely aren't immediate. It wasn't until the following morning that I noticed my formerly rebellious skin had been significantly put in its place. I was even, dare I say, on the glow-y spectrum. The hype is to be believed.
The product indicates that it's good for all skin types, but I do want to emphasize, again, that those with particularly reactive skin may want to steer clear. Or, at the least, do a patch test before slathering it on your entire face. My combination skin is as resilient as skin comes, so it can handle the effects of acids without having to worry about an adverse reaction. And for that, I am grateful because, 14 years or so later, I've finally found a way to combat my least favorite aunt and the drama she brings along with her.