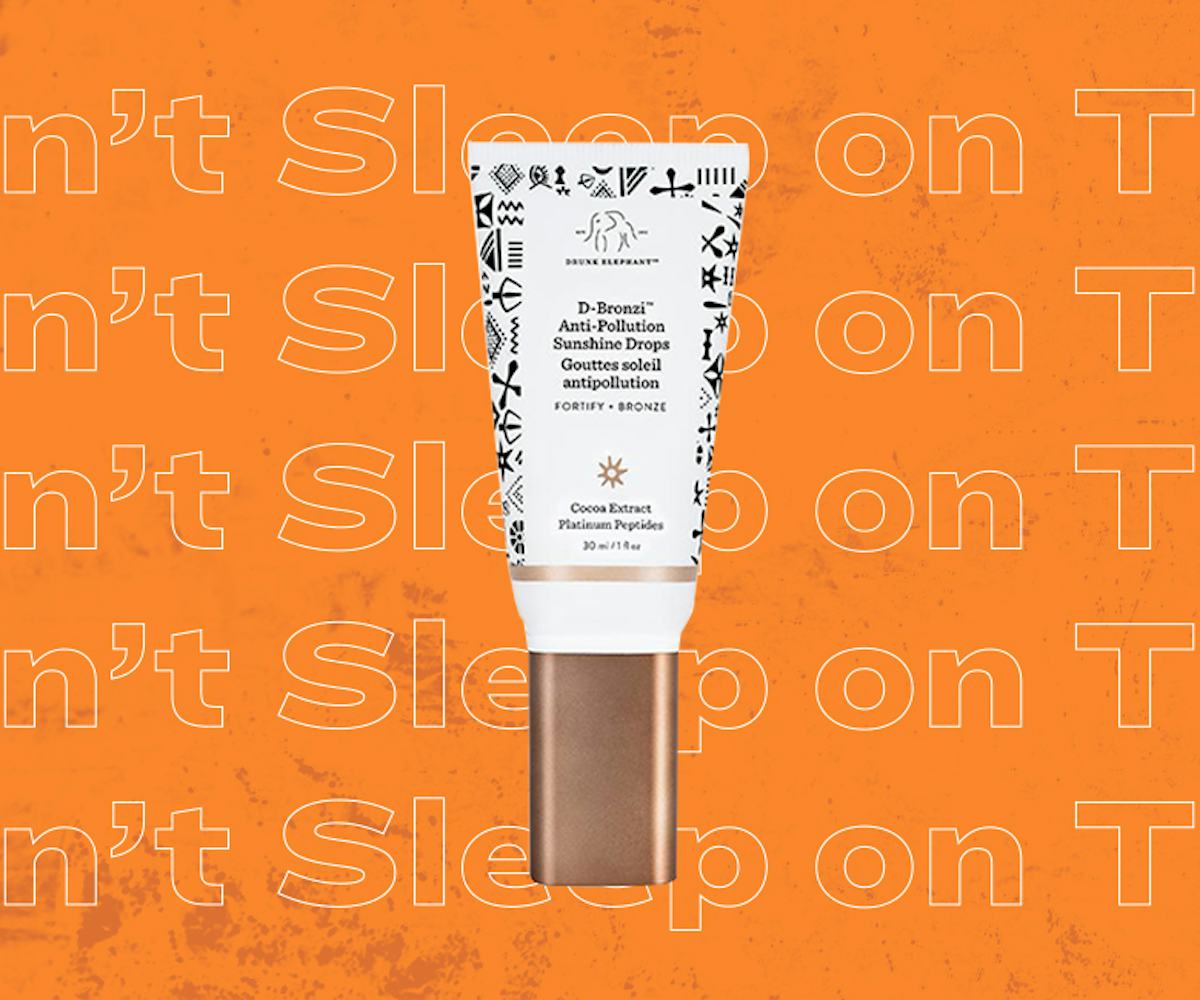 This Magical "Serum" Is So Effective, I Can Skip Foundation
And look like I just got back from vacation
Friends don't let friends miss out on all the cool, under-the-radar things they know about, like which little-known beauty brand is low-key making the best highlighter around. And because we consider our readers to be like friends, we gather together all our best finds in our Don't Sleep On Thisseries. Check in every week to see what things we can't wait to share with you.
As someone who spent most of her childhood and teenage years living by a beach, I've grown used to always having a tan. Weekends on the beach, and generally always being outside in the sun, have resulted in a consistent bronze-y skin shade that not only masked most of my teenage blemishes, but also complemented my heavily eye-lined teenage eyes. After I moved to the East Coast for college, though, I quickly lost all my color—a fact I tried to counteract by dabbling in spray tans and tanners, tanning booths (I know!), and beach getaways, during which I would tan for hours under the sun with the lowest SPF I could get my hands on (I know! I know!). 
This came to an end soon after college, after I found a suspicious discoloration on my skin that would not go away for months following a bad sunburn in Mexico. Despite eventually finding out that it was a fungal infection, the incident scared me straight. I weaned myself off tanning, gave up spray tans and self-tanners (even sunlessly giving myself an appearance of a tan was triggering), and embraced the naturally pale skin that I've since come to love and care for (SPF 50 every day, rain or shine). Still, on certain mornings, I think about how much easier it is to mask sleep deprivation and how much less makeup you need when you have a bronzed complexion.
So, when I found out that my go-to skin-care brand Drunk Elephant came out with a new anti-pollution serum, D-Bronzi, this summer, I was more intrigued by its promise to boost "skin's defenses against pollution and environmental stressors" and combat uneven skin tone and dullness than by its bronzy color that guaranteed a "just-got-back-from-somewhere glow." After mixing a pump into the brand's Protini Polypeptide Cream (due to the high concentration of the color, it is meant to be added to other products, like creams and facial oils), I applied the mixture to my face. Instantly I looked awake, more alert, and like I just had eight-plus hours of sleep. This was unexpected! While the color is very subtle—this is not by any means a self-tanner!—it instantly adds a natural glow to my skin and transforms it from being dull and patchy to looking like I just got back from a vacation (during which I've used a healthy amount of sunscreen and stayed out of direct sunlight). Yes, this is all in addition to battling lines and uneven skin tone.
Since using the serum, I have begun to skip foundation and reduce my makeup routine to this one step when I don't have time for more; using just this product makes me look "ready" and gets me out the door in minutes. The shade adds just the right amount of color to make my skin look instantly refreshed, while the formula keeps its promise to even out skin tone and texture. As with all Drunk Elephant products, D-Bronzi™ Anti-Pollution Sunshine Drops is vegan, cruelty-free, and made with no fragrance, silicone, or gluten.
To all my fellow tanning recovery addicts, this one is for you.
Drunk Elephant, D-Bronzi™ Anti-Pollution Sunshine Drops, $36, available at Sephora.