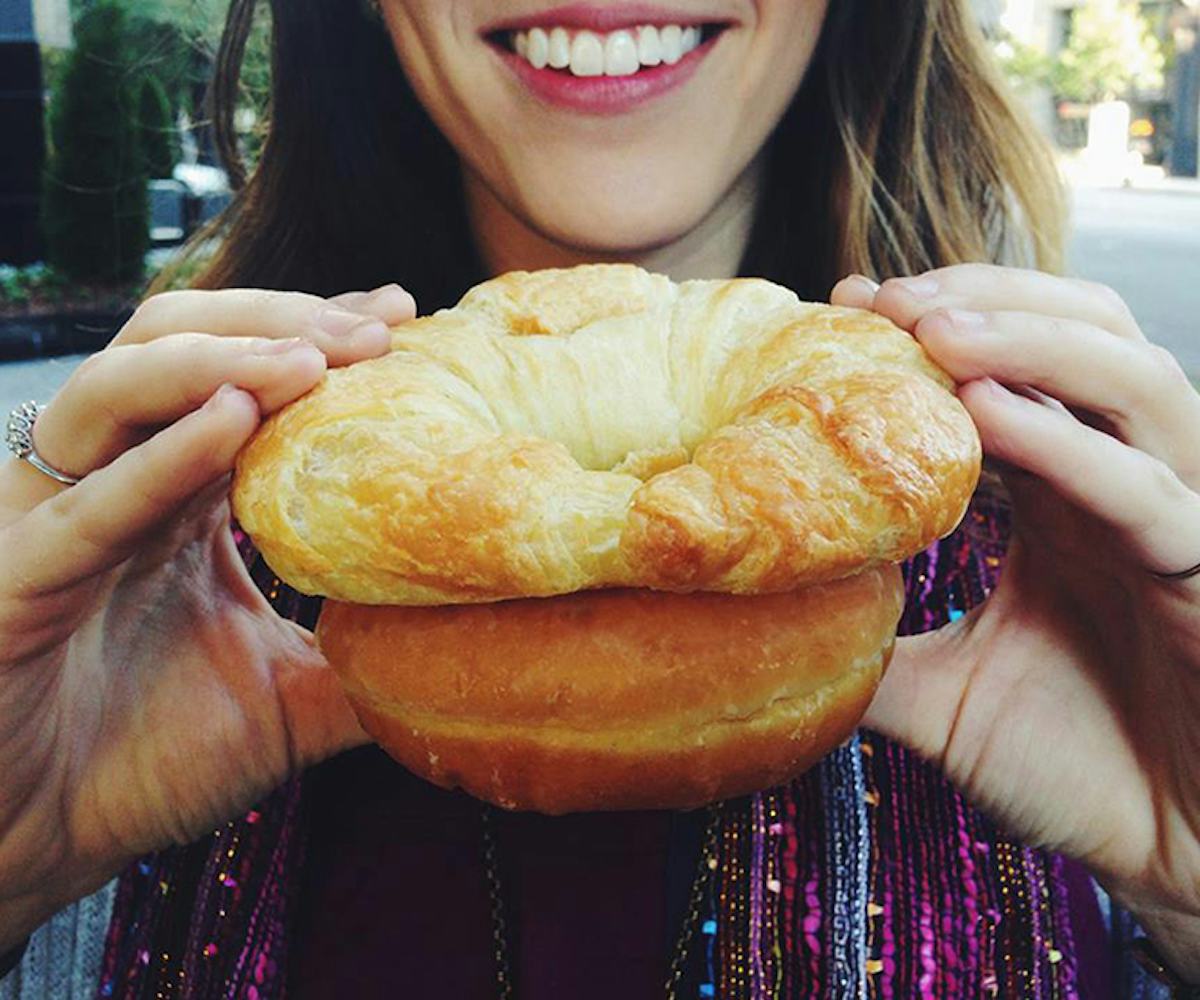 photo via dunkin donuts on facebook
dunkin' donuts released a cronut
Dunkin' Donuts: It's either a hugely hated corporation who puts out local bakers, or it's what America runs on, depending on who you ask.
Personally, I do love the Boston Kreme donut via Dunkin'—it's one of my favorites. But then again, there's the Chocolate Sea Salted Caramel donut from Dough in Brooklyn that also takes the cake donut.
Though the debate over freshly made or pre-packaged fried dough will have to be settled another time, because starting on November 3, you'll officially be able to get a totally insane creation from Dunkin' that you probably won't see anywhere else.
Seemingly inspired by the cronut (a cross between a croissant and a donut), created by New York-based pastry chef Dominique Ansel last year, the Dunkin' Donuts' version is simply called the "Croissant Donut." (Although, John Costello, president of global marketing and innovation at Dunkin' Donuts said in an interview that the brand is not copying a specific bakery in NYC. Even though it is kind of the same thing.)
Depending on where you live, you may have already seen this delectably flaky, glazed pastry at your local Dunkin' Donuts store for $2.49, and if you have, you're magical; the rest of us will have to wait until next week.
However, it's been around in South Korea for a while now, where the hybrid is called the "New York Pie Donut (or the NYPD)"--so cute--and chances are good that that's what I'll be calling them, too.
While I am a huge supporter of local bakeries, you can't always find a Dough Chocolate Sea Salted Caramel donut everywhere you go. Sometimes, when you are far from home, seeing the orange and pink glow of a Dunkin' Donuts store can provide you with some major hot chocolate-y comfort feels. And now, that medium-sized Styrofoam cup (still petitioning them to not be so wasteful) of warm, melted cocoa can also come with a taste of non-cronut-y cronuts. (Thrillist)
photo via firstwefeast.com
photo by dunkin donuts korea, via thrillist