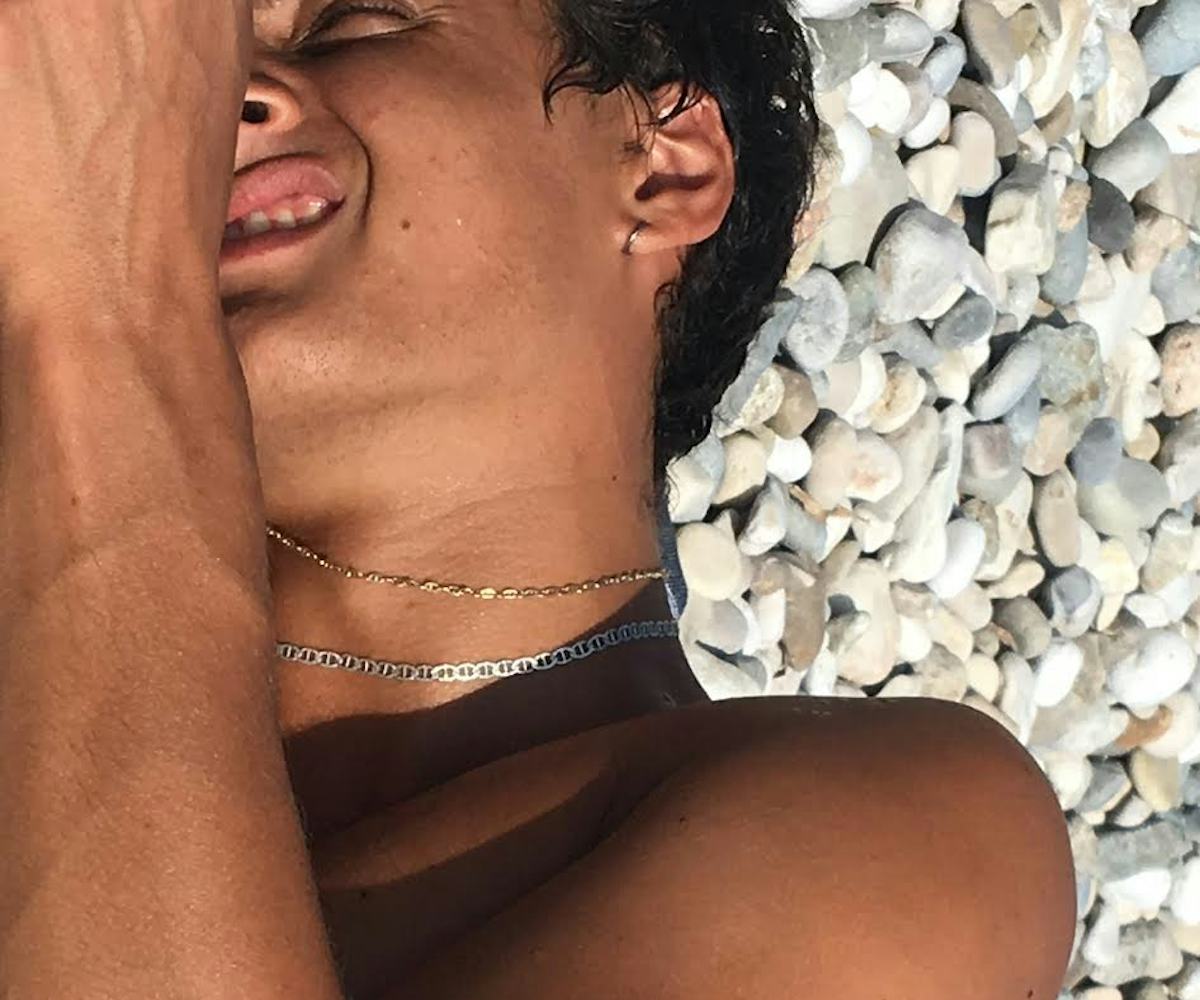 Photo by Kristie Muller
Listen To This New Single From Dylan Aiello, Our Latest Band Crush
"Safeway" defies categorization
It is impossible to categorize Canadian singer and songwriter Dylan Aiello's debut album, Knowithall. The styles swing so wildly—from the atonal electronica of "TTL" to the sensual avant-R&B of opener "Real Thing"—that Aiello himself lists classical instrumental, grime, footwork, and baroque as just some of the genres he incorporates into this unclassifiable sound. Aiello, who was born in Hamilton, Ontario, spent his formative years as an artist living in Berlin, absorbing that city's mosaic of cultures and influences while playing onstage wingman to fellow expat Sean Nicholas Savage, providing keyboard and backup vocals for his fellow Canadian.
Returning to Canada to attend the University of Toronto, Aiello began recording Knowithall (partly in the mountain village of Banff, Alberta) as a way to stew in his romantic pain and confront his own tortured ego. Or, as he describes it, "a little desperate troll inside me that's lurking in a club, jealous, unrequited, and insignificant." But Knowithall is as much an exploration of identity as it is one of sound. "I was seeking to embrace my love of noise, soundtrack, dance, and experimental music, and fuse these styles with my need to tell stories, inhabit different states of mind, and confront difficult topics," Aiello says. 
Below, we're premiering Aiello's new single, "Safeway," but before you get lost in that deep cut—which takes an unexpected detour into mellow drum and bass—meet Dylan Aiello. 
What are you most proud of so far in terms of your career?
This project, Knowithall. I'm getting closer to saying what needs to be said, caring less about bullshit. I'm paying the price though—as you know, bullshit enriches the brainless.
What famous person dead or living do most wish you could have as a roommate?
I think I'd like to live with Andy Warhol. Or anyone who made me so nervous that I'd have to be on my game 100 percent of the time.
What is your favorite driving music?
Merzbow or other Japanese noise. The level of audio stress becomes so high inside the car that anything happening outside is easy to deal with.
Whose career would you most like to emulate?
Mica Levi: She got Oscar'd! And her other project, Micachu, is all good, she's on all sides. 
What's your favorite place to write music?
Any place strangers can't hear me.
Describe your aesthetic in three words.
Potential, traumatic, experience.
If you had to wear one thing for the rest of your life, what would it be, and why?
7.83 Hz PURE TONE - Schumann Resonance Brain Tuner – HD. Because I would eventually be deaf to it, and have it always there beneath my level of consciousness, enriching my brain with resonance beyond power.
Do you have any pre-show superstitions or rituals?
Pleasure myself to prepare for the pain.
If you had to live in a past time, what do you think would be the most fun era and why?
I wish it was the '60s. I wish I could be happy, I wish, I wish, I wish that something would happen…
What activities do you most enjoy doing alone?
Museums, even subtly we're rushing each other…
When are you most relaxed?
Right now… 25 percent CBD in MCT oil.
What was the last great thing you read?
I am reading Gravity's Rainbow right now…
What kind of person were you in high school?
Jock :/
Can you tell me a quality about yourself that you are genuinely proud of?
I'm a good listener, and I have generally a very positive outlook on life.
Do you have any phobias?
Failing, dying, letting everyone down.
What's a side of you that people are unlikely to know about?
I have an active fermentation practice—kefir, kombucha, kimchi. 
What are some new hobbies you would like to take on?
I want to take up martial arts.
What's your next project?
Sound design and soundtrack for a 10-hour installation about Wojack.
Where do you hope to be professionally in five years?
Full-time making soundtracks and sound design for installation, podcasts, documentary, and fiction film. Making songs that describe my experience. Everything easy and natural.
If there was one phrase that best sums up your approach to life, what might it be?
"Each departure is a return to the same place. The only place."