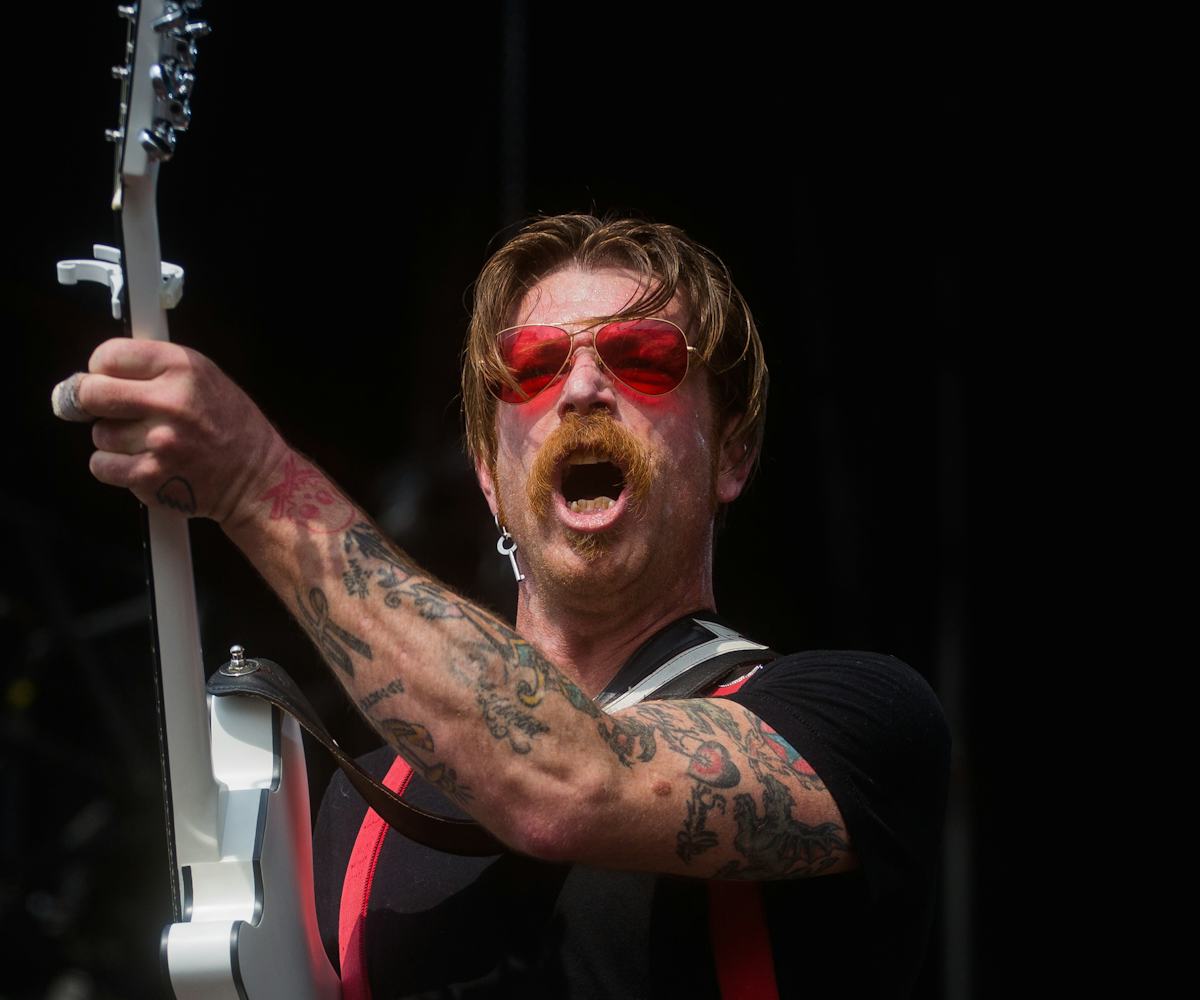 Photo by Victor Moriyama/Getty Images
Eagles Of Death Metal Frontman Calls Parkland Survivors "Pathetic"
Jesse Hughes also shared a doctored photo of activist Emma González
Eagles of Death Metal frontman Jesse Hughes—whose 2015 concert at the Bataclan theater in Paris was targeted by Islamic State militants and left 89 concert-goers dead—has criticized last weekend's student-led March For Our Lives and called the Parkland survivors "vile abusers of the dead."
Taking to his Instagram in a series of now-deleted posts over the weekend, Hughes slammed the survivors' calls for gun control and accused them of "playing hooky at the expense of 16 of your classmates blood," according to The Guardian.
"As the survivor of a mass shooting I can tell you from first-hand experience that all of you protesting and taking days off from school insult the memory of those who were killed and abuse and insult me and every other lover of liberty by your every action," Hughes wrote. "Long Live Rock'n'Roll….. and may everyone [sic] of these disgusting vile abusers of the dead live as long as possible so they can have the maximum amount of time to endure their shame….and be Cursed…." 
According to Pitchfork, the caption accompanied a post that equated gun control to cutting off a man's penis to prevent rape. "And when the truth don't line up with your bullshit narrative just hold your breath and stamp your feet and refused [sic] to except [sic] it.... then take multiple days off of school playing hooky at the expense of 16 of your classmates blood....!.... it might be funny if it wasn't so pathetic and disgusting......" 
He also argued that France's gun control measures weren't enough to prevent the attack during his band's own show. However, as noted by Pitchfork, the "rate of shooting deaths in France is 15 times lower than in America, according to a 2016 New York Times report." 
Additionally, Hughes shared a right-wing meme featuring a doctored photo of survivor and activist Emma González ripping up a copy of the Constitution. According to The Guardian, he captioned the photo, "Behold……the Awful Face Of Treason…..survivor of Nothing….Lover of Treason…..enjoy your little moment…..it's about to End…… #stupidity #hatersofliberty #loversofsatan #borntolose #2ndamendment"
A third post shared by Hughes featured an illustration of a pill bottle, labeled "Pills That Are Hard to Swallow," followed by a frame of three individual pills, each inscribed with a different caption—"Our guns aren't going anywhere," "There are only 2 genders," and "Donald Trump will be your president for 7 more years." According to The Guardian, he also said he would report any threats against him to the FBI.
Hughes then posted a fourth Instagram of a pro-Second Amendment patch, writing, "I can tell you right now that the actions of these misguided youth and evil communists is making me feel terrified… with every broadcast of a willing and complicit press I feel the wall of security that the Constitution provides being taken down bit by bit….."
Following that post, The Guardian reports that he deleted the previous three photos before posting a ceramic eagle. "I've always believed in the motto I may not agree with what you're saying but I'll die for your right to say it," he wrote in the caption, adding that he would make a secondary, political Instagram account. "Saddens me to see so many not have this motto for the same....."
All of Hughes' posts have since been deleted. He has yet to comment on them.