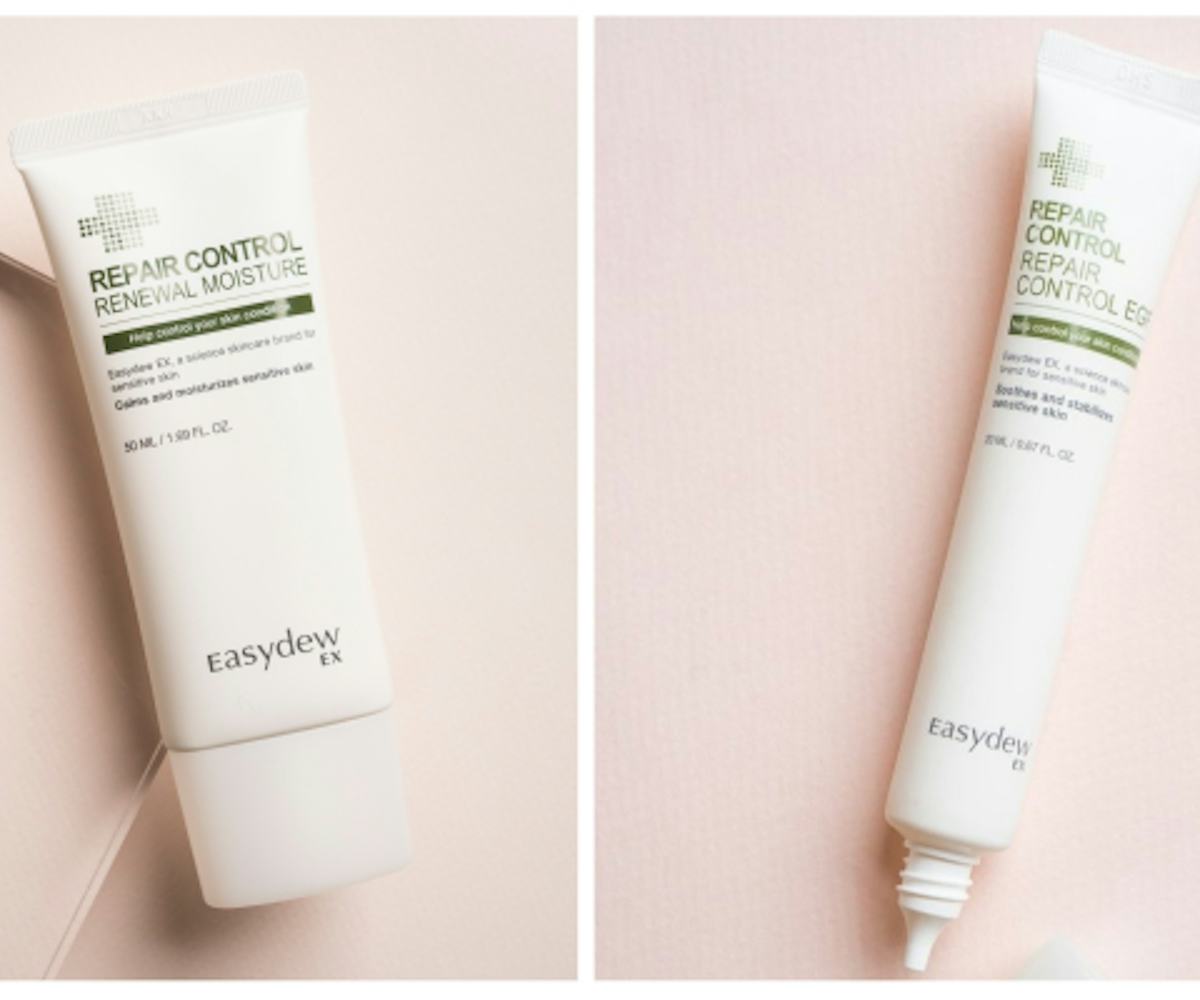 Photo courtesy of Soko Glam
Meet Your Newest K-Beauty Obsession
EGF, now your new best friend
As if our 10-step skin-care routines weren't long enough, our favorite K-beauty site, Soko Glam, has released three more products to add to your lineup. The site recently dropped its newest line, Easydew EX, that promises to completely revamp your skin—and it already has skin-care fanatics raving (it sold out in only 48 hours when it first launched).
Easydew EX was originally only available through a Korean pharmaceutical company. That changed when Soko Glam founder, Charlotte Cho, became so impressed by the line that she decided to make it available Stateside. The magic of the products lies in their main ingredient: Epidermal Growth Factor (EGF). "EGF is a natural protein molecule found in our skin cells that helps heal skin," says Cho. "Adding EGF topically to your skin helps reduce fine-to-deep lines, and can even improve the appearance of deep acne scars and pigmentation." Those aren't the only benefits though—EGF can also repair damaged skin, improve skin elasticity, and add moisture, according to Cho.
So what makes Easydew EX different than any other product that promises glowing, goddess skin? For one, it's much gentler than other products formulated for similar skin issues. "Many people use vitamin A or retinol in their skin care for any aging skin concerns, but it could be very irritating or drying for their skin," says Cho. "EGF is a gentle alternative to the powerful effects of vitamin A or retinol treatments."
The products also pack a lot of punch for a much smaller cost. Products containing EGF are usually pricey, often upward of $150. Cho says that since Easydew EX is created by the actual company that patented EGF, they can infuse the products with the maximum concentration of EGF while keeping the price low.
Here's the best news: The Easydew EX line, made up of a spot treatment, soothing serum, and lightweight moisturizer, is back in stock on Soko Glam with prices ranging from $55 to $88.
Still looking for more? Soko Glam will be adding to the line this summer, with a special EGF derma roller. Looks like 13 is the new 10 when it comes to skin-care steps.
Easydew EX, Repair Control Active Soothing Serum, $78, available at Soko Glam.
Easydew EX, Repair Control Renewal Moisture, $55, available at Soko Glam.
Easydew EX, Repair Control EGF, $88, available at Soko Glam.