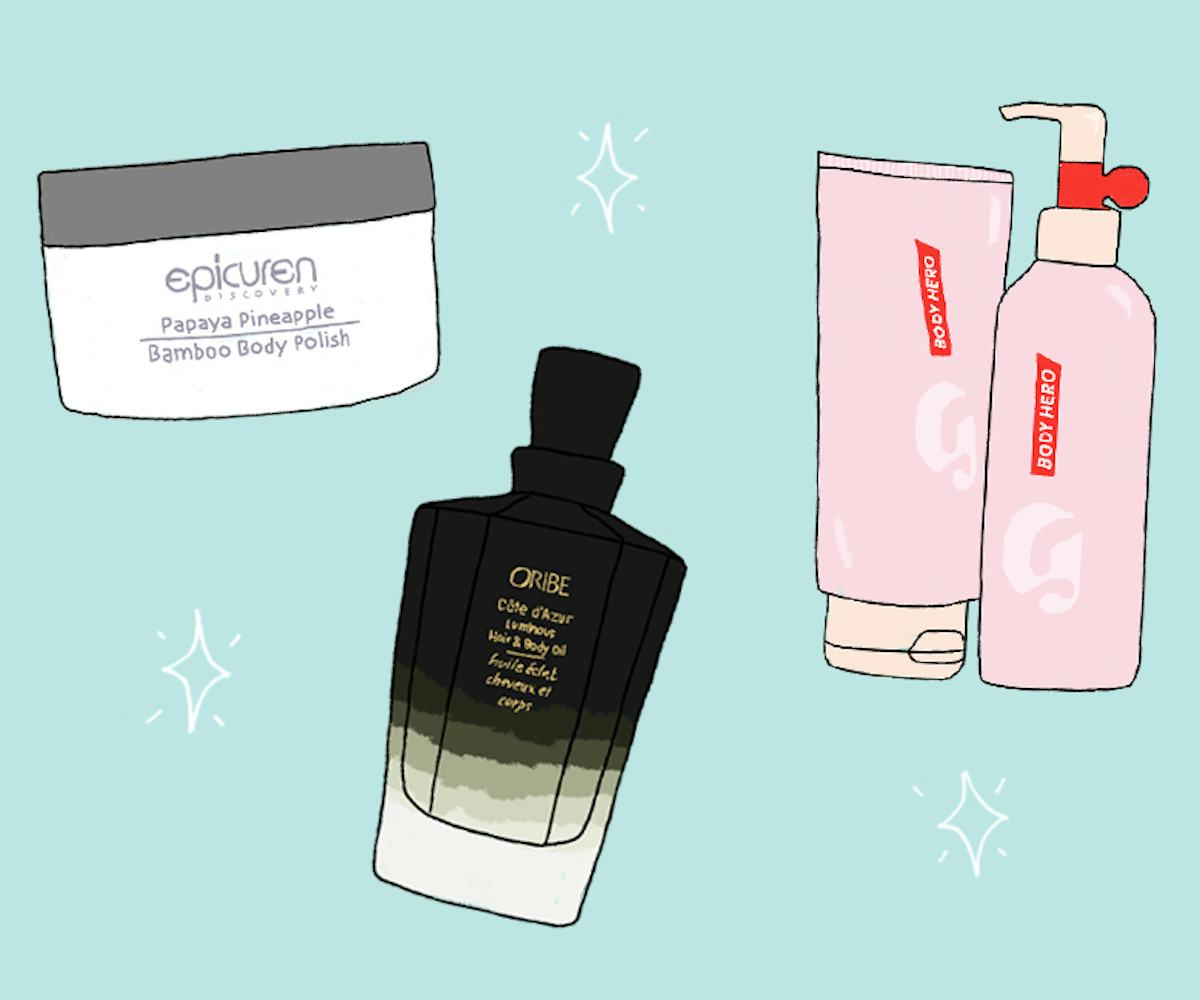 7 Editors Share Their Body Skin-care Routines
Scrub your way to happiness
The 1975's thundering 2013 single "The City" is one my favorite songs of all time for lots of reasons, but, most relevantly, for the lyric, "Get in the shower if it all goes wrong." It's a line I think about quite a bit because of how perfectly it describes my relationship with showering.
Let me explain: When I'm sad, I hop in the shower. When I'm frustrated, I hop in the shower. When I need a rage cry, I hop in the shower—and wash my tears down the drain. But lately, showering life's frustrations away hasn't been so easy. These past few months, I've fallen into what can best be described as a dark, empty hole that not even a little liquid courage could fix.
These feelings have been... a lot to grapple with, and so I've been doing just that courtesy of some great sessions with my therapist. It has also made me realize how crucial taking care of physical self is to my mental health. And while it's easy to remember to do self-care in the form of face masks and serums, I found that I was often forgetting about the fact that skin care doesn't end at the neck. As I started to take better care of myself, I realized a full-body care regimen, instead of just one for my face, could be the positive element of crawling my way out of my rut. And so I enlisted the help Dr. Heather Woolery-Lloyd, board-certified dermatologist and Specific Beauty founder, to help me get rolling with a new routine, and also to find out why people neglect body care.
"Most people tend to focus on the face because it's constantly exposed to the sun whereas your body isn't," she tells me:
However, the skin on your body should be cared for just as much—there are sun-exposed areas on the body that many people forget to protect. As people age, the hands, arms, and legs can develop dark spots and crepe-y skin which can be prevented with effective sun protection. Many of my older patients often complain of brown spots on their arms and hands which is caused by years of chronic sun exposure in these areas. Many even stop wearing short-sleeved shirts because it makes them feel self-conscious.
She notes that, no matter what a person's skin type or tone is, they should opt for sulfate-free body cleansers as they don't strip skin of its natural oils. "It is best to avoid long, hot showers," she adds. "Right after the shower, just pat dry—don't rub vigorously to dry your skin. Then, when the skin is still slightly moist, one of the most important things you should do is apply a body oil or moisturizer to help lock in the moisture. This step is so important and often missed when showering."
She adds those with oily skin should avoid occlusive moisturizers, like petrolatum which may increase oiliness, and, instead, choose humectant-based moisturizers with glycerin. Those with dry skin should avoid intense exfoliators or over-exfoliating, as well as harsh bar soaps, and stick to gentle skin care products. People with acne-prone skin should stay away from heavy moisturizers and opt for a lightweight ceramide-based moisturizer; "Studies show that ceramide-based moisturizers actually improve outcomes when combined with acne treatments," Woolery-Lloyd says. Those with darker skin should avoid over-exfoliation, which can lead to post-inflammatory hyperpigmentation, and people with sensitive skin should be sure to avoid products with excessive fragrance as they can cause inflammation and, instead, choose hydrating products with ceramides that help restore the skin's natural protective barrier.  
And as for Dr. Woolery-Lloyd's own body care routine? "I have dry skin, so I use shea butter every day after the shower to lock in moisture and keep my skin hydrated," she reveals. "I also use Dove Sensitive Skin Body Wash to help keep my skin hydrated. After applying my facial sunscreen SB Active Radiance Day Moisture SPF 30, I always apply the extra to my hands to prevent future sun spots."
Click through the gallery, below, to see what editors from Essence, NYLON, and Vice are using for their body care routines. 
Hayden Manders, senior staff writer at NYLON
Moisturize! Every! Day! Also, Dove's Deep Moisture Body Wash has been a life-saver. I only have memories of dry, flaky skin from my youth that haunt me into applying an intensive care body lotion every morning after I shower. Honestly, I don't do much in terms of skin care afterward. I use a body exfoliator brush once a week with my usual body wash (never bars of soap—gross). Other than that, I try to take a bath once or twice a week with essential oils and salts that amp up the moisture and leave me feeling like a spa. Depending on my mood, I'll apply a body butter after or a lavender oil to help further the calming effects.
Irina Grechko, managing editor at NYLON
I have super-dry body skin; if I don't use lotion after showering or do a scrub biweekly, it's guaranteed that it will show. I have come to depend on dry brushing pre-shower, using oil-based body washes—Le Labo and L'Occitane have my favorites—during showers, and more body oils—from Rodin and Peet Rivko—post-shower. Twice a week I also make a mess out of my bathroom scrubbing my body using Frank Body's coffee concoctions. It leaves my bathtub looking like a graveyard, but my skin the smoothest it's ever been.
Shannon Thomas, contributing writer at VICE
I swear by Nivea's Essentially Enriched Body Lotion, the original formula. In the winter, when I feel I need a little extra love to combat winter dryness, I mix it with whipped cocoa butter or coconut oil to give my skin some extra juice. I also love using fresh aloe. I buy a leaf, peel it, and it's amazing and soothing, especially during a breakout. I freeze the extra and use for other days.
Siraad Dirshe, beauty editor at ESSENCE  
I combine a mixture of oils, creams, and butters to ensure my skin is hydrated and moisturized. It's all about layering! As soon as I get out of the shower, I slather on an oil. My ultimate favorite is Oribe's Côte d'Azur Luminous Hair & Body Oil—it's light and smells amazing. I also really like Everyday Oil. After the oil is fully absorbed, I'll layer on a butter or moisturizer. I love TGIN's Shea Butter as well as Hanahana Beauty—both are owned by black women and are super-clean. Before I head out the door, I'll make sure to moisturize my hands (and elbows!) one more time with a cream like Carol Daughter's Karité Coco Velvet Body Cream.
Taylor Bryant, web editor at NYLON
I was never crazy about body care until fairly recently. I've been working out more than usual and have experienced dreaded bacne and the scars that come along with it. I'm not partial to one product or brand over the other (or one method, like bar soap over body wash). But, the products I have been enjoying as of lately are the Sol de Janeiro's new Brazilian Bod Buff Scrub 'n Mask. I'll slather it on once a week, let it sit for about 10 minutes, and wash it off. After I work out, I'll alternate washing with Neutrogena's Body Clear Body Wash or, after getting out of the shower, using Mario Badescu's Special Cleansing Lotion "O" or Paula's Choice RESIST Skin Revealing Body Lotion with AHA which helps keep breakouts at bay. I then follow up with Lush's Sleepy Lotion if I'm showering at night, and Bath & Body Works' Energy Lotion in the morning. I know that there are some people who don't moisturize after showering, but I've never been and will never be one of those people.
Angela Lashbrook, social media editor at NYLON
I have keratosis pilaris on my arms, and I've hated it ever since Elliott in seventh grade asked me why my arm was "covered in red bumps." I've recently started using Cerave Rough & Bumpy, which has salicylic acid to help calm the redness and smooth out the texture. It's only been a couple of weeks, but I'm seeing a slight improvement. More significantly, since using moisturizing shower creams instead of soap (I use either First Aid Beauty Ultra Repair Wash or Cerave Hydrating Body Wash), my skin is a lot more hydrated and, therefore, less red and bumpy. Both washes have a low pH because they're not soap, and also lack drying surfactants like sodium lauryl sulfate.
Hafeezah Nazim, editorial assistant at NYLON
The best part of writing this piece was not only finding inspiration in the responses that editors provided but being able to test out new products that will get me excited about taking showers. Now, instead of hopping in and using whichever crusty old bar of soap is laying around the bathroom, I'll reach for Epicuren's Papaya Pineapple Bamboo Body Polish (its fruity scent literally left my mouth watering) once a week to gently slough off dead skin cells, then follow it up with Glossier's Body Hero Oil Wash. This hydrating wash comes out as promised—like an oil—so, don't be alarmed if you have to use a few pumps to cover your body. I love it because it cleans my body while simultaneously giving me the hydration I need, plus it smells like what I assume clouds in heaven smell like, so there's that. Before I leave the shower, on days when my dry skin needs some TLC, I'll reach for Lush's Ro's Argan Body Conditioner—yes, conditioner—apply it on the most problematic parts of my skin (elbows, knees, heels of feet), and rinse off. I usually won't need as much moisturizer when I use the body conditioner, but I'll always throw on some of Glossier's Body Hero Daily Perfecting Cream for good measure (and also, you know, to smell like heaven.)