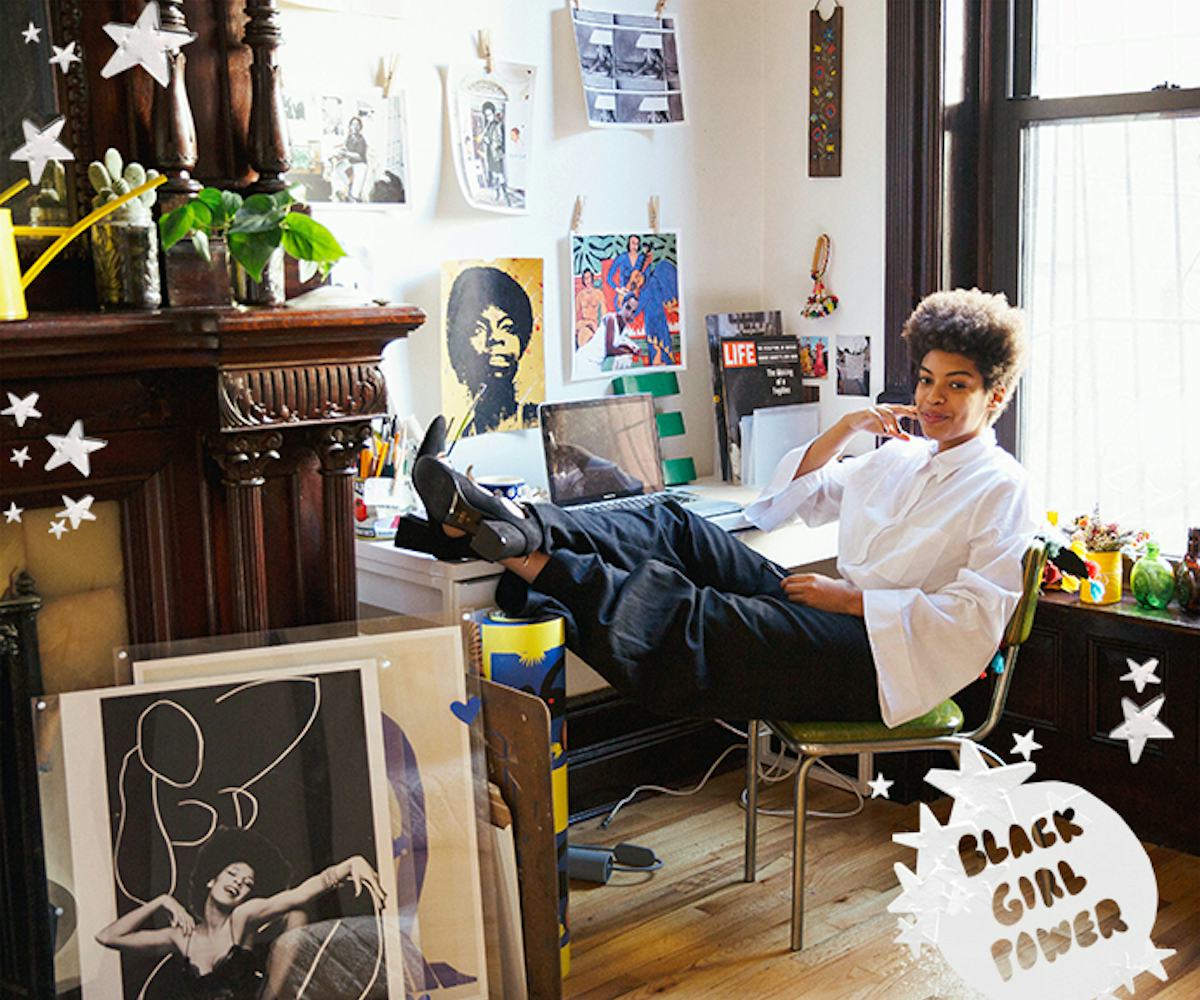 Photographed by Anna Ottum
Elise Peterson Created A Space Where She Could Thrive
meet the multitalented artist
In celebration of Black History Month, NYLON is running a spotlight series called Black Girl Power... The Future Is Bright. Every day, phenomenal black women from different industries will be featured to tell their stories—revealing how they became who they are, showing what they have accomplished, and pinpointing how they navigated their careers. Black women deserve to be celebrated 365 days of the year, and we hope that this series will inspire everyone to believe in the power of #blackgirlmagic. 
Elise R. Peterson is a writer, artist, and educator based in Brooklyn, New York. After attending Howard University, the 27-year-old creative likes to say that she lied her way to the Big Apple when she snagged a few writing gigs. Shortly after the move from Washington, D.C., Peterson was encouraged by her mentors to enroll at Parsons School of Design where she studied graphic design. "I wanted to challenge myself to enter a field that was rooted in creativity, but required me to learn a technological skill set," she says. "I was the only black person in my program that year. It was a total departure from being at Howard University."
During her time at the art school, Peterson started working with Solange Knowles as the founding music editor of Saint Heron. "[It] was an idea birthed from a bunch of black girls in Brooklyn that had a mutual respect and admiration for one another and wanted a platform on the Internet for girls and guys like us to call home," she explains. "Also, we were all like, 'Where the hell can we find good R&B music?' We created that space."
As she began to expand her creative circles, Peterson also explored another side of herself as a professional dominatrix. "Leading that sort of double, triple life was cathartic, exhilarating, enlightening, and wildly satisfying," she says. Peterson's "experience at the dungeon" birthed her sex column for Adult magazine which examined "the intersection of power and sex."
February marks the one year anniversary of Peterson's "Black Folk" series of collages celebrating Black History Month. "I challenged myself to create one collage every day during [Black History Month] highlighting a profound black figure," she said. "It was also an opportunity to self-educate and foster moments to bond with students outside of the classroom."
The whole concept was inspired by Peterson's experience working as a secretary at a school in one of the poorest neighborhoods in Brooklyn. When she noticed how black educators weren't valuing the education of their black students, she felt disheartened. "[The purpose was] to show us—black folk—in spaces we were not welcome or did not historically have a home and show how we can thrive," Peterson explains. "It was very parallel to how I felt working in that school. I had to create the space for myself to thrive."
Learn more about this dynamic creative in the interview, below!
How do you maneuver your industry as a black woman?
Approaching my work with candor is always at the forefront. No one can tell a story, moderate a space, or create a body of visual work the way I can. If I'm true to myself, everything I do is inherently black and intrinsically womanly. It's my hope to constantly push the narrative, the expectation of work by a black woman, especially in regard to how we define our sexuality.
How did you grow into your black identity?
From second to fourth grade, I lived in Overland Park, Kansas. I was one of a handful of black students in the entire school. I was young, so I didn't notice that I was different until others pointed it out. My parents would make me write black history reports on the weekends to make sure I had a strong sense of my history. Coming from such an understanding and supportive family has instilled me with a deep sense of pride. I followed in my father's path and attended Howard University. The HBCU experience was vital in embracing my blackness as a young adult.  
Could you describe a moment where you felt like you defied the odds or broke a barrier?
Getting out of an abusive relationship was probably one of the most transformative and triumphant moments I've experienced. It was the catalyst for healing and moving forward to pursue greater things god had in store for me.  
Growing up, where did you look for inspiration? Who or what inspires you now? 
I aspired to be like characters I saw on '90s sitcoms. The carefree nature of Freddie, and the style and grace of Whitley from
A Different World
, the boss bitch nature of Khadijah and Maxine or the unabashed sexiness of Regine from
Living Single
all gave me something to strive toward. R&B and rap music were the refuge to my adolescence angst. I remember playing Mya's
Fear of Flying
and Roc-A-Fella's
The Dynasty
on repeat.