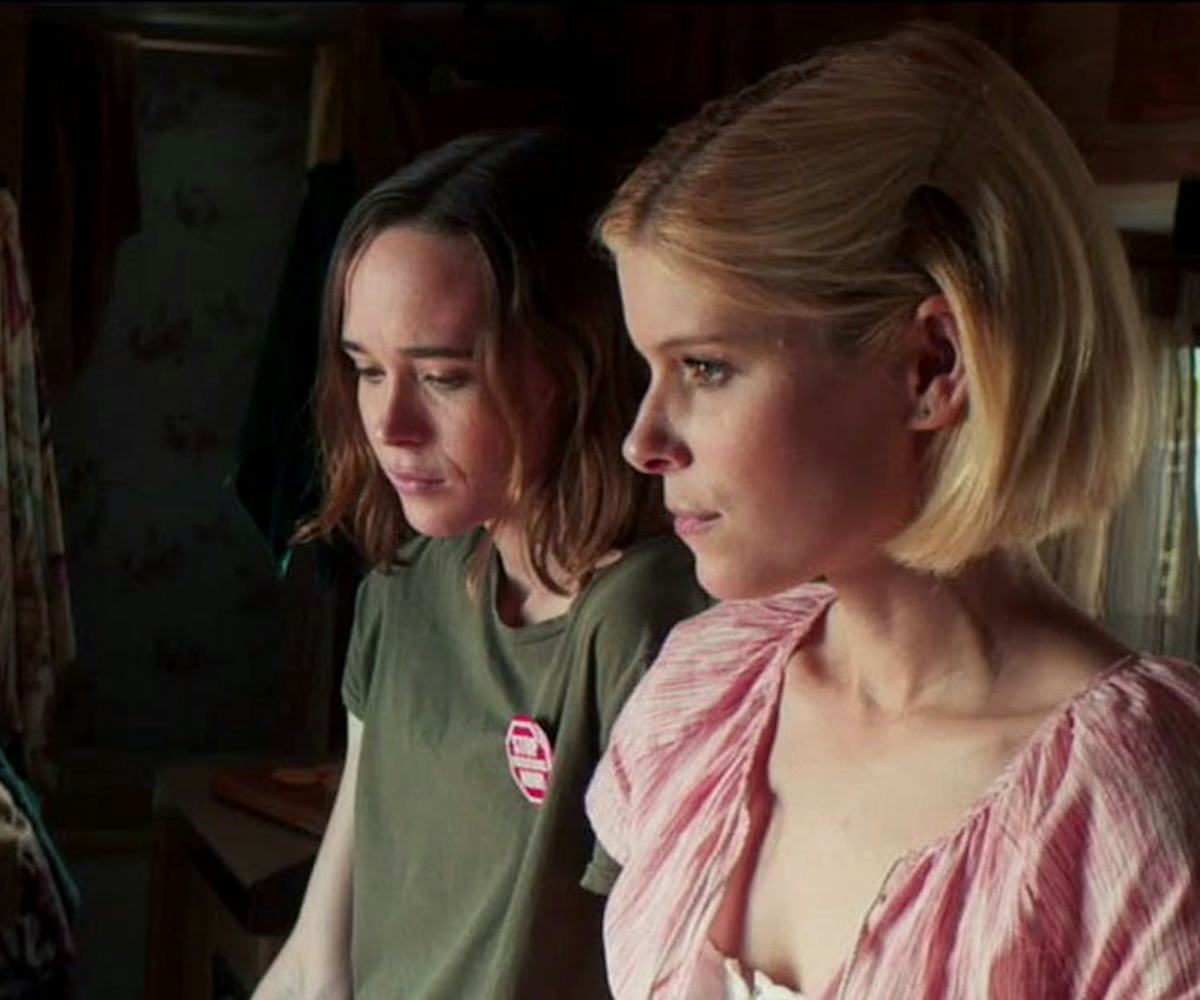 Photo courtesy of Killer Films.
Ellen Page And Kate Mara Talk About Finding And Filming Their Love Story
The two star in 'My Days of Mercy'
Ellen Page and Kate Mara were looking for a project to work on together, but they wanted it to be a love story. When they were sent Joe Barton's screenplay for My Days of Mercy, it stood out from the rest.
"I thought that it was a unique love story because there are other things and other conflicts happening in both of their lives," Mara told me in September, as she sat across from friend and onscreen love interest Page, as well as My Days Of Mercy director Tali Shalom Ezer. It was only the beginning of the Toronto International Film Festival when we spoke, but both Page and Mara are seasoned actresses who have done this promotional song and dance before. In fact, Page was doing it for two films then, as she also stars in the zombie thriller The Cured. 
My Days Of Mercy is special, though, and Page and Mara are extremely proud of what their partnership produced. The dark indie follows Page's Lucy, a downtrodden, tomboyish young woman whose entire life has been eclipsed by the fact her father is on death row for having allegedly killed her mother. She spends all of her time with her older sister Martha (Amy Seimetz) and younger brother Benjamin (Charlie Shotwell), as they take an RV across the Midwest, protesting capital punishment outside of prisons. It's an unlikely place for a meet cute, but that's where Lucy first comes across Mercy (Mara), who is, of course, on the other side of the picket line. While appearances might indicate that Mercy is on the straight and narrow, her intense interest in Lucy dictates otherwise.
"I read the script, and it was like, 'Obviously, I'm Mercy,'" Mara said. "I think if I had read it with somebody else or somebody else came to me with this script, I wouldn't naturally go, 'Oh, I'm definitely Mercy,' because I related in a lot of ways to Lucy as well, but our dynamic in general... it just sort of... yeah, we just fell into those naturally."
"I loved the idea of getting to play this character that at the beginning is overcome with a numbness—like I can't even imagine a positive emotion would feel good," Page said of her character. "Just beyond the level of depression and sort of [being] stuck in this time and almost stuck as a teenager on some level, and the idea of what that progression would be when falling in love, especially after being in small town in Ohio and an isolated, lonely person. It felt like a great opportunity to make a film that had a love story parallel to another narrative, and it happened to be a same-sex love story."
Inspired by Shalom Ezer's previous film, Princess, Mara and Page hired the Israeli director after a brief Skype session in which Shalom Ezer said she could see how much the actresses "supported each other."
"At the beginning, I thought it was a prank or something," she said. "I couldn't believe it—I'm not joking. It took me a few weeks to overcome feeling... how can it be? It is the most beautiful script, and I felt such a strong connection to their characters, and I was really keen to explore and tell a love story—this is something new to me. I was so happy that they liked Princess, but it's much darker than this. I know My Days of Mercy is also dark and painful, but Princess is much darker. To me, to make a movie about love, it's the most beautiful gift that I got from these ladies."
Shot largely in Loveland, Ohio, during the 2016 election ("There were Trump signs everywhere," Page recalled), My Days of Mercy balances the impending doom of Lucy's family with the romance she develops with the mysterious Mercy. Onscreen, the two connect from first glance, a chemistry that they credit to their offscreen friendship. 
"People tend to think that because you're friends, maybe it's awkward to do the love aspect of it," Mara said. "But it's because we're friends that we're so comfortable with each other, and it feels easy and you have an instant connection and trust. So it made all of that sort of natural and easy."
"So much of the movie is obviously really heavy and sad, especially playing Lucy," Page added. "But it was so enjoyable to feel the lightness that we have and the humor, and to do it with one of your best friends just allows you to feel more vulnerable."
Shalom Ezer said the appeal of the story was in its reliability and hopefulness; despite the discouraging conditions, she sees the film showing "the transformative healing power of love."
"Even though I didn't grow up in Ohio—I grew up in Israel—I felt so close to it," Ezer said. "When you meet someone, this person... When I met my wife, she changed me, and she helped me to be myself. That's why I wanted to tell this story."
Since coming out publicly in 2014, Page has made it a personal mission of sorts to both play in and produce LGBT-inclusive content. She serves as producer on My Days of Mercy, as well as on her Emmy-nominated docuseries, Gaycation, and Freeheld, the 2015 film where she starred as Julianne Moore's life partner. And although she doesn't want to pigeonhole My Days of Mercy as a "queer movie," she says that it provides some familiar yet new cinematic approaches to a same-sex courtship that aren't often portrayed in modern film. Like how the more feminine of the two, Mercy, is the aggressor, chasing after the more androgynous of the pair.
"I liked a lot of those dynamics that I think to some people would feel counterintuitive—there's a queer nuance that I related to so much," Page said. "When Mercy seems to be hitting on Lucy, and the next scene is asking if she has a boyfriend—sort of that whole dynamic when you're navigating that space. But I think to me a lot of those aspects were unique and new and something I could completely relate to—conversations I feel like I've had with people."
"I mean, yes, she falls in love with a woman, but I didn't read it as a queer role. I just read it as this is a human who falls in love with a woman," Mara said. "I've played lesbians before, but, like Ellen said, the thing about this script that I love so much was that, first of all, we really wanted to find a love story, and I thought that it was a unique love story because there are other things and other conflicts happening in both of their lives."
Many of the film's plot points are spoiler-y in nature, which made it hard to fully discuss some of the things that will inevitably get published, but perhaps that's also part of its draw. The performances from Page, Mara, and Seimetz (who is, per usual, incredible at sinking into her character, serving as a de facto mother figure to Lucy without being overwhelmingly resentful or negative) are what elevates the script, and with Shalom Ezer's inherent female gaze providing a feminist lens on the typically quite machismo topic of capital punishment and its effects on the family unit, My Days of Mercy is one of the more worthy of distribution films that showed at TIFF this year. 
Yet while they were able to secure funding fairly quickly (thanks in part to a collaboration with Christine Vachon and Killer Films), the film has frustratingly, at the time of the interview, not yet found a distribution deal. It could be because it's a film with three main characters who are all women, rather than men, or it could be the queer aspect. Page has dealt with this before with Freeheld, and Mara's sister, Rooney, had a similar situation with Carol, as both films took years to get financed and were ultimately directed by men (Peter Sollett and Todd Haynes, respectively). And while My Days of Mercy received fair reviews out of TIFF, somehow its future is still undecided. Is the inevitably of that being because it's less marketable as a lesbian love story?
"I guess it's hard because I want to be like, 'Come see these queer characters,'" Page said. "I want to be proud of that, and be like, 'No, it's not [just a queer film]!' I think it's a compelling drama, and I think a lot of people can relate to Lucy and Mercy's story regardless of how you identify, in terms of suffering enormous amounts of trauma to the degree that it's completely altered your life, and then have someone come in and shatter you open. It's brutal and so painful, but ultimately, it leads to some form of healing, and I think a lot of people can relate to that journey."