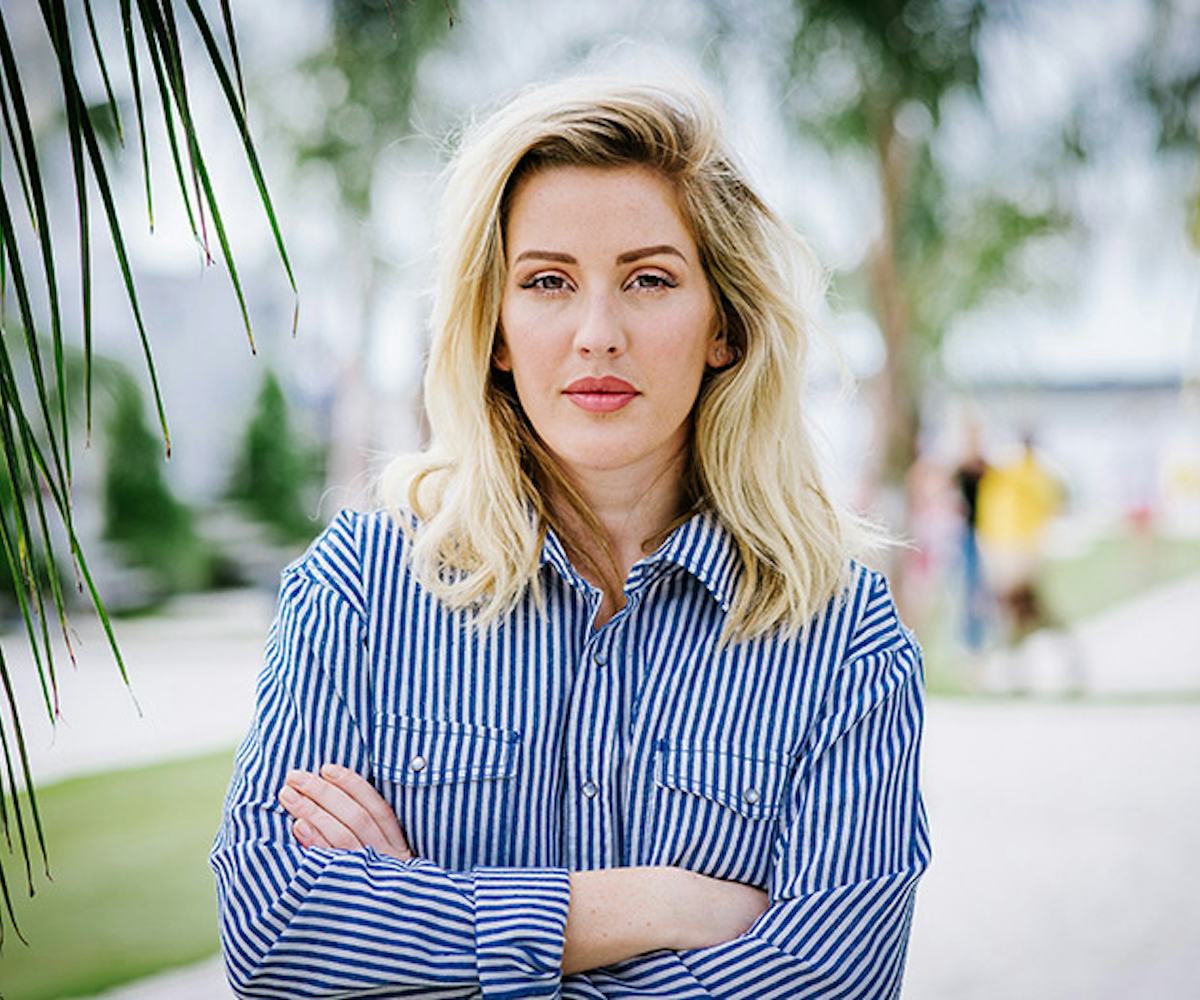 Photographed by Nina Westervelt
Ellie Goulding's Got Her Eyes Set On Life Beyond The "Lights"
A little break never hurt nobody
It's been nearly six years since Ellie Goulding burst onto the scene with her glittering electronic pop and atmospheric voice. Since then, Goulding has become a bicoastal phenomenon, and her latest album, Delirium, solidified her as a global pop star. She found a way to make pop feel as grandiose as the EDM acts she's provided vocals for and as such, pushed herself into a new echelon of fame and notoriety. With that comes a demand for more, however. Goulding's currently touring and playing the festival circuit, but expect her to take a little break once it's all said and done. Like her friend Taylor Swift, Goulding told us, before her electrifying set at Hangout Fest, a break is indeed in order. It's a chance to breathe, to focus on nurturing creativity, and gift herself with time not spent dealing with the demands of her unique line of work. A big record deserves a big vacation, and the opportunity to foster yet another outstanding piece of music. 
Here, we talk with Goulding about touring and the festival scene, with a little British humor mixed in.
Since the release of Delirium, what has been the most surprising thing to come out of fans' reactions?
It's been a very positive reaction to what I do. I feel like I have a very strong fanbase at this point. I now have people who will appreciate anything I do. I was happy with it, I've been touring [the album] for the past few months and it's gone amazingly well; everyone knows the songs.
The album has been out since the fall and the tour has been going on; do you plan on taking a break after this?
I'd love a break—not that I ever get one! I'd like to have a break at some point. I'm hoping that in August I'll get a month or so, because this tour has aged me big time! It's been the toughest tour I've done. It's a bigger show, but some of the venues aren't suitable for our show, so it's been really stressful. It's been fun, but it just takes a lot out of you. It's not easy being on tour, sleeping every night on a bus, living out of a suitcase... I'm kind of over it. I want to do what I do and make music and write music, but maybe take a bit of the tiredness out of it.
Do you feel a pressure to constantly be creative and be on and all that?
Not to be creative, but I definitely feel the pressure to be 100 percent every single night. When you're traveling in a bus and not sleeping great, it's hard to be on it every night, but you have to be. I'm looking forward to a time when I can just be with myself and have different experiences; take myself out of music for a little bit.
Considering you are on tour all the time, what's one thing you do to ground yourself?
I find myself in the gym a lot by myself. I try and train. I watch British comedy on TV or my computer. I like to watch very British things that aren't shown anywhere else in the world, because it reminds me of home. I try to do that as much as possible.
I just started watching Absolutely Fabulous—I'm obsessed. I can't wait for the movie.
[Laughs] Yeah!
Who do you most identify with, what characters?
Maybe not in Ab Fab, but I watch a British comedy called Gavin & Stacey. It's written by James Corden and Ruth Jones. The characters remind me of growing up and make me feel nostalgic, so I watch that to make me remember where I come from and stay humble.
Right now, how has your life been different than you thought it was going to play out?
I apparently thought I was going to be married at this point, but I'm not. I'm single. It's a strange existence that I love and I'll never take for granted, but you can't ever deny that what I do is a really strange life. I love playing festivals, but it's gotten to the point where I feel—we're going deep—it's not a very private existence; it's very open. Festivals keep me alive because they're so vibey and I'd want to be at these festivals if I wasn't performing—I just never have time. Festivals are the things that keep me in check and remind me why I do what I do.
Definitely. When you were a younger artist, did you find it harder to get booked for festivals?
Yeah, I'm still in the minority of females playing festivals. That's something I've always noticed. Even when I was young and naïve and started doing festivals, I noticed that there weren't many females on the lineup. Florence [Welch] is always on the circuit. Of course, I was going to festivals playing to like, 30 or so people at the beginning. I've opened a festival, but things are different now.
I've noticed there are usually big ticket names, but I'll look at the smaller names and wonder, "Where are the smaller female artists?"
Yeah… sometimes there are a lot of artists that don't play festivals, and maybe it's not the right thing. I'm proud to be a pop artist and still be a well-respected festival performer.
Definitely. Can you recall your most memorable festival moment as a fan or performer?
Coachella is always memorable. It's so overwhelming that the whole performance goes by in a flash. There were so many people watching and with me that I felt humbled by it all, and sort of adopted by the mostly American audience. I never in a million years thought that this is what I'd be doing; I always feel grateful to play festivals like Coachella, Lollapalooza, and Bonnaroo. And of course, Hangout Fest, too!
This festival is so surreal!
It's amazing. We got in this morning on the bus and I haven't had much time to appreciate it. I was on the beach for, like, five seconds! I wish I could spend longer at these places—it just never happens. I go straight to L.A. tonight on a jet. I've got a holiday in July, though, a five-day holiday.
Now for some quick-fire questions: What is your favorite beach read?
The last book I read is called H Is For Hawk. It's nonfiction. It's about a woman dealing with the death of her father, but it's incorporated with the English countryside. It's an essential thing that I love, and part of my nostalgia of growing up. That was a good read, I enjoyed it—a little morbid at times, but the way she writes is beautiful.
What is your favorite summer jam?
I'm a lover of house music so my guilty pleasure is all that tropical house stuff. I love Duke Dumont and Kygo—we're all listening to him a lot at the moment before I go on.
What is one thing you avoid at the beach?
I don't think I avoid anything; I'm pretty free.
If you had to put any of your songs on a beach playlist, what would it be?
People love the songs I do with Calvin [Harris], so maybe one of those.