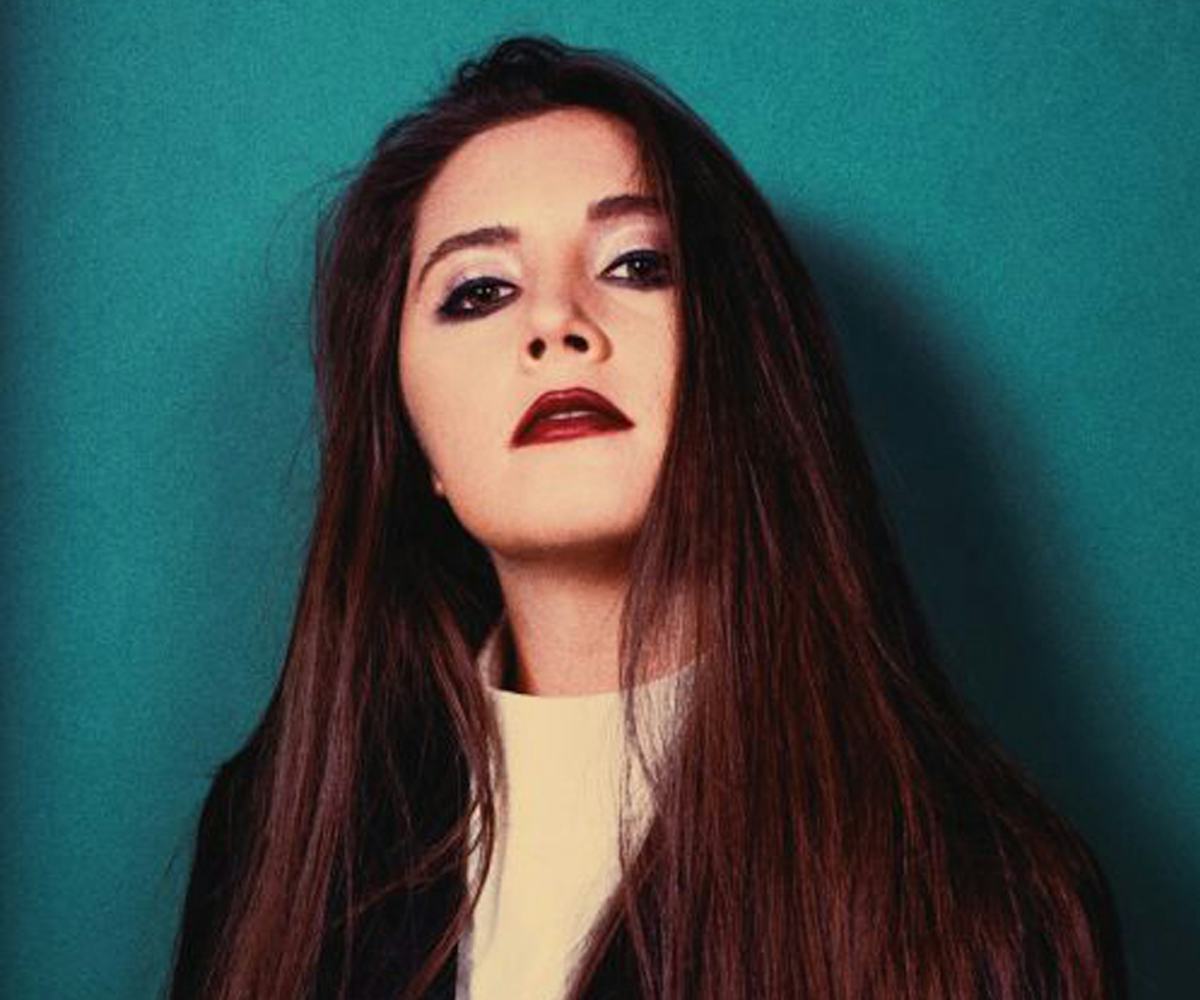 Photographed by Alexander Bortz
Emma Gatsby Is Making "Pop, But With A Feeling"
The 19-year-old talks her debut single, overcoming tragedy, and the novel that started it all
After spending enough time talking to Emma Gatsby, you quickly pick up on the singer-songwriter's favorite phrase: "to be completely honest," or sometimes just, "honestly." It's a fitting catchphrase for the star, whose refreshingly bold brand of pop and wisdom beyond her years have caught our attention.
It would be easy for the singer just to capitalize on her strikingly young age, but there's so much more to this up-and-comer. Born Emma Handler, the 19-year-old has made it through the loss of both her parents, being shipped off to various boarding schools, and raising herself from the age of 16. With her official debut track premiering right here, Gatsby wants to show others that "you can always rise above."
The New York native, who grew up on the Long Island estate that inspired F. Scott Fitzgerald's The Great Gatsby, and recent L.A. transplant does this through purposeful pop that strays away from the formulaic, starting with her debut single "2 Steps" and its mesmerizing video. Recently, we caught up with the singer to talk about her unbelievable story, from her moment of clarity at a party hosted by P. Diddy to the classic novel that started it all. Stream "2 Steps," below, and read up on your newest aux cord go-to, ahead.
How did you get started in music?
My whole family, especially on my mom's side, was in music. [My mom] was born and raised underneath the piano. She went to Juilliard [School] at 13 and was just basically teaching me cello and piano since I was 3. I studied classical cello with her up until I was about nine years old. I was playing Level Six at nine, which in the classical world is as high as you can get. 
After she passed, there was no way for me to go back into that world of playing cello. It was just really emotional for me, as a kid, having another teacher. I had a neighbor of mine who was into music, and his parents were always playing rock and AC/DC and all that stuff, so I picked up the guitar from him. 
What was your upbringing like?
After my parents [passed], it was kind of a free-for-all with what to do with me. I was living with different families, shipped off to boarding schools, and I was even shipped off to a troubled youth program that I didn't belong in, in the middle of Georgia. I finally emancipated myself by the age of 16. But the estate that I grew up on with my parents was the estate that inspired the book The Great Gatsby. That was where all of who I feel like I am was created, on that property. And it just happened to be one of the most historic places. So I was like, wow, this is too perfect for me not to make this a huge part of my story. Because it is.
What was it like reading The Great Gatsby while living on the property it was inspired by?
The way [character Jay Gatsby] talks about being really nostalgic, and no one really being there for him, and how he would throw these parties, and how people were really around him for the money, and how he was alone and just wanted to go back to the past, that's how I feel. I believe that there's so much truth to that part of the story. It's really hard to find real people and real friends when there's so much that could dilute why somebody is really around you. I was 16 and living in this house by myself with all these kids coming around me having parties. But I found myself alone at the end of it.
Was there a moment when you realized music was no longer just a hobby?
I think it was some guy who was friends with this producer who was always interested in managing me, and one day, he invited me to come out to Miami. I just turned 17. I bought a one-way ticket to Miami, went to P. Diddy's New Year's Eve party. I know this sounds crazy, but I just looked around and thought, "These are going to be my peers when I'm older." What struck me the most is that I wasn't starstruck. It wasn't like, "Oh my god, these people!" I remember feeling so normal. There wasn't any separation. I knew [music] couldn't be a part-time thing.
Would you say there is a theme to your upcoming EP?
I used to think I could put a label on it, but I just find that really hard, being a listener of my own music. I think it's pop, but not so plastic. And I love pop music, but there is some that I feel like is very plastic and there isn't really a feeling to it. You listen to it, and it's, what's the word, it's formatted for people to have it stuck in their head...
Mathematical?
Exactly. It feels like a machine. My stuff is pop, but with a feeling. 
Tell me about your debut, "2 Steps." Where did the inspiration for the song come from?
In a lot of my relationships, I can really tell who's genuine and who isn't. Thinking of the younger version of myself, I kind of liked those games, even if I knew people weren't genuine or worth it. I would do it before it was done to me; I would play the game. But I'm a very loyal person. I don't condone cheating; that's not the message of the song. I don't want people to hear this song and think, "This homewrecker," you know? [Laughs] You're always going to meet people who aren't for real, and you're always going to know it, and people around you might not think you're aware. But I'm a completely aware girl, and that's the song.
Was it a deliberate decision to include a same-sex relationship in the video for "2 Steps?"
It's a real story that actually happened. It wasn't like, "Being lesbian is in right now." I hate people who take that to their advantage for whatever reason because then it messes it up for the people who are like, "I'm actually just trying to express myself." I'm trying to show my fans or whoever likes my music what actually this is about.
What else can you tell me about the EP?
We just booked out a studio, and it was song after song. It was crazy, the energy in that room. I don't even think it was a full week, and we did at least seven songs, I think. I don't know what's going to go on the EP and what isn't, but I have a lot of music. I have no idea [when I'll release it]. I wish I knew, honestly.
What music did you listen to growing up, and what do you listen to now?
Growing up, I listened to a lot of classical music. My mom didn't let me listen to the radio, actually. She thought that what was playing then was inappropriate, or whatever, and she was only playing 96.3, which at the time was the classical station in New York. She used to test me, too. She would play it, and then she would be like, "Who composed it?" Obviously, at the time, I was like, "Oh, that's so annoying." But looking back, I'm so grateful that I was raised that way.
[Today] I listened to Sia, ASTR, A$AP Rocky, Deptford Goth. I love The 1975. Yuna is amazing. Frank Ocean. I love Miike Snow. Theophilus London. And BØRNS, obviously, BØRNS is incredible. And Flume. 
What are your goals as an artist?
I just feel like my purpose is to let people see that no matter what happens or what you lose—whether it is a mother, a father, whatever it is—that you can always rise above that and make your life something, which is what I'm trying to do. I want people to resonate with my music and never feel alone. I always wanted to look up to somebody and say, "They felt the way I felt once, and now look at where they are," and have hope. I haven't really found an artist like that, so I decided I'd become one.