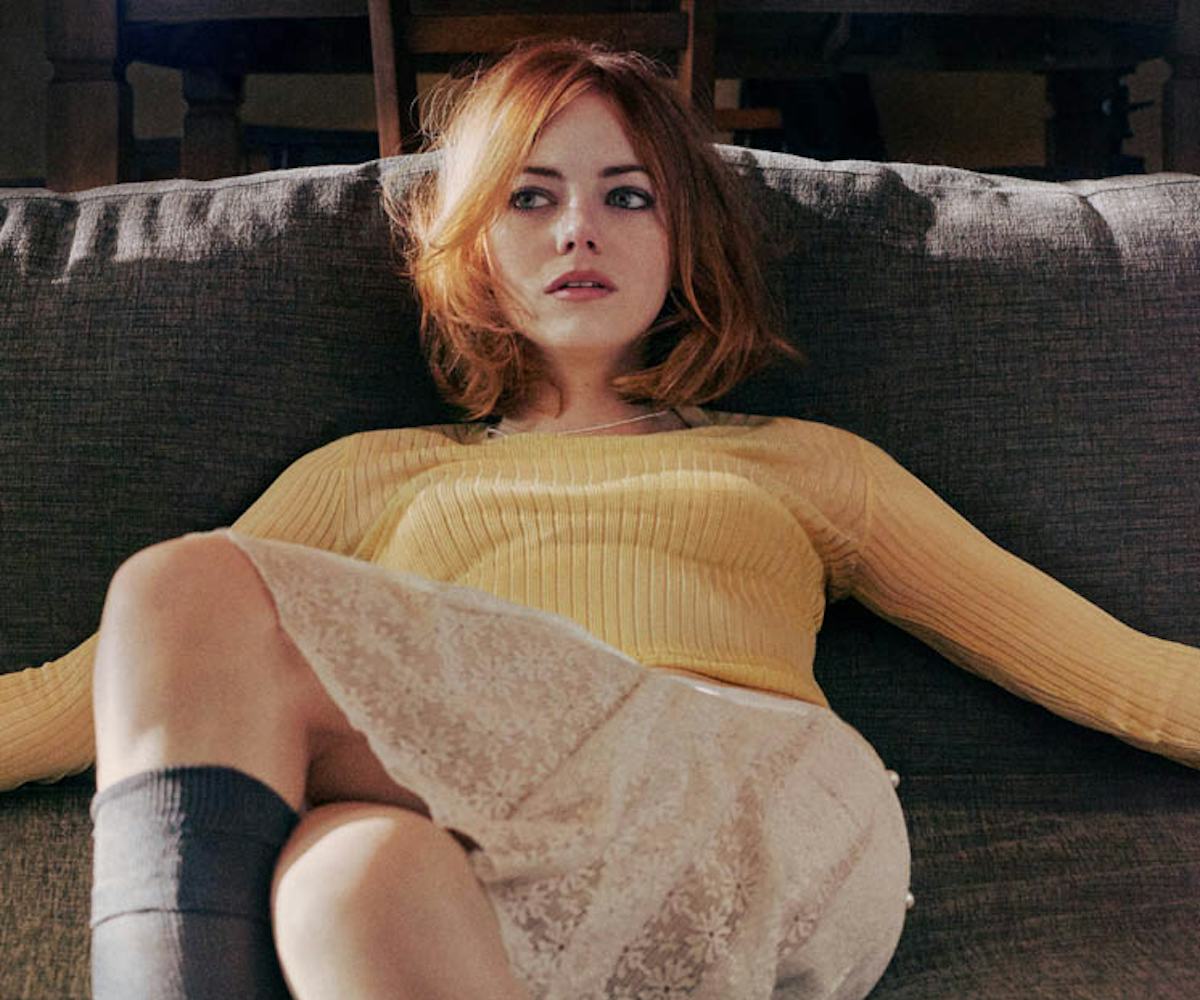 Photographed by Craig McDean and Styled by Elin Svahn for Interview Magazine
emma stone has some seriously deep thoughts
in a discussion with diane keaton
What exactly does it mean to be a successful female in Hollywood nowadays? Is it an IMDB page filled with blockbuster roles, creatively fulfilling indie movies, or a clear career trajectory from teen coming-of-age classics to Academy Award winning films? In the latest issue of Interview, Emma Stone and Diane Keaton discuss their experiences in the industry, somewhat bringing us closer to understanding how ambition, talent, and determination intersect on- and off-screen.
A large part of the ongoing discussion on sexism and gender inequality in Hollywood and society at large has been the idea that women don't ask for enough. Backstage at this year's Oscars, Patricia Arquette urged women to fight for wage equality. Keaton began the interview by sharing a quote that she gave in her own 1986 Interview cover story: "The best way of getting something is not to let anyone know you want it—including yourself." She later continued, "It just seemed like it was asking too much. And if I admitted that I wanted it, it would go away. It would be punishment, you know, for having the want." When asked if she ever thinks in that way "in order to just not feel guilty about being so successful and ambitious," Stone said, "I feel safer when I know what I want. When I don't know what I want, I feel like I'm flailing through the universe." 
They then segued into ageism. Referencing Stone's prior 2012 Interview in which she said, as paraphrased by Keaton, "People become frozen in the time when they become successful because that's when their whole life experience kind of galvanized. They became successful for being that person at that time. And they really have to fight in order to grow past that." Expanding on that idea, which Stone insists that she probably didn't think of herself originally, said, "Now I've seen people that have been famous or successful for a very long time who can still get stuck in that" and that they try to remain at the "age" of "the universally accepted version of [themselves]." While it does seem that age and superifical aspects directly correlate with cultural relevancy in Hollywood (after all, you have to look a certain part to play a certain role), Keaton says that there is no way to achieve that, no matter how hard one tries.
Admitting that she has herself struggled with this, Keaton suggests that this conflict came late in life—or, perhaps, later in life when compared to Stone (26). "I was 30, I think, when Annie Hall [1977] happened for me," she said. "And that changed my life, completely, from that day forward. And so I had to take on those challenges." 
Judging by his latest casting choices—Magic in the Moonlight and Irrational Man—it seems as if Stone is Allen's latest muse. And while there is no doubt that Allen creates beautifully intricate and realistic storylines and fantasies, Hollywood's seeming disinterest (Stone and Keaton's included) toward allegations that Allen sexually abused children is certainly off-putting. As is usually the case, all claims have been "he-said-she-said." And while it isn't right to wrongfully condemn a person, it doesn't seem right to brush it under the rug, either, especially in such an empowering and lovely interview. 
Click through the gallery to see some of the story's amazing stunning portraits by Craig McDean and head over to Interview to read the entire story.
"When you feel that a person is being true to how they want to look or what their face is, I think there's something about the acceptance of oneself that I can feel from people. That tends to be what I'm attracted to."
"What's strange about the way my brain functions is that the only thing that has ever made me feel calm is knowing clearly what I want."
" I feel more ready than I ever have to do something incredibly different and challenging and scary."
"The greatest thing about that memory—and I can only hope that other people have that same experience—is that it is of love before love ever got complicated."