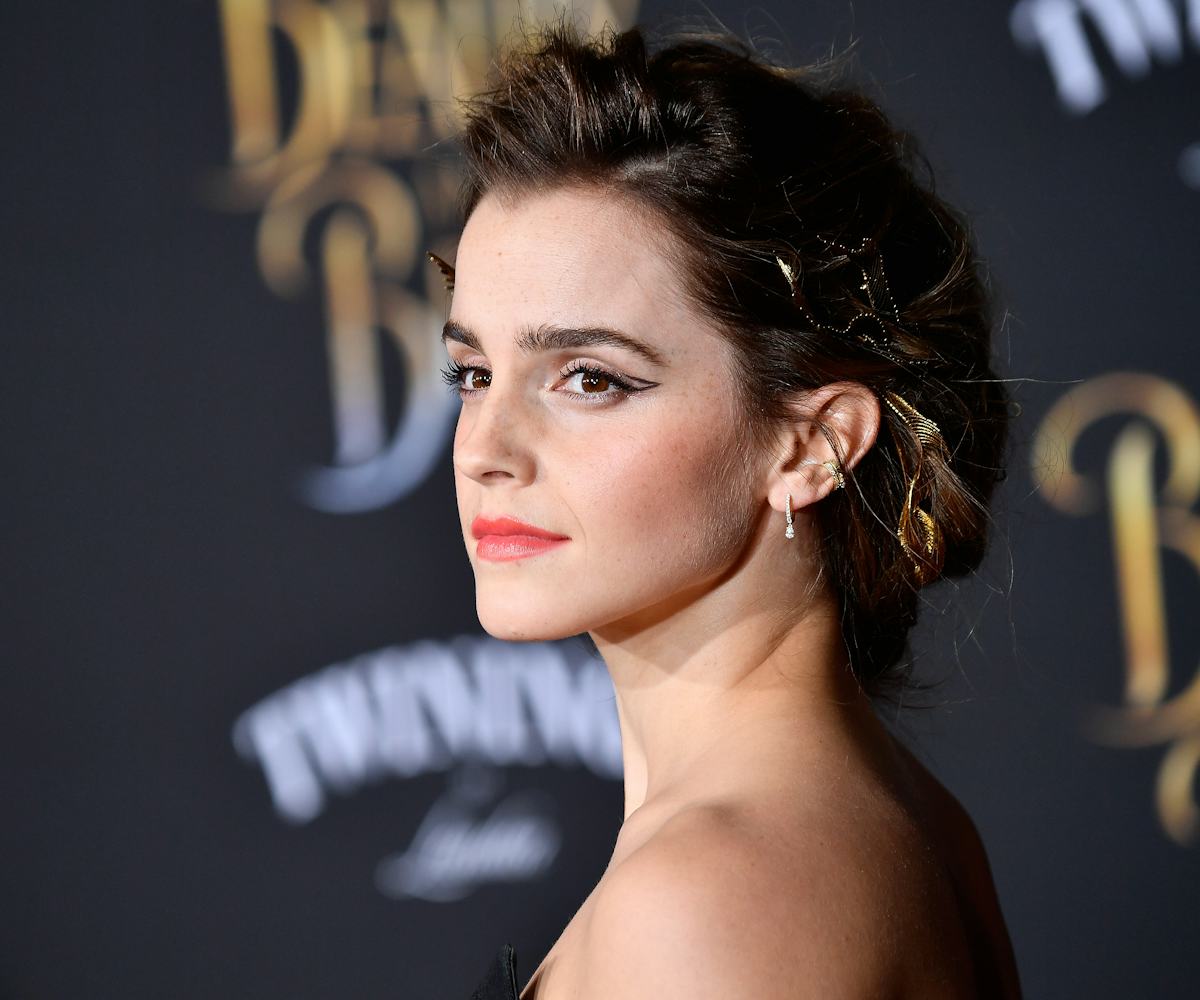 Photo by Frazer Harrison/ Getty Images.
Emma Watson's Routine Includes Baths, Brain Dust & Pubic Oil
She's also a big advocate for #TeamOrganic
Emma Watson is, what the youth would refer to as, one of the more woke celebrities out there. She's a renowned feminist, and with Beauty and the Beast around the corner, she's dedicated her press garb to highlighting environmentally friendly looks. This morning, the actress shared her beauty routine on Into the Gloss, and, unsurprisingly, it follows a similar au naturel route.
"Recently I've become super interested in sustainability and transparency and understanding what I'm putting on my face and on my body. It's been a fun little mission to see how far I can go with it…" she writes. "Can I put together a hair and makeup look with completely organic products? I needed to figure out if it was achievable or not. You can't talk the talk if you don't walk the walk. So that's what I've been discovering over the past couple of years."
After looking at her list of products, we can report she's been doing a pretty bang-up job. It's not 100 percent natural, but a good chunk is. The actress also went full-on candid about other bits of her routine. Below, we list some fun takeaways from her beauty breakdown.
-She takes baths every. single. day. "If I can have two or three—amazing," she writes, continuing, "nothing terrible is going to happen in the bath, so I always find time for that."
-She finds new beauty products on Instagram, which means she actually uses Instagram.
-She insisted on keeping her freckles as a part of Beauty and the Beast. "There are so many young girls who are going through puberty who really hate having them, so I felt the need to say that I have them and that I think the look of natural skin is beautiful," she writes.
-She wears natural deodorant. Her favs are Agent Nateur NO. 3 (a roll-on stick), Weleda Sage Deodorant (a spray), and Soapwalla's Deodorant Cream (a cream, obviously).
-She's been bleaching her top lip since she was nine. "I don't do it every often, but I do it!" she declares.
-She also uses Fur Oil on her hair, eyebrows, and pubic hair.
-Her favorite perfume comes from a factory in Provence, France. She got it when she was 11 or 12 and hasn't been able to find it since, so she keeps it with her as a good luck charm.
Read up on her full routine over at Into The Gloss.