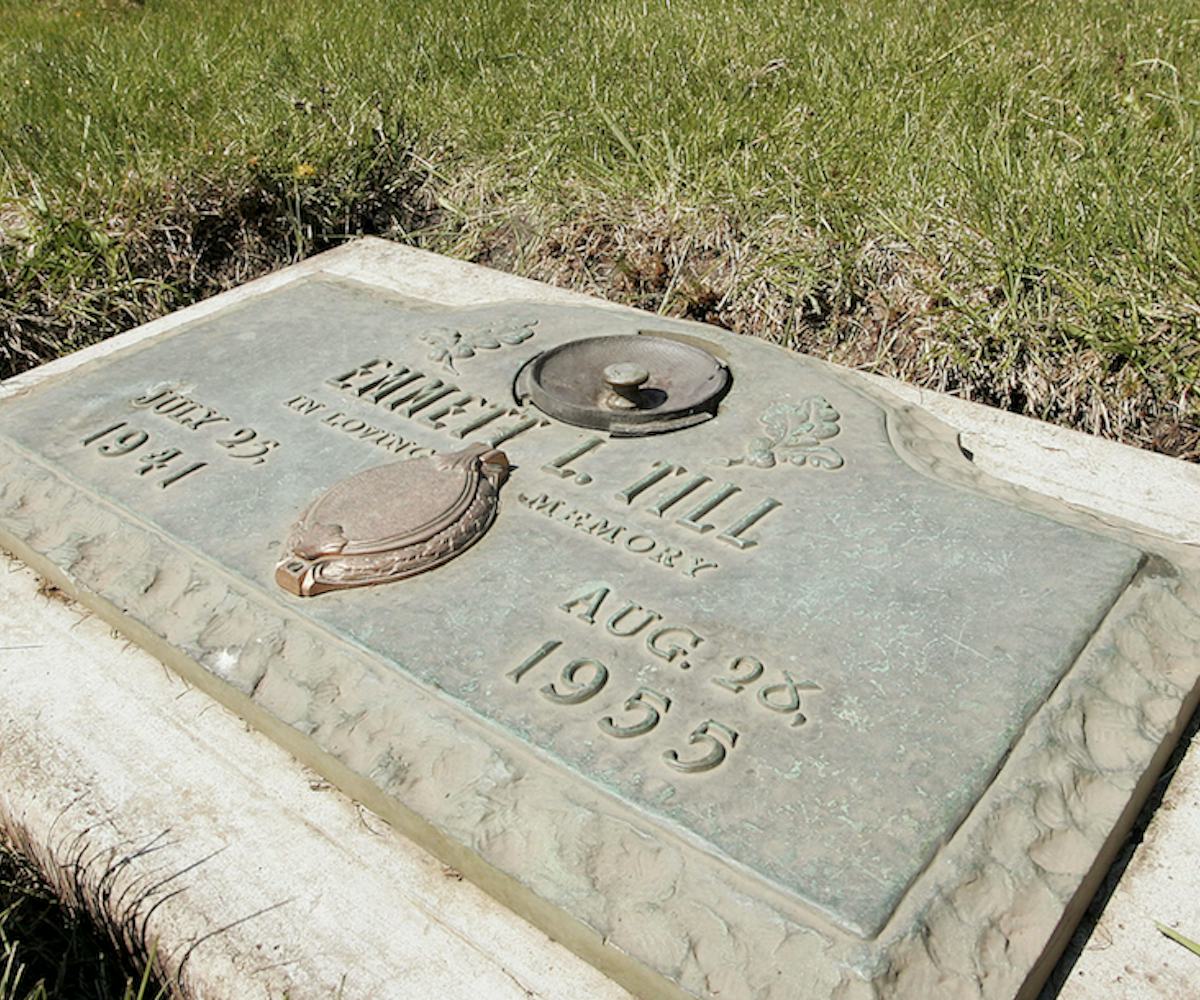 Photo by Scott Olson/ Getty Images.
Emmett Till's Murder Is Being Reopened After "New Information" Emerges
The case that had a huge effect on the Civil Rights Movement
The 1955 murder of Emmett Till is being reopened by the U.S. Justice Department. Associated Press reports that an annual federal report sent to lawmakers in late March under Till's name indicated that the federal government would be looking into the case after receiving "new information" about it.
Till, who was 14 at the time of his murder, was abducted from his family's home in Money, Mississippi, savagely beaten, and shot in the head for allegedly whistling at/flirting with a white woman named Carolyn Bryant in a store. His body, which was being weighed down by a cotton gin fan, was later found in the Tallahatchie River. Till's mother, Mamie, made the conscious choice to leave her son's casket open during his funeral, allowing people (including Jet Magazine that ran a photo of Mamie looking at Emmett's body) to see how deep the hatred toward black people was in the South and, as such, sparking outrage that would eventually lead to the Civil Rights Movement. Two white men, Bryant's then-husband Roy Bryant and his half-brother J.W. Milam, were charged with murder but were acquitted by an all-white jury despite testimony against them. No one to this day has been charged with the crime.
Though the AP report doesn't cite what the new information is, it notes that Timothy B. Tyson's 2017 book, The Blood Of Emmett Till, may have some involvement with it. The book says that Bryant (who now goes by Carolyn Donham) admitted in a 2008 interview that she lied when she testified that Till whistled at and flirted with her. 
"Nothing that boy did could ever justify what happened to him," the report says the book quotes her as saying. 
And while her former husband and his half-brother are no longer alive, Donham, who is about to turn 84, currently lives in Raleigh, North Carolina. 
Paula Johnson, who leads the Cold Case Justice Initiative at Syracuse University, told the publication that she "can't think of anything other than Tyson's book that could have prompted the Justice Department to reopen the Till investigation." 
Ava DuVernay also opened up about the news, expressing on Twitter that Donham is an accomplice to murder. 
"Carolyn Donham is an accomplice to a confessed murder and should be in prison," she said. "That's been clear for decades now. But she's lived her life as a free woman in the world. While #EmmettTill hasn't lived at all."
AP notes that the Justice Department declined to comment on the status of its investigation.