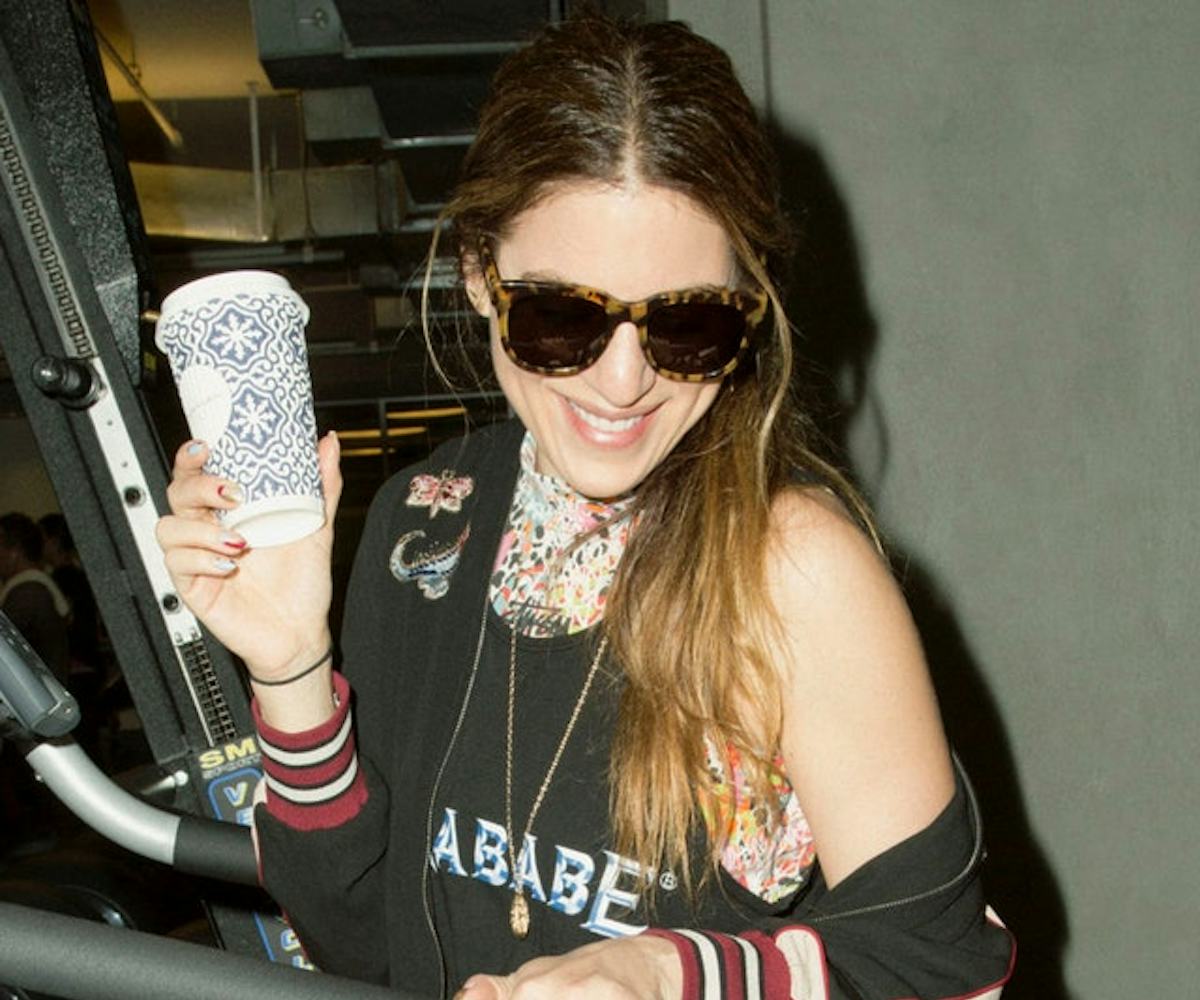 Photographed by Eric Helgas.
NYLON Style Director Dani Stahl Takes On Equinox
And embarks on an exercise challenge
The following feature appears in the June/July 2016 issue of NYLON.
Whether you're super sporty or just dress like you are (hello, athleisure!), you're probably aware that Equinox is basically the holy grail of fitness. I myself have always been into keeping active (I've been taking exercise classes since my high school days, back when it definitely wasn't cool), and I'm especially keen on getting into my best shape around the summer season, when outdoor adventures and adorable swimsuits are musts. And, as you regular Factory Girl readers know, I just had a baby, so this year I wanted to amp up my exercise routine, and I knew my friends at Equinox would be the perfect ones to help. Thus, this fitness Factory Girl experiment was set into motion. 
Click through the gallery to read the rest of this feature.
I've belonged to Equinox for a long time. At my peak fitness level, around five years ago, I was going to their classes nonstop and even used to carry around a tattered printout of the class schedule, always keeping it on me in case I ever felt the urge to take some impromptu Cardio Kick. Now, of course, the whole thing is in app form, so this time I will do it sans paper, but hopefully with similar results.
With that, I head just down the street from our NYLON offices to Equinox in SoHo—where the clientele is always star-studded and the facilities are unbeatable. There, I meet my badass new trainer, Vivian Corado. She provides me with a full-body analysis before giving me the rundown: I'll be doing a six-week challenge, with a minimum of five classes per week (I can choose my own).
I decide to monitor my progress on an Apple Watch and, in addition to my Equinox program, I've pledged to up the ante with a separate clean-eating regimen called The Whole 30. (Now, I've done many a self-designed eating-and-exercise plan, but I don't think I've ever stuck to one perfectly—honestly, does anyone? This time, however, in the name of journalism, I will not stray in the slightest.) Lastly, I promise not to weigh myself during the entire experience, because, after all, it's more about how I feel than a number on a scale. With that, I begin.
The class lineup I curate goes as follows:
30/60/90. In my opinion, this is the crown jewel of all Equinox classes. Bottom line: If you want to burn off that burger (plus the fries and shake), 30/60/90 will get the job done. Developed by Kristi Molinaro, it features high-intensity interval training with scientifically designed combos of athletic drills and recovery.
Tabata. This class involves a method of alternating 20 seconds of intense work with 10 seconds of rest in eight-round intervals. By the end, I'm sweating through my T-shirt.
Pilates. I take this class with an instructor named Aida Palau, who is awesome. Pilates is great for body awareness, core strength, flexibility, and mobility.
Barre Burn. This is also taught by Aida, and it's fabulous. It's all about body sculpting, stretching, and lengthening using free weights, a balancing bar, and a mat. I've been a barre loyalist for a long time and Equinox's class provides a nice change from my usual spot.
Cardio Kick. Derived from classic boxing and kickboxing training methods, if you're into doing kicks, punches, and blocks, this is for you. When the 45 minutes are up, I really feel like everything is worked out.
The Pursuit by Equinox: Burn. This is a great cycling experience in which you're competing with the other people in the class. If you're in the mood to just zone out in the back, it's not the best option, but for us competitive types it really ramps up the workout.
Personal Training Session. This doubles as my weekly check-in with Vivian. We do more targeted stuff for my body specifically, like the TRX rope system.
It might sound like a lot, but before long, the routine really becomes second nature to me. One night I even dream I missed my class and wake up totally devastated. And, considering that I love athletic clothes just as dearly as I do designer pieces, this is a great excuse to don my entire workout wardrobe. On the last day of the challenge, I receive my final official full-body analysis, and end up jumping from the "average" category to the "good" zone, but I feel amazing.
I have trimmed a lot of fat and strengthened my muscles, tightening my arms a quarter-inch each, each thigh a full inch, my waist three inches, and my hips one inch. (And I lost seven pounds—baby weight be gone!) While I will admit this wasn't a total surprise as I may have snuck in some secret premature weigh-ins, I'm beyond thrilled with my results. But maybe the best part of the whole thing has been really taking my commitment to total body wellness to the next level, and, well, fitting in my skinny jeans doesn't suck either.