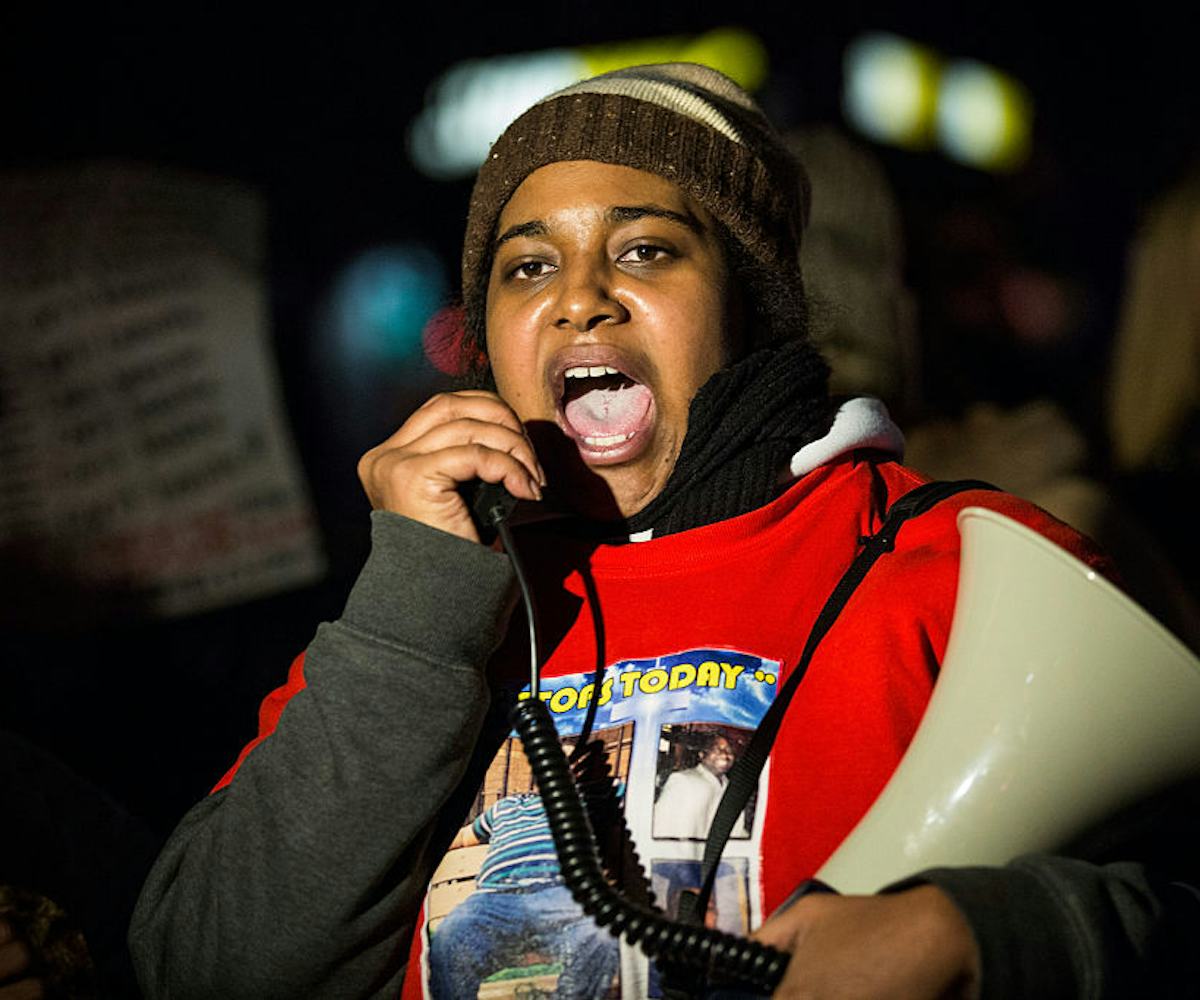 Photo by Andrew Burton/Getty Images
People Pay Tribute To Activist Erica Garner, Who Died At 27
Erica Garner, the daughter of Eric Garner, an unarmed black man who was killed by police in Staten Island in 2014, has died at the age of 27. Erica reportedly suffered a heart attack. Since her death was confirmed by her official Twitter account, there's been an outpouring of support for the Garner family and messages of love for the young activist who left us too soon.
Activist Shaun King mourned his friend on Twitter, writing, "When you were her friend, you her friend through all adversity. She was a fierce protector of her friends and family. A truth teller. As genuine and authentic of a soul you'll ever encounter. We're less because of this loss."
Bernice King, the youngest daughter of Martin Luther King Jr., wrote, "A young, black woman who loved her father. And watched him die at the hands of police who he alerted that he was dying. Not even 30 yet and did not back away from the freedom struggle. She carried a burden. I pray that she's resting now."
"Rest in power, Erica Garner," singer Halsey wrote. "You fearless force." 
Civil rights activist Michael Skolnik wrote, "RIP Erica Garner, my friend. I will never forget those long conversations we would had in my office about your dreams to help young people. You will missed by all of us. Your memory will always live in our hearts and our movement for justice."
"Police brutality kills families," comedian Akilah Hughes wrote. "It distresses entire communities. It has to stop. RIP Erica Garner."
"I had the honor of getting to know Erica and I was inspired by the commitment she made working towards a more just world for her children and future generations," Bernie Sanders wrote. "She was a fighter for justice and will not be forgotten."
NAACP President and CEO Cornell William Brooks wrote about the need to continue to fight police brutality, as Erica had done. "May Erica Garner rest in peace—and may we neither rest nor have peace until we end police brutality," he wrote. "Prayers  for her family."
"She has passed," Reverend Al Sharpton said. "Her heart was broken when she didn't get justice. … The [heart] attack just dealt with the pieces that were left."
Writer Eve Ewing wrote about how Erica's death is evidence that racism causes "toxic stress" on the bodies of people of color. "Erica Garner is 27," Ewing wrote. "She had a massive heart attack. The whole racism-causes-toxic-stress-on-our-bodies thing is more than just an interesting article. It's life or death."
Erica dedicated her life to ending police brutality and seeking justice for her father. Not only was the cop that killed Eric found not guilty, he's currently making more money that he did before the encounter, according to ThinkProgress. Eric had been accused of selling loose cigarettes and was taken into a chokehold. He repeatedly said, "I can't breathe," but the cop didn't release him until he lost consciousness. CPR was not performed at the scene because they assumed he was still breathing, and Eric was pronounced dead at the hospital an hour later. 
Since her father's death, Erica was an active participant in the Black Lives Matter movement. Ohio Young Black Democrats shared a quote of hers: "People ask, 'When will you stop marching? What do you want from marching?'" she said. "He was my father. I will always march."
Erica's family said one of her last actions was working to improve the lives of children in foster care, "as she was one herself," they wrote. "Go find a way to support your local foster care system."
They also want everyone to "remember she was human: mother, daughter, sister, aunt.  Her heart was bigger than the world," Erica's family wrote. "It really really was. She cared when most people wouldn't have. She was good. She only pursued right, no matter what. No one gave her justice."