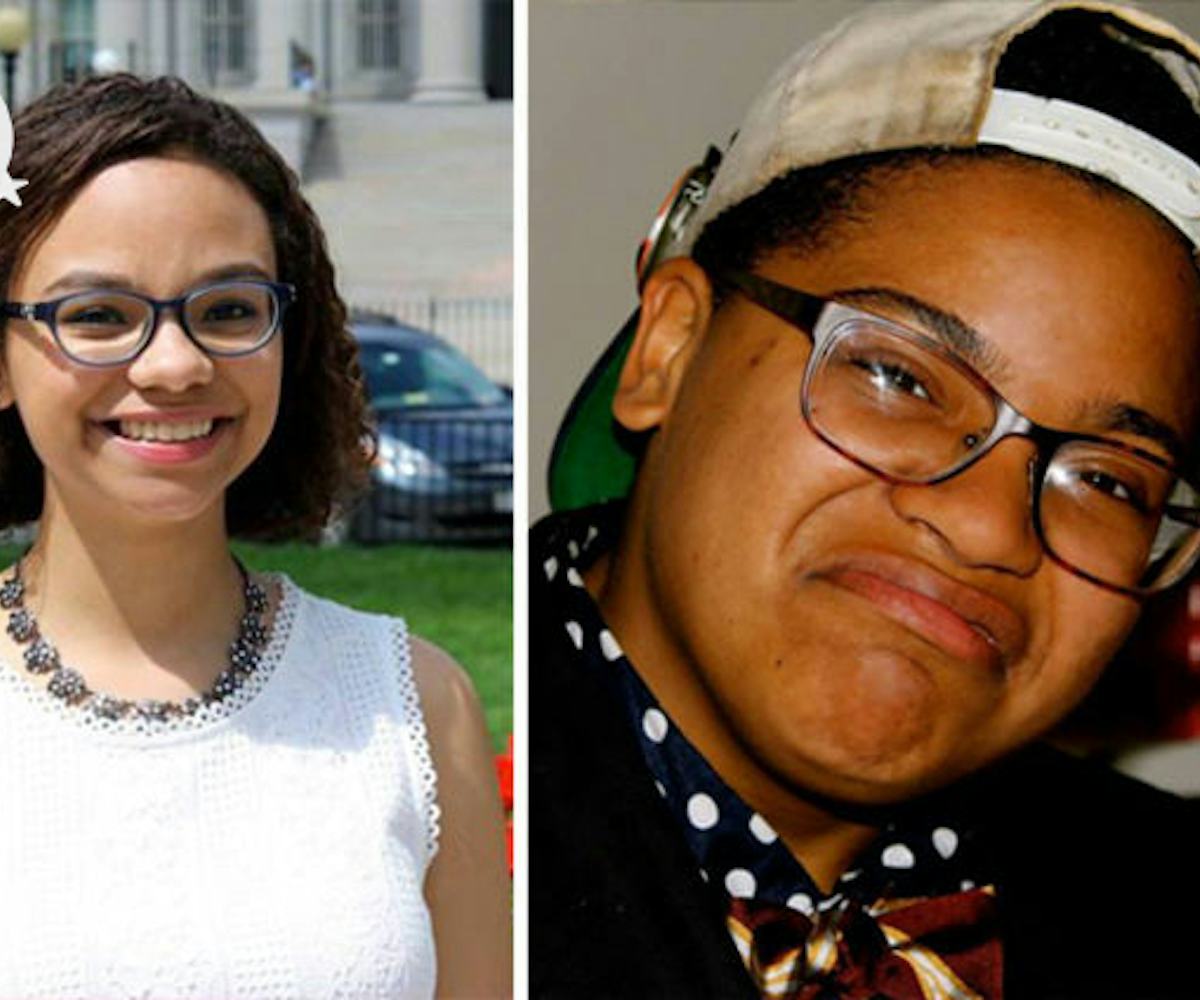 Photographed by Elisia Ceballo-Countryman
How Two Students At Yale Are Changing Their Campus' Community
meet eshe sherley & elizabeth spenst
In celebration of Black History Month, NYLON is running a spotlight series called Black Girl Power... The Future Is Bright. Every day, phenomenal black women from different industries will be featured to tell their stories—revealing how they became who they are, showing what they have accomplished, and pinpointing how they navigated their careers. Black women deserve to be celebrated 365 days of the year, and we hope that this series will inspire everyone to believe in the power of #blackgirlmagic. 
After attending Yale University for three years, Eshe Sherley and many other students of color were frustrated with the main undergraduate media outlets. "Either these mostly white campus publications didn't cover events put on by communities of color, or when they did cover them, they did so in a way that was grievously misinformed and factually incorrect," she says. "By the time it was the end of my sophomore year, I had gotten tired of relying on these outlets to tell our stories, and so I thought, 'Why not start a publication that aimed to cover the events and experiences of Yale students of color?'"
From there, Sherley started talking to people involved in the cultural center communities about the idea of a publication by students of color, for students of color. This is the foundation of how DOWN Magazine was formed. "People often forget that POC cultural production is often a key part in movements for change," adds Sherley. "As someone who studies social movements and is politically engaged, I was also motivated to start DOWN as part of a broader goal of creating spaces where people of color can be themselves and challenge systems or people who try to constrain them."
"I hope that DOWN can be a place where students of color can further learn how to express themselves through writing in a non-academic environment," she adds. "Journalism is also incredibly good at actively teaching people about the world outside of themselves. There have been publications associated with specific racial or ethnic groups at Yale before, but this is the first interethnic, interracial publication I have ever heard of at Yale. When students of one race get the opportunity to cover events in communities different from ours, we're able to grow in ways that we couldn't if we were just covering our own communities."
During her junior year, Sherley brought on Elizabeth Spenst as the editor-in-chief of the magazine. After Sherley graduates, she plans on taking a year off in order to re-ground herself in organizational work before entering a doctoral program in African American History. Get to know more about these overachievers in the interview, below.
How have you grown into your identity? 
Sherley: 
My black identity has been a part of my life since I was a young child. My parents surrounded me with black books and fairy tales. Even though I started to learn about how racist people could be even as young as elementary school, I was so lucky to have been brought up with a strong sense of my black identity as a positive thing. It helped me keep my self-esteem intact even when people questioned my intelligence because of my race. But I still went through a process of trying to understand how I was going to relate to my blackness. As a child, I read a lot of black history books and realized that exploring the history of my people is one of the most important ways that I connect to my black identity. I also listened to a ton of black music—'60s soul, funk, and, of course, hip-hop and R&B are all a huge part of how I grew into my black identity. Most recently, I've been going back and listening to '90s throwbacks like Xscape and Tevin Campbell.
Spenst: 
My mom is black, my dad is white, and I grew up in a community that is predominantly Asian-American. My black identity made me different from everyone else around me, so I initially wanted to distance myself from it as much as possible. Influential black teachers and professors later in my life helped me embrace my black identity, and a big part of this transformation took place by reading the literature and poetry of black authors like Toni Morrison and Claudia Rankine.
How has DOWN Magazine made a difference on Yale's campus?
Sherley: 
Of all the publications on this campus,
DOWN
is the one most trusted by its main audience. While people aren't always happy about what we publish, the relationships we have within communities of color on campus means that we're able to get to the root of many of the stories relating to people of color on campus, and in many instances, ask the relevant student to tell their story in their own voice. Particularly in the last few months, the reporting and personal narrative have been invaluable to people who wanted to understand what was going on, on our campus, from the perspectives of people of color. 
DOWN
has also put all the other Yale publications on notice. Because there is an alternative place where people of color can tell their stories, older Yale publications are being forced to pay attention when Yalies of color tell them that their coverage of race-related issues isn't good enough.
Could you describe a moment where you felt like you defied the odds or broke 
a barrier?
Sherley: 
I don't think people thought a POC magazine would really work, or become as relevant as it has over this past semester. We still have a long way to go as a publication, but I've been so impressed and amazed with how our team has taken this thing that went from a legitimate complaint to an inkling of an idea, to this great source for news on cultural events and commentary on Yale's campus.
Spenst: 
When all of the demonstrations were happening at Yale, a lot of media responses were misrepresenting what was happening and why it was happening. We knew that we were the only publication on campus that could truly amplify the voices and accounts of students of color at Yale because we were founded to do so. However, we were a weekly publication with five editors that was only published online. By the end of the frenzy at Yale, we had published new content almost every day with only two available editors, and we had published two printed zines on top of it. A lot of people put a lot of hours into making everything come together. 
Growing up, where did you both look for inspiration?
Sherley: 
I was always so inspired by civil rights movement figures like Martin Luther King and Malcolm X. I read so much about both of them as a child! I was so inspired by their ability to mobilize people toward demanding change for black people in this country. As I got older, that grew to become inspired by social movements more generally. Organizers are such under-appreciated heroes. There were and are so many people who put in an extraordinary amount of work and skill into bringing people together to fight for social justice. Those are the people who inspire me today to continue to learn about how to best serve the people I care about.
Spenst: 
Growing up, I was inspired by the black women in my life who showed me what was possible for me and encouraged me to go further. My mom, for immigrating to the United States from Trinidad and creating a better life for herself. A woman from my church, who went to Yale College and Stanford Law. Positive representations of black women in our society are scarce, so I held on to the role models that I had. Right now, I am very inspired by black women working in arts administration like Thelma Golden, Sandra Jackson-Dumont, Jessica Lynne, and Taylor Renee. Their interventions and innovations help shape the history of art, which is ultimately the history of us.