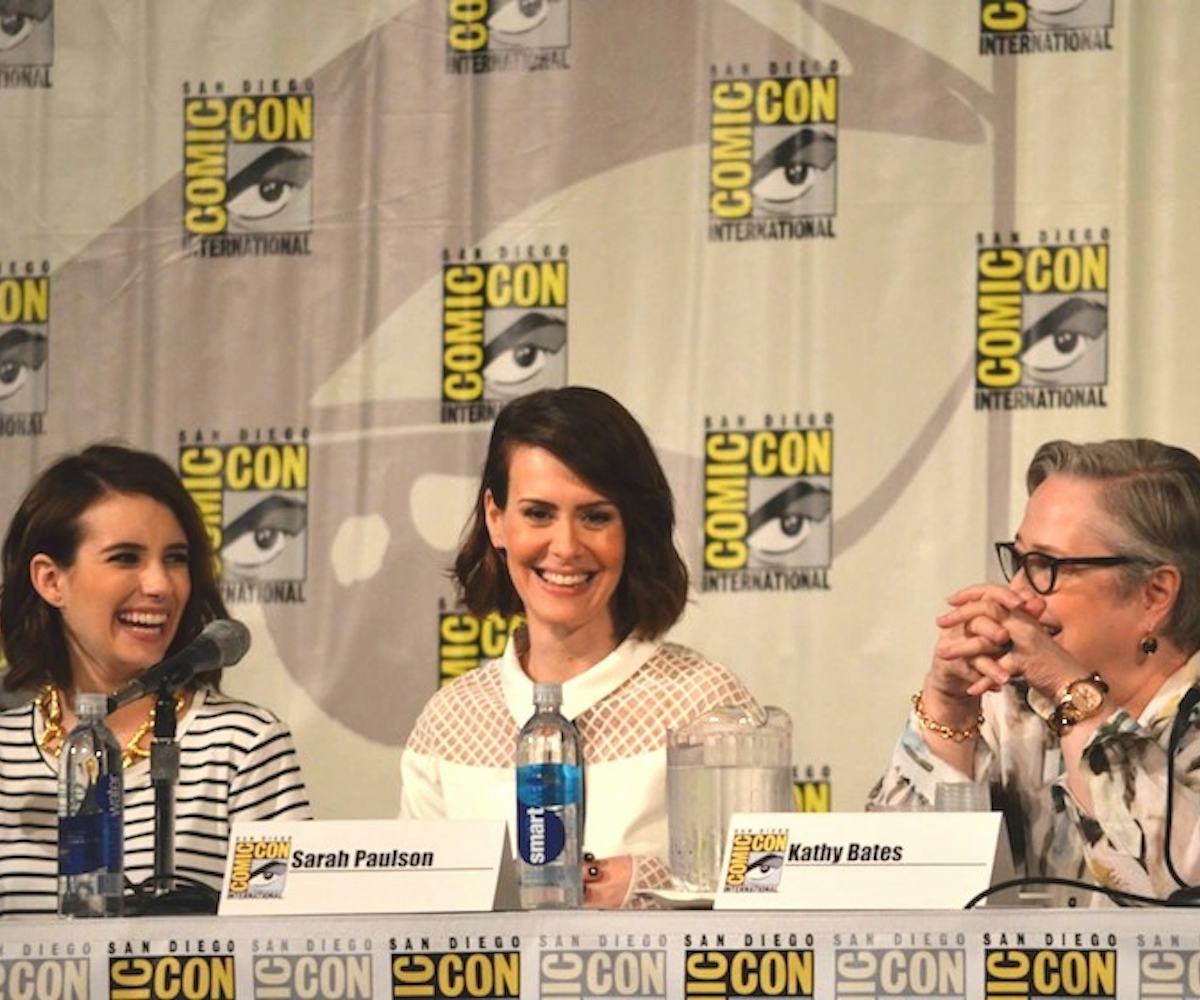 photo via american horror story facebook
everything you need to know about american horror story freakshow
thank (the comic-con) god.
As with every American Horror Story season, Freakshow has been surrounded by an absurd amount of speculation and unfounded rumors. The only certainties? Freakshow would be set in a 1950s carnival sideshow, would be made up of continuing cast members, and would be b-o-m-b (while the previous statement is techincally considered an opinion, when it comes to AHS, it can be considered fact).
But it wasn't until the show's cast and creators paid their first visit to Comic-Con that we received a fuller picture of what the cult hit would entail. Because even though the fan-made trailer (broadcast on FX's YouTube channel, but later taken down) left us with chills, it was void of any and all specifics.
We scoured the internet to find out every possible thing you need to know (and could know) about Freakshow at this point in time. So without further adieu:
The show will move between two time periods, said Murphy. (Kind of like Asylum?)
FX CEO John Landgraf placed the show's tone somewhere between Coven  and Asylum, saying, "It's not quite as brooding and formal and Hitchockian as Asylum; it's got a little bit more humor and a little bit more camp, but it's got a brooding period feel to it also." 
Executive Producer Tim Minear described the season as "Douglas Sirk meets the movie Zodiac." (John Carroll Lynch, who played a suspected serial killer in Zodiac, will play a killer clown this season, according to an unofficial leaked call sheet.)
Jessica Lange (who wasn't at Comic-Con) will return as Elsa Mars, the German ex-pat freakshow owner. This season will reportedly be Lange's last with AHS. Cue the waterworks....
Michael Chiklis will join the cast as strongman Wendell del Toredo. Angela Bassett plays his wife, Desiree Dupree. Their complicated family ties? Del Toredo's ex-wife Ethel Darling, played by Kathy Bates, and their son Jimmy Darling, played by Evan Peters.
Sarah Paulson will play the two-headed woman, Bette and Dot. They didn't use a prosthetic to create the effect (and didn't disclose how they did, either). Apparently, the dual-sided role has made Paulson feel like Sybil. "I should call Sally Field and get some tips," she said.
The Hunger Games' Wes Bentley will join the show as Ethel Darling's tourmentor in a two-part Halloween episode. 
Ann McKenzie is playing Eudora Tattler, Grace Gummer is playing Penny the Candy Striper, Ben Woolf and Naomi Grossman will play a character called Pepper, and Emma Roberts will play Maggie. No news on exactly what roles their characters will play in grand scheme of the show. Other cast members include Gabourey Sidibe, Finn Wittrock, Frances Conroy.
The season premieres on October 15 at 10pm on FX.