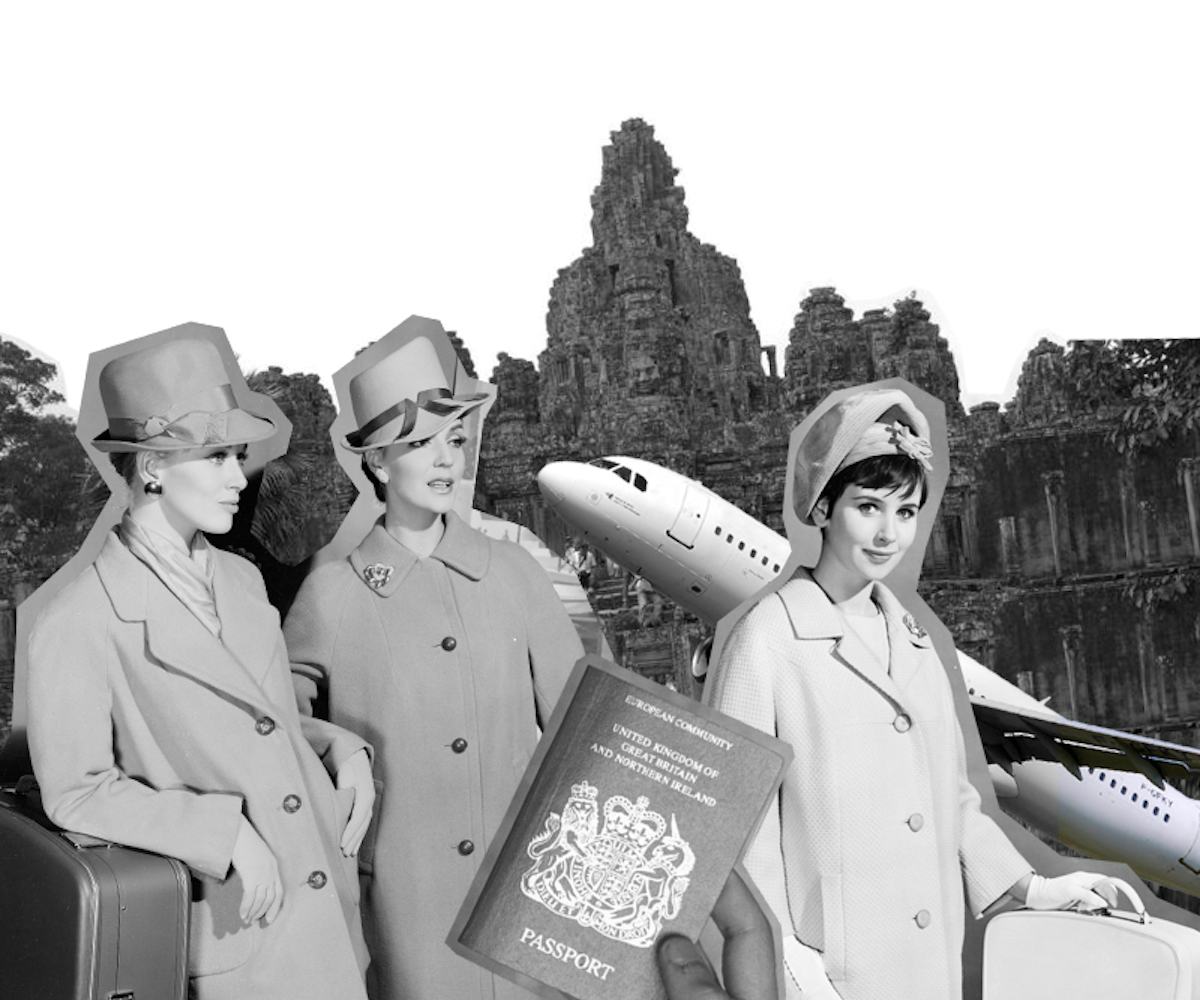 Collage photos via Getty Images
5 Far-Flung Destinations That Won't Break The Bank
Live like a queen on a beer budget
If you're reading this article, chances are you're sitting at home, wishing that instead of wherever you are, you were, well, anywhere else. If your mind is drifting toward the sound of ocean waves slowly crashing, the hum of quick bargaining at a bustling market, or the pleasure that comes from being surrounded in a language not your own, we're here to help. 
Though the word "exotic" often equates to "expensive," there are locales around the globe that are entirely economical and will whisk you away to new sights, tastes, and experiences without having to sacrifice luxury (bye, hostels!). Whether it's the breathtaking surroundings of Angkor Wat in Cambodia, mystical times among La Paz's witch's market, or the endless beaches of Goa, India, our picks are all affordable and awe-inspiring. If you're dying to escape the humdrum of the everyday, read on for cities we've selected that offer astonishing sights and deals. Your friends won't realize how much you (didn't) spend. FOMO no more.
Marrakech, Morocco
Go if you: want to travel back in time—the souk's winding maze of narrow paths are often only accessible by donkeys (and the occasional scooter). A burst of color and flavor, Marrakech is full of quirks, from the friendly, stray cats that overrun the city to the traditional apothecaries that might recommend traditional cures like black cumin for your sleeping problems. Day trips can have you manning an ATV over dunes, riding camels into the Sahara, or traveling the Moroccan shore to visit the oft-overlooked "blue city" of Chefchaouen.
Where to stay: Many "hotels" in Morocco are riads: a traditional house with an interior garden or courtyard that has been remodeled into a boutique hotel. Not only are these often cheaper than traditional hotels (highly rated riads can be had for as little as $40 a night), they usually include a hearty breakfast and give you a true Moroccan experience within the walls of the old city.
Must see: The souks, or as we know them, bazaars, are winding labyrinths that sell everything from gleaming copper and brass lanterns to leather to spices piled high in ever-so-tall cones to homemade preserved lemons and zesty, flavored olives. Even if you don't buy anything, it's easy to spend an entire day deliberately getting lost, as you can catch artisans at work, tucked away in the backs of riads, or stumble upon food vendors offering date milk and harsha (a flatbread) to snack on.
Must eat: A traditional Moroccan lamb tagine, packed with saffron, caramelized onions, and preserved lemon for bite. This hearty dish can be found for as little as $4, even in Marrakech's packed Jemaa el-Fnaa square.
Pro tip: Haggle, and do not be afraid to say "NO" to vendors in the souk. They can be quite pushy, and it's easy to get lured into thinking you're getting the best deal. Stand your ground! A leather bracelet could be sold at one stall for $10… and at another for $1. Also, fly directly into Marrakech. The prices, depending on the time of year, can often be cheaper than flying into nearby European hubs like Madrid. If you want to extend your trip, flights to Madrid, Barcelona, Paris, and other cities from Marrakech can be found for as cheap as $20 via Ryanair (excluding fees).
Goa, India
Go if you: want an exotic beach vacation with some added health benefits. Located in the western region of India, it's the smallest state, but rated top in the country for best quality of life. You'll be able to take in culture via historic churches and baroque architecture, but also treat yourself to white sand beaches, sprinkled all along the Arabian sea coast. Goa is also a spiritual sanctuary, offering an abundance of tai chi sessions, meditation retreats, reiki courses, and more.
Where to stay: Though hotels are cheap in Goa, we recommend the Airbnb route. An entire house near the beach, for example, complete with pool (and pool table) can be had for under $40 a night… and that's including service fees and taxes. We even found a beachside villa for a whopping $19 a night.
Must see: Agonda beach. Still relatively unspoiled by tourists, this beach is not only beautiful, but famous as a Ridley turtle nesting site. Restrictions in place to protect the turtles have kept the area relatively unspoiled, but there is a continual battle to keep the beach safe for the endangered animals. If you wish to visit and hopefully spot one of the turtles, be mindful of your environmental footprint.
Must eat: Fish curry! You're on the coast, so eat its bounty! A popular version is called ambot-tik, which translates to sour-spicy. With ground coconut, chili, cumin, coriander, ginger, and more, this dish dances across your taste buds.
Pro tip: If you're adventurous, rent a scooter so you're not reliant on taxis. The cost should range between $4-$6 a day… so cheap! To cover your bases, make sure you have an IDP, or International Driving Permit, which can be issued by AAA. It can be used as valid identification in more than 150 countries and only costs $20. Better safe than sorry!
Siem Reap, Cambodia
Go if you: want to be Lara Croft. The capital city of the Siem Reap Province in northwestern Cambodia, this resort town is not only the gateway to the Angkor region, but is where much of Tomb Raider was filmed. Traveling to Siem Reap, you'll feel like an intrepid adventurer, surrounded by historical temples overgrown with massive tree roots that drip over stone like a Dali painting.
Where to stay: Skip digging for rock-bottom prices on sketchy websites because everything's already cheap. Just head to Hotels.com and be wowed by what your dollar can buy. The top-rated Lotus Blanc Resort, for example, will run under $50 a night and is fantastically modern with a free airport shuttle, luxe pool, free breakfast buffet, free WiFi… are you getting the gist of "free" around here?
Must see: Angkor Wat. This temple complex is the largest religious monument in the world and is an impressive peek into the past, dating all the way back to the Khmer Empire, which reigned between the 9th and 14th centuries. A daily pass is $20, and you'll spend all day being wowed by towering bas-reliefs and galleries in this "City of Temples."
Must eat: BBQ pork and rice, known locally as bai sach chrouk. A popular breakfast dish, the pork is marinated in garlic, soy, and coconut milk, then grilled until it's perfectly smoky and charred. This can often be found for under $1!
Pro tip: You'll need a visa to enter Cambodia. This can be obtained upon arrival at the airport or if you're the type to plan ahead, via mailing the embassy in Washington, D.C. There's also a departure tax on all outgoing flights. Combined, if you're from the United States, it should be $55, so add this to your travel costs.
Bangkok, Thailand
Go if you: want beaches and colorful street life. There's not much on the planet that compares to Bangkok, with its floating markets, wealth of temples, and sprawling urban center. You'll be hard-pressed to sit still here, as there's an immense amount to do, from food crawls to Buddhist sites and to beaches. Yes, at times it can feel like a dense, haphazard maze, but the beautiful historic sights combined with urban adventure keep Bangkok a city people are continually drawn to.
Where to stay: Again we recommend Airbnb. While you can find reasonable hotels in the $100 range, you can find amazing spaces for a third of the price on Airbnb. One cursory search we did turned up a trendy one-bedroom apartment with access to a pool and gym for $31 a night. Yeah, we'll take that.
Must see: Once you breeze by the typical tourist attractions, like the Grand Palace, make sure to spend the time to visit Bangkok's floating markets. There are several, all piled high with tropical fruits, vegetables, fresh coconut water, and freshly cooked food. While foreigners overrun some, Bang Namphueng (more of a riverside market and not a full-on floating one), has remained local-heavy, and is worth the trek.
Must eat: Pad thai, duh. We often forget how different dishes can taste when made in their country of origin, and pad thai is no different. It's a Bangkok street food staple, with stir-fried rice noodles, dried or fresh shrimps, bean sprouts, tofu, egg, and more, whirled up into the perfect firecracker combo of spicy, sour, sweet, and savory. A plate of this deliciousness can be as cheap as $1.50.
Pro tip: Popular tourist spots often have their fair share of scammers lingering around. If someone tells you a location is closed for a few hours for lunch or is under construction, do not listen. Chances are, they're trying to lure you to their tuk-tuk so they can charge you for a ride to a temple that's out of the way. Keep your wits about you when engaged in unsolicited conversation.
La Paz, Bolivia
Go if you: want sky-high adventure. It's a wild mix, not only in the culture—which sports loads of museums, a clash of European with indigenous influence, and rich, varied markets—but in geography: La Paz is nestled in a hollow among the Altiplano, offering stunning cliffside views with snow-capped mountains in the distance. Because of where it's situated, day trips from the city can lead to rock climbing, Incan ruins, ski parks, and kayaking, all at the same time of year (bonus: these full day trips are cheap, averaging around $50 per excursion including meals). It's a curious city where cosmopolitan meets ancient beliefs in day-to-day life.
Where to stay: Airbnb to the rescue again! You'll see spendier options if you search for a hotel, and only a scant few have top-notch ratings. You can snag rooms that'll do on Airbnb for around $20. If you are willing to spend a little more, try a bed and breakfast–adorable B&B locations like La Colina will set you back about $50, but also include a homemade meal.
Must see: The Witches' Market. Also known as El Mercado de las Brujas, this market sells everything a local witch doctor, or yatiri, would need, from potions to medicinal plants and talismans. If you spot a wandering yatiri in the market (recognizable by their black hats), you might be able to find your way to a fortune telling session.
Must eat: Salteñas. A Bolivian meat pastry that's cousin to the empanada, salteñas are often filled with beef, pork, or chicken and mixed with a sauce that's at once sweet and spicy. There are often also eggs, olives, raisins, and other ingredients, making this a meal in one bite. Yum!
Pro tip: La Paz is the highest capital in the world, meaning if you get altitude sickness, be prepared and ready ahead of time. Once arrived, as your body adjusts and starts to produce more red blood cells to keep up, don't be surprised if you find yourself quickly out of breath your first days out and about. Totally normal, just go slow and take in the breathtaking (pun intended) sights.