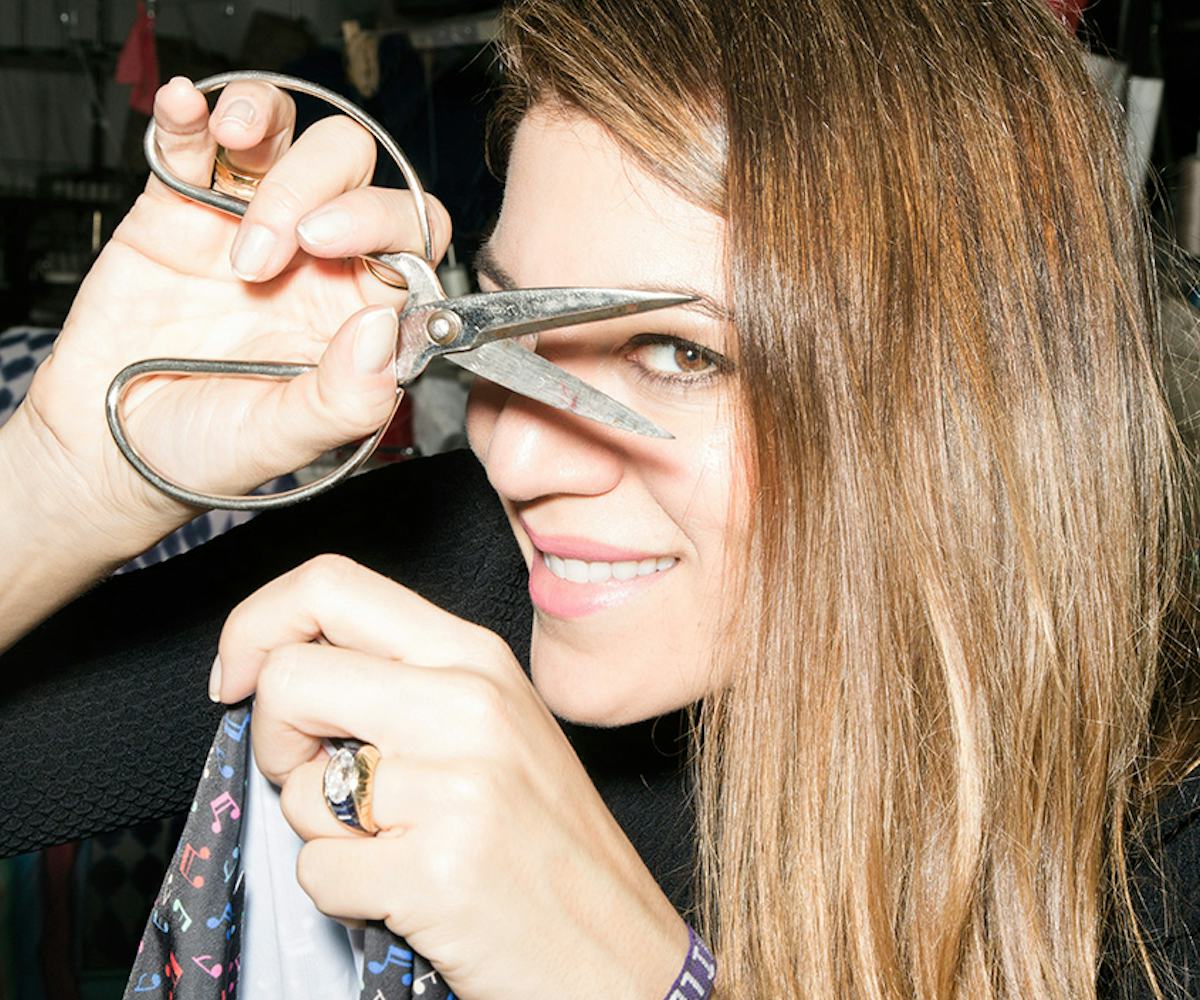 photographed by eric helgas
factory girl: dani stahl whips up swimwear at shoshanna
enter to win a swimsuit designed by dani
If you're anything like us, then you can't wait for each issue of NYLON to see what our resident Factory Girl, Style Director Dani Stahl, has been up to that month. For our June/July Issue, Dani visited the Shoshanna NYC offices to build her perfect bikini.
Shoshanna Gruss and I go all the way back to our Manhattan prep school days, when we would spend our after-class hours hanging out at the Central Park Sheep Meadow. She was a senior when I was a sophomore, and I remember thinking she was basically the coolest girl ever (because, really, she has always been just that—picture a petite, pretty brunette with a killer bod lounging on a picnic blanket with the hottest guy by her side). In the years since, Shoshanna has acquired a whole legion of admirers from her work in fashion, particularly her famed swimwear line, which revolutionized the way we shop for bathing suits. Launched in the spring of 2001, it was the first in the contemporary market to be sold as separates with lingerie-inspired sizing. Girls everywhere, of all body types, rejoiced.
So in celebration of summer, I stop by Shoshanna's NYC offices to build my perfect bikini. I arrive to find Shoshanna herself awaiting me, along with her totally rad 10-year-old daughter, Sienna (who is also my hair idol, and—I'm calling it now—a future It Girl). The first order of business is to have a look at the fabric. Prior to my visit, we pulled a sweet yellow vintage swatch sprinkled with pastel-hued music notes (in honor of our annual music issue) for inspiration, and decided to do a rock 'n' roll take on this print by re-creating it in black with bold, jewel-tone notes. When I see the result in person, it doesn't disappoint. I also choose an electric pink fabric for the accents, because NYLON pink! Next, it's off to the pattern room. Every girl has her preferred swimsuit cut, and mine has always been the triangle-top, string-tie bikini, so the choice is clear.
We then make our way over to the nearby production house, where Shoshanna samples have been made since the brand's very beginning. It's here that we really get down to work, cutting the fabric from the paper pattern, sewing the pink ties and stringing them through the suit, creating the right amount of gathering, and affixing that signature white-and-gold Shoshanna label. Sienna helps me out all along the way—naturally, great taste runs in her blood. She's even been collaborating with her mom on Shoshanna's new children's line, and the best-selling style was her creation!  
When we're all done, the resulting bikini makes me feel like a badass. And really, that's what Shoshanna swimsuits are about. Fashion should be fun, and I feel like Shoshanna, with its lively prints and fits for everyone, really gets that. Because, after all—and I've always wanted to say this—life's a beach. 
Ready to hit the beach but have nothing to wear? Shoshanna is giving away one suit in Dani's design to one lucky NYLON reader! Enter below to win.