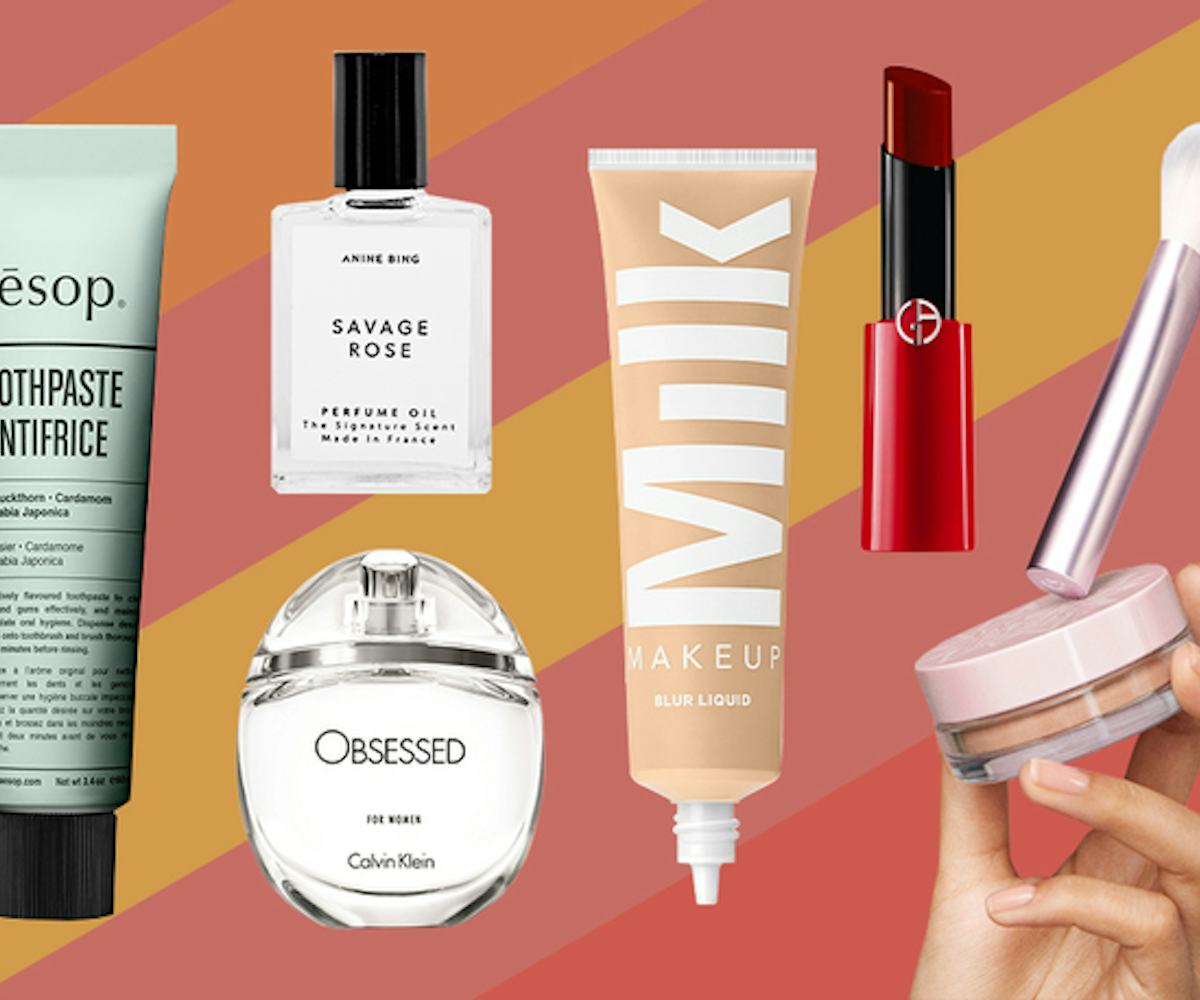 The 37 Best Beauty Launches Coming Out This Fall
The hottest products to drop this season
Fall is a time of reinvention, of sorts. As temperatures cool down and we're finally able to wear more than just a tank top without being reduced to a pool of sweat, we have the chance to get creative again and figure out what our overall beauty vibe is going to be for the next two seasons.
With that, comes a ton of new and exciting launches to help us do so. From the prettiest of palettes and lip colors to the latest innovations in skin care, hair care, fragrance, and more, we're presented with the perfect tools for overhauling our current beauty routine and starting fresh.
Below, we rounded up 37 fall launches we're super excited about. Keep scrolling to read more about each one.
Glossier WowderYeah, we kinda freaked out when Glossier's newest product dropped earlier this month. Needless to say, our complexion has been looking a whole lot less shiny since Wowder came into the picture.
Glossier, Wowder, $22, available at Glossier.
VERB Ghost CollectionExpanding on its cult-favorite Ghost Oil and Ghost Hairspray, VERB now offers a full Ghost Collection that includes a shampoo and conditioner, a dry oil spray, and a heat protectant hair prep cream.
VERB, Ghost Collection, $16 each, available September 1 at VERB.
Kat Von D Everlasting Glimmer VeilWhile Kat Von D had plenty of exciting fall launches hit both her site and Sephora this month (including a crème version of her beloved Shade + Light Contour Palette), the new Everlasting Glimmer Veil Liquid Lipstick might be our top pick. Leave it to Von D to master how to make glitter stay put.
Kat Von D, Everlasting Glimmer Veil Liquid Lipstick in 'Razzle,' $22, available at Sephora.
Maybelline x Shayla CollectionMaybelline partnered up with Shayla Mitchell on its first-ever influencer product collection, the Maybelline x Shayla Collection. On top of an exclusive mini eyeshadow palette, the offering features three knockout shades of its Colossal Big Shot mascara, including the vibrant 'Boomin' In Blue,' above.
Maybelline, Volum' Express The Colossal Big Shot Mascara x Shayla in 'Boomin' in Blue,' $8.49, available at Ulta.
Context Hair CareMinimalist-favorite skin care and cosmetics line Context has finally taken the leap into the world of hair care. Along with a keratin-rich shampoo and conditioner comes a hydrating hair oil, multiple styling products, and a dry shampoo—all formulated with clean ingredients and free of parabens, sulfates, and sodium chloride with prices ranging from $15 to $50.
Context, The Duo, $50, available at Context.
Milk Makeup Blur Liquid Matte FoundationOily skin? No problem—Milk Makeup's newest complexion product is here to save the day. The oil-free and silicone-free matte foundation blends beautifully while keeping away the shine—offering full coverage without feeling heavy.
Milk Makeup, Blur Liquid Matte Foundation, $40, available at Milk Makeup.
Lancome Olympia Le-Tan CollectionLancome's made our dreams come true by teaming up with Parisian designer Olympia Le-Tan for a collab that's girly and pink, yet slightly quirky and offbeat—the epitome of Parisian chic. From an eye, lip, and cheek palette that resembles one of Le-Tan's signature book-shaped bags to a heart-shaped glitter top coat, this collection exudes unabashed cuteness. Currently, the collection, ranging from $15.50 to $80, is available exclusively at Bloomingdale's.
Lancome Olympia Le-Tan Collection, Olympia's Wonderland Palette, $80, available at Bloomingdale's.
Elizabeth And James Nirvana FragrancesQuite possibly the most exciting fragrance launch of the year, the Olsen twins (ahem, who will forever be our style icons) have launched the next installment of their Elizabeth and James Nirvana line of fragrances. Introducing: Nirvana Amethyst, a blend of tobacco, honeysuckle, and cedar, and Nirvana French Grey, made up of lavender, neroli, and earthy musk. Can't pick which one you want? They come in rollerball options, too, so you can get both!
Elizabeth And James, Nirvana French Grey 1.7oz, $85, available at Sephora.
Tata Harper Crème RichNatural beauty guru Tata Harper has just launched its richest cream moisturizer yet. Including 43 powerful botanical ingredients, this new cream nourishes, plumps, and hydrates the skin while reducing lines. We expect that it'll become our miracle worker once the temperatures drop.
Tata Harper, Crème Rich, $185, available at Tata Harper.
JINsoon Art Nouveau CollectionJin Soon Choi's latest nail collection has the perfect oh-so-moody colors for fall. Art Nouveau—inspired by 19th-century art, architecture, graphic art, and interior design—features two deep shades, an aubergine purple called 'Fable' and a dark blue called 'Abyss,' as well as a brick red named 'Idyll' and smoky taupe-nude named 'Milieu.'
JINsoon, Art Nouveau Collection, $18 each, available at JINsoon.
Urban Decay Troublemaker MascaraThis fall, our lashes will be on point. Urban Decay's new Troublemaker Mascara is all about lash-multiplying, sexy mascara that won't quit. As the brush expertly separates and curls lashes, the formula boosts lash volume by a whopping 13.7 percent. That's a lotta lash.
Urban Decay, Troublemaker Mascara, $24, available September 5 at Urban Decay.
Diptyque Vetyverio Eau de ParfumAn ode to Haitian Vetiver, diptyque's new fragrance launch, the Vetyverio Eau de Parfum, puts a fall twist on the scent. "To complement the vetiver essence, the perfumer Olivier Pescheux chose notes of grapefruit to amplify the bitter and citrusy components, and patchouli, which accentuates the smoky, spicy notes of the vetiver," says creative director Myriam Badault. "Then, we have the olfactory accident, a signature of diptyque—the one ingredient that is so unexpected, that builds the compelling and addictive nature of a distinctly diptyque fragrance—and, for Vetyverio Eau de Pafum, the olfactory accident is Turkish Rose."
Diptyque, Vetyverio Eau de Parfum, $155, available in September at diptyque.
No. 7 Youthful Vitamin C Fresh Radiance EssenceNo. 7 came through to give us that "glow from within," despite summer (and summer weather) slipping away from us. Its new vitamin C serum, the Youthful Vitamin C Fresh Radiance Essence, is a two-week treatment that will help tackle your dark spots, encourage collagen production, hit your skin with a boost of antioxidants, and improve overall radiance. Count us in.
No. 7, Youthful Vitamin C Fresh Radiance Essence, $24.99, available at Target.
Stellar Eye Shadow PalettesJust in time for this month's solar eclipse, Stellar launched two gorgeous new eyeshadow palettes for fall: Solar, a series of warm nudes, reds, taupes, and browns, and Lunar, cooler shades of blue, beige, silver, and pink. We'll take both, please.
Stellar, Magnetic Eyeshadow Solar Palette, $42, available at Sephora.
Anine Bing Savage Rose Perfume OilFashion designer Anine Bing's first foray into fragrance is quite the hit. Savage Rose Perfume Oil is a mix of Bulgarian rose and white rose with rich notes of musk and black pepper, making this floral scent incredibly dark, mysterious, and sensual.
Anine Bing, Savage Rose Perfume Oil, $69, available at Anine Bing.
Giorgio Armani Ecstasy Shine LipstickGiorgio Armani's new line of lipsticks, the Ecstasy Shine collection, melts and liquefies upon contact with the skin for a luscious and luminous high-shine finish.
Giorgio Armani, Ecstasy Shine Lipstick in 'Scarlatto,' $38, available at Giorgio Armani.
True Botanicals Antioxidant BoosterOur favorite natural skin-care brand (and not only ours—Olivia Wilde was so impressed by the effectiveness of the products that she joined the team as chief brand activist) is back with a new "workhorse" product that promises to smooth wrinkles, even skin tone, brighten hyperpigmentation, clear acne, and prevent skin damage. Spoiler alert: It delivers. Just make sure to have a serum on hand to activate the powder.
True Botanicals, Antioxidant Booster, $90, available at True Botanicals.
Tom Ford Girls LipsticksTF's lipsticks are our absolute favorite. No, they are not cheap, but there is no other brand that offers colors this flattering and formulas this hydrating. While the more bold beauty aficionados lamented the lack of unconventional colors in the past, this fall it's about to change with the Girls collection, which mirrors the previous Boys release with shades named after the individuals that inspired the prolific designer. It's full of can't-miss colors, like blue and violet, as well as one stunning white shade (pictured above).
Tom Ford, Girls lipsticks, $36 each, available September 15 at Tom Ford Beauty.
Ursa Major 3-Minute Flash MaskWe love a routine that requires less than five minutes of our time, which is why this three-minute mask from Ursa Major is destined to be our new favorite. The enzyme formula dissolves dead skin in a "flash," accelerating cell turnover and enhancing your skin's tone, elasticity, and luminosity.
Ursa Major, 3-Minute Flash Mask, $48, available September 19 at Ursa Major.
By Terry Compact-Expert Dual PowderWe can go on for a while about how much we love By Terry's creamy blush-highlighter stick, but we will instead express how excited we are for this new powder duo that features both matte and luminous formulations, for a versatile range of looks that include sculpting, strobing, and even concealing imperfections.
By Terry, Compact-Expert Dual Powder, $46 available September 1 at Space NK.
Biolage R.A.W. Styling Texturizing Styling SprayIt's rare to find an effective hair styling product that isn't filled with questionable ingredients and heavy fragrances, which is why Biolage R.A.W's new collection of next-generation, natural-origin hair styling products comes as a blessing from the hair gods this fall. While we are personally obsessed with the above texturizing matcha-infused styling spray for hair definition and volume, there is a honey- and oat-infused smoothing styling milk, curl-defining cacao styling butter, frizz-control lavender spray, and a lemon styling jelly for a range of other hair types and needs.
Biolage R.A.W., Styling Texturizing Styling Spray, $19.50, available at Matrix.
Aesop ToothpasteIf you don't actually use Aesop's unconventional first-ever toothpaste made up of sea buckthorn, cardamon, and wasabi (because we get it, it's not for everyone... that's a lot of flavor!), it still makes for a super-cute addition to your bathroom aesthetic. Then again, so do all the brand's products.
Aesop, Toothpaste, $17, available at Aesop. 
Boscia Gel-to-Mousse CleanserThis cleanser is made for sensitive skin types but is also appropriate for anyone who enjoys an effective, innovative, and fun-to-use product.
Boscia, Everyday Gel-to-Mousse Cleanser, $30, available at Sephora. 
Calvin Klein ObsessedWe'll believe the claims of any product backed by Kate Moss. We're only kidding—kind of. Calvin Klein's new fragrance, though, has her stamp of approval and is also the only scent we plan on wearing come fall. But that's because it's actually really, really good. Raf Simons and his team reimagined the classic 1993 Obsession scent, and the result is a light, lavender-laced dream.
Calvin Klein, Obsessed For Women, $94, available at Macy's. 
Christophe Robin Leave-In MistThe great thing about this hydrating Christophe Robin leave-in mist is that it doubles as a detangler and is probably the nicest smelling hair product we've tried in a long time.
Christophe Robin, Hydrating Leave-In Mist With Aloe Vera, $39, available at Sephora. 
Huda Beauty Desert Dusk Eyeshadow PaletteHuda Beauty is taking you on an Arabian adventure with its newest palette, that's inspired by Dubai's vivid and striking landscape, from the vibrant sunsets to the rich sands and steel skyscrapers. Good luck picking a favorite from the 18 new shades, offered in both solid and iridescent finishes.
Huda Beauty, Desert Dusk Eyeshadow Palette, $65, available September 18 at Sephora.
Kérastase Couture Styling L'incroyable Blowdry CrèmeIf you have thick and unruly hair, you need to try this product. It's made of a blend of non-sticky beeswax, that, when applied to damp hair and heated, locks in any style that you're after while also offering your hair the nourishment and thermo-protection it needs. Did we mention that it also controls frizz?
Kérastase, Couture Styling L'incroyable Blowdry Crème, $40, available at Kérastase.
Lipstick Queen Black Lace BlushAdding to the brand's long list of products that look like one thing but are another, here we have Lipstick Queen's Black Lace Blush. It looks black in the compact, but, when applied, it's actually a gorgeous warm berry shade.
Lipstick Queen, Black Lace Rabbit Blush, $25, available at Ulta. 
Marc Jacobs Eye-Conic Eyeshadow PaletteLayer, blend, smudge, do whatever your beauty heart pleases with these Marc Jacobs eyeshadow palettes. "Smartorial," featured here, is one of the six curated shades that range from neutral and subtle to purple and vibrant.
Marc Jacobs, Eye-Conic Multi-Finish Eyeshadow Palette, $49, available at Sephora. 
NARS Foundation StickIf you don't like the way most foundations feel on your face (aka like your pores are suffocating), same. Nars has a solution. The brand's new foundation stick is matte, meaning it's great for those with oily skin, and it comes with a built-in sponge, so it's great for anyone in need of on-the-go coverage.
NARS, Velvet Matte Foundation Stick, $45, available at Sephora. 
Paula's Choice Pore Refining TreatmentPaula's Choice has some of the best exfoliants on the market. The BHAs are particularly notable, and this new formula, which also includes acne-fighting salicylic acid, is already in our regular rotation.
Paula's Choice, Resist Advanced Pore Refining Treatment With 4% BHA, $36, available in September at Paula's Choice. 
Plume Science Brow PomadeWe are quite discerning when it comes to brow products, but we are obsessed with this pomade. It not only defines brows with a smudge-proof, vegan, and cruelty-free formula, but it also promotes their growth, so we can live out our Cara Delevingne fantasies.
Plume Science, Brow Pomade, $38, available at Plume Science.
R+Co Dry ShampooAlways the overachiever of hair care products, R+Co's new dry shampoo powder includes a nozzle that allows for very precise product placement. It's the little things.
R+Co, Skyline Dry Shampoo Powder, $36, available in September at R+Co.
Sephora Collection Clay MaskDon't let the size fool you on this one. You can get at least four uses out of a single pack, and there's a pack for any and every skin need—from detoxifying to brightening. At $8 each, might as well try them all.
Sephora Collection, Clay Mask, $8, available at Sephora. 
Tenoverten Nail Polish in 'Catherine'From our favorite nail salon comes the fall collection made up of a new trio of 8-free, cruelty-free nail polish shades. We love the above peachy one as a new take on millennial pink.
Tenoverten, nail polish in 'Catherine,' $18, available at tenoverten.
Briogeo Deep Conditioning Cap SystemThink of this product as a sheet mask, but for your hair. The cap provides instant moisture to parched strands thanks to a built-in hydrating essence. Deep conditioning will never be the same.
Briogeo, Don't Despair, Repair! Deep Conditioning Cap System, $36, available October 3 at Sephora. 
Bath & Body Works Shower Steamers Shower steamers are, essentially, bath bombs but for your shower. Bath & Body Works is revamping their aromatherapy line and these, which give off whiffs of lavender and cedarwood, are perfect for coming down from a stressful day. 
Bath & Body Works, Shower Steamers, $14.50, available in fall at Bath & Body Works.