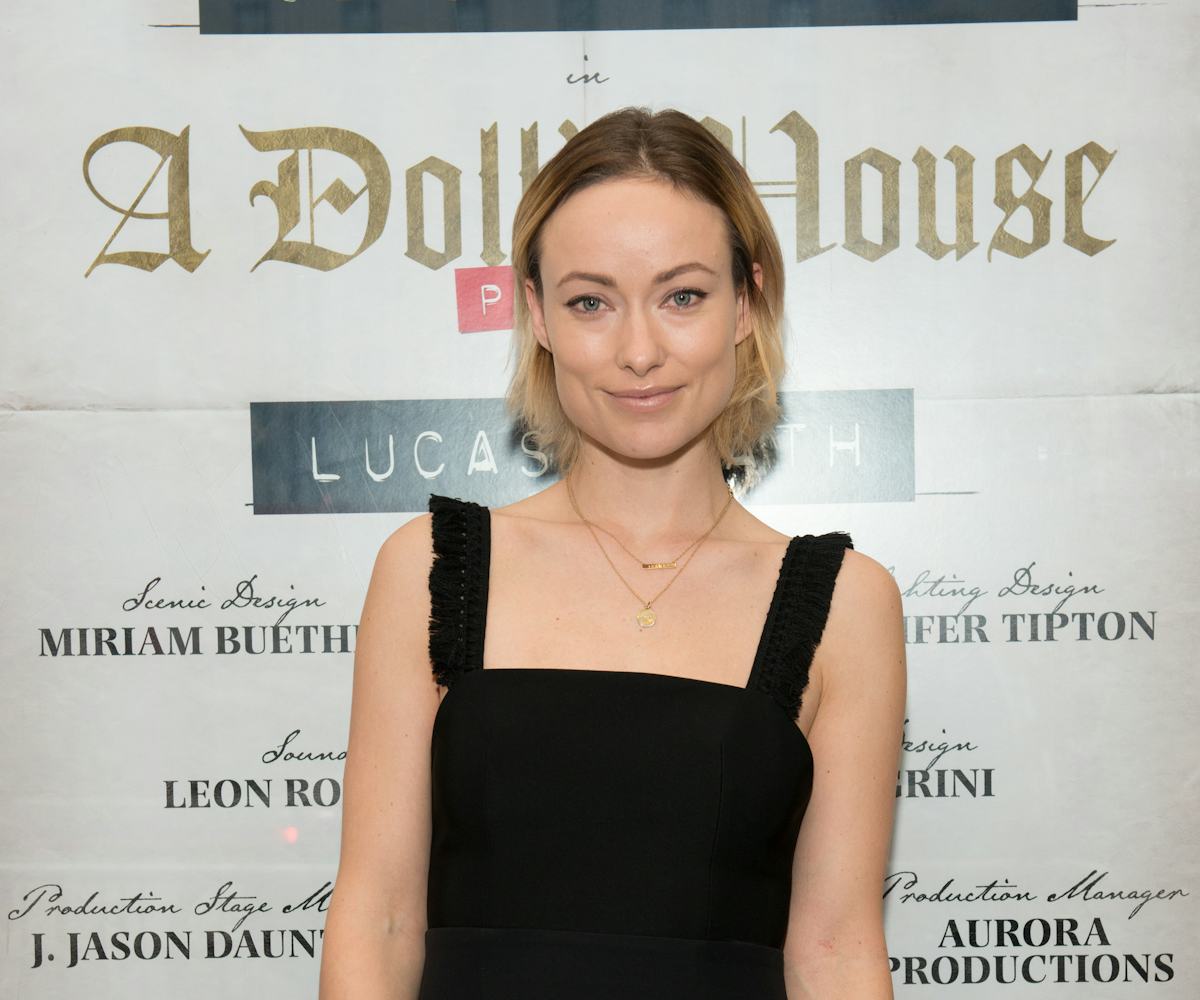 Photograph by Noam Galai/Getty Images.
Olivia Wilde Is Challenging The Skin-Care Industry To Do Better
As True Botanicals' newly appointed chief brand activist
"I want to go testify before Congress, I want to beat the drum on this," says Olivia Wilde on a rainy morning in Manhattan's Clover Grocery when asked what she will do in her role at True Botanicals. Just a few days prior, the actor and director—who's about to make her Broadway debut next month in George Orwell's 1984, alongside Tom Sturridge—has been appointed the luxury natural skin-care line's chief brand activist, a platform that, she says, she plans on using to educate women on the importance of using safe and natural products.
"My mother's a cancer survivor, so many of my friends are affected by cancer, and it's something we really have to take seriously. I don't accept it's a given that we're all gonna get cancer," she says. "It's not people's fault they trust the government that's protecting them, it's not their fault that if something is on their shelves, [they trust] that it doesn't have poison in it. In the EU, they have more than 1,300 banned ingredients; here, we have less than 20. What the fuck is up with that? It makes me furious." 
It's not hard to believe when Wilde says that she wasn't looking for a "brand to pay my bills." In fact, after a good decade of searching for skin-care products that were not only natural, non-toxic, and cruelty-free, but also sustainable in terms of packaging and supply chain, she was ready to create them herself out of sheer frustration. "I've been looking at how those products checked those boxes but also how they really worked, because, at the end of the day, I really needed something that worked. And I wasn't finding the thing that had both of those elements, that was effective but also truly natural, non-toxic, sustainable, and I thought I was gonna have to create my own." 
But after hearing about True Botanicals through word of mouth and trying out the products for herself, the former Revlon ambassador wanted to come on board. "I increasingly understood the power of my voice and started being really thoughtful in how I used it, and I wanted the beauty world to represent something that was moving forward," she said of deciding to join the relatively small brand. "My belief is when people understand that they have the ability to choose something that's a lot healthier for themselves and the environment, and it actually works, that they will not go back. You can't unlearn this stuff, once you know. Consumers will demand higher standards, and then the larger companies will have to respond to that. This always comes back to politics, but your dollar is your vote." 
Speaking of politics, according to Wilde, it helps that True Botanicals is the product of two women, Hillary Peterson and Christina Mace-Turner. "I got to meet these guys, and then it became an emotional connection as well because I thought, This is a movement and these are the leaders of the movement that I have been passionate about for a long time, they're actually doing it," she said. As the mother of Otis and Daisy, whom she had with partner Jason Sudeikis, Wilde has understandably become even more passionate about the importance of using safe ingredients topically in the last few years. "If I put on some harsh toxic product that a dermatologist recommended and then I snuggled my seven-month-old baby, it was a crime to me, like, 'Oh I shouldn't hold her, I shouldn't kiss her, because that's gonna get on her skin,' and that was really heartbreaking. I wanna be able to smoosh all over them."
Wilde is by no means delusional that the switch from questionable-ingredients-laden products will happen overnight; this is, after all, a society that's obsessed with cleansing and stripping skin of essentials oils, all in order to get that squeaky clean feeling. "I don't think beauty should be this experience that is all about stripping and attacking and changing; it should be about self-love," she adds. "I feel very luxurious using these products; it [also] doesn't feel like I'm sacrificing anything to use it, and I think that's a really important point." She also is aware that it's a big decision to wipe your medicine cabinet clean of products you've been using for years. "People feel this tremendous pressure to clean out everything in their shelf and replace it all with a new line, and they don't know if it's worth the investment," says Wilde. "I would say take baby steps. Start with one product that you realize is changing your skin and give it the chance to actually work." That first product for Wilde was the brand's Pure Radiance Oil, which comes in three different variations targeting various skin concerns; for me, a recent convert to True Botanicals, it started with the Pre Cleanse Oil. 
With an approach this straightforward and holistic, you can't help but envision Wilde making a foolproof case to the Congress when time comes. "I'm interested in being an activist in terms of communicating information, and I think that's arming consumers with the information they deserve to make better choices," she said. "[At the end of the day,] in order to know you can demand better, it takes companies proving that it's possible, and I think that's what is revolutionary about True Botanicals. There's so many people who know a lot about the beauty industry who aren't even aware that there's a product that can be as effective and natural as this."