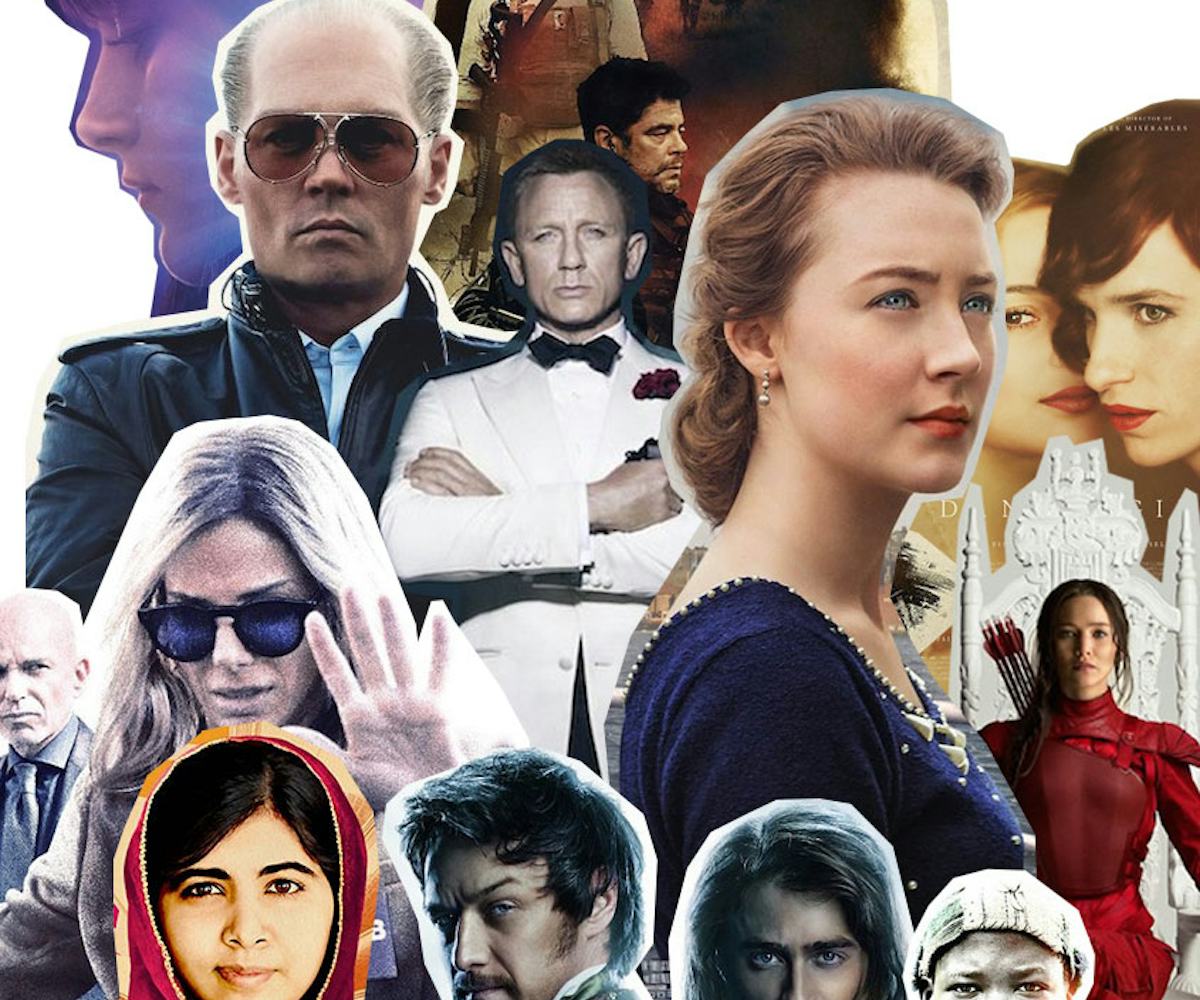 the 32 movies everyone will be talking about this fall
There is absolutely nothing good about summer ending except the movies that hit theaters. As studios nurse their CGI hangovers, they're also gearing up for awards season, which means prestige dramas and cerebral indies will crowd the multiplex. But not every movie this season is designed to rack up little gold men. Some of them just want you to have fun. (That's where Katniss Everdeen comes in.) Here are 32 fall flicks you should be paying attention to.
Black Mass (Sept. 18)
To play notorious Boston gangster Whitey Bulger, Johnny Depp trades in his makeup and wigs for...more makeup and wigs. Only this time, they're used to a chilling effect as Depp recreates a real-life monster with deadly precision, reminding everyone that when he wants to be, he's the best there is.
Sicario (Sept. 18)
Emily Blunt continues her mid-career roll, playing yet another tough-as-lead warrior who takes zero shit from anyone. Here, she's a fearless FBI agent who finds herself in the middle of a chaotic, covert drug war where the line between right and wrong is murkier than the blood spilled all around her. Josh Brolin and Benicio Del Toro round out a an excellent cast.
The Keeping Room (Sept. 25)
A year after premiering at the Toronto International Film Festival, we'll finally get to see this refreshing take on the Western, with three women—Brit Marling, Hailee Steinfeld, and Muna Utaru—from two sketchy soldiers who abandoned their army during the last days of the Civil War. 
Stonewall (Sept. 25)
Roland Emmerich, the madcap showman behind Independence Day and 2012, goes light on budget but heavy on importance, telling the story of the Stonewall riots that ignited this country's LGBT rights movement, a struggle that has never felt more relevant than it does right now.
The Intern (Sept. 25)
On paper, a movie that has Robert DeNiro playing intern to Anne Hathaway's e-commerce CEO sounds entirely silly. But at this point in her career, writer and director Nancy Meyers has earned the benefit of the doubt, and the sweet trailers have us feeling all fuzzy inside.
The Walk (Sept. 30)
No, you're not losing your mind: The story of Philippe Petit, the French high-wire artist who crossed between the twin towers of the World Trade Center in 1974, was previously told in the Oscar-winning documentary Man on Wire. The Walk, by contrast, presents a more dramatic version of Petit's quest to perform the unprecedented stunt. Sure, you already know that Petit, who's played here by Joseph Gordon-Levitt (spouting a delightful French accent and even more delightful French haircut), survived his trip between the towers with quite a story to tell. But watching the impossible made possible is still a popcorn-worthy experience, thanks to the big-picture flair of director Robert Zemeckis (Forrest Gump, Back to the Future). 
Freeheld (Oct. 2)
Though the producers couldn't have predicted it when they first began working on the film several years ago, Freeheld takes on new context given the Supreme Court's recent ruling authorizing gay marriage in the U.S. It's the story of Laurel Hester (Julianne Moore), the real-life New Jersey cop who, after being diagnosed with terminal lung cancer, sought to have her police benefits transferred to her domestic partner (Ellen Page). Set in 2005, the movie chronicles her protracted legal battle, and already seems like it took place in a different world—a testament to how times have changed. The biodrama also stars Steve Carell as an outspoken gay rights activist, striking a mood that's more Michael Scott than Foxcatcher—ready to murder bad laws, not people. 
The Martian (Oct. 2)
Although humans won't be walking on Mars any time soon, at least we can watch Matt Damon do it onscreen. In The Martian, Damon plays astronaut Mark Watney, who's stranded on the Red Planet after an emergency storm forces his crew to take off without him. Left alone and intent on getting home, Watney proceeds to MacGyver the hell out of his situation, growing food and managing to contact NASA to plan for the world's gutsiest exit strategy: Getting off a planet where he should've died. Director Ridley Scott has always been preoccupied with the future, and The Martian shows how even as technology advances, our direct imperative—survive at all costs—remains the same. 
Legend (Oct. 2)
Two Tom Hardys are always better than one, which makes this crime thriller an automatic must-see. The versatile Brit does double duty as the Kray twins, real-life brothers who ruled the London underground during the '50s and '60s. This is also the film which Hardy was promoting when he infamously shot down a reporter who asked about his sexuality, so there's that.
He Named Me Malala (Oct. 2)
You most likely know the story of Pakistani activist and Nobel Peace Prize laureate Malala Yousafzai, but this documentary will give you a more intimate portrait of one of the more profoundly inspiring and influential figures to have emerged in the last few years.
Steve Jobs (Oct. 9)
Early word out of the festival circuit is that Michael Fassbender looks and sounds nothing like the creator of the iPhone, but it scarcely matters. Apparently, Fassbender nails the essence of Jobs—part asshole, all genius—and is a natural at handling writer Aaron Sorkin's verbal gymnastics. Finally, a biopic the late Apple founder deserves.
Pan (Oct. 9)
Much like Steven Spielberg did with Hook, Joe Wright's fantasy epic wants to tell a version of the Peter Pan saga that you've never seen before. Here, Captain Hook is a friend—and played by Garret Hedlund, a total babe—the villain is Blackbeard (Hugh Jackman), and the traditionally Native American Tiger Lily, is played by white female Rooney Mara. Do with that what you will.
Room (Oct. 16)
Brie Larson is earning career-changing raves for her portrayal of a mother and kidnap victim, trapped in a room with her five-year-old-son. Larson is a lock for an Oscar nod, and if reactions from the festival circuit hold, Room will be one of the most talked-about movies of the year.
Bridge of Spies (Oct. 16)
Steven Spielberg and Tom Hanks re-team for this Cold War drama that sees these two masters do what they do best. Based on the true story of a Brooklyn lawyer tasked with negotiating the release of a captured U.S. pilot, Hanks plays an ordinary man placed in an extraordinary situation, and as always, Spielberg directs the shit out of it.
Crimson Peak (Oct. 16)
We don't know much—the trailers have smartly held back—but leave it to horror/fantasy mastermind Guillermo Del Toro to make a haunted house movie set in the 19th Century and make it feel completely current. Come for Tom Hiddleston, Jessica Chastain, and Mia Wasikowska, and stay for the terrifying ghosts.
Beasts of No Nation (Oct. 16)
Welcome to the future of Hollywood. This chilling and vital piece of filmmaking marks the first time a major film will hit Netflix the same day as theaters. Directed by True Detective Season One auteur Cary Joji Fukunaga, this tale of a warlord (a charismatic, terrifying Idris Elba) who recruits child soldiers to fight his war is bravura filmmaking by a natural-born director, and might just launch Netflix into the heart of the Oscar race.
Suffragette (Oct. 23)
Even though women make up almost half of the world's population, they are still discriminated against. Suffragette goes all the way back to feminism's early struggles and chronicles the real-life British activists who fought for the right to vote at the turn of the century. Factory worker Maud Watts (Carey Mulligan), community organizer Edith New (Helena Bonham Carter), and movement leader Emmeline Pankhurst's (Meryl Streep in another Oscar-ready role) acts of anarchist dissent form an arc to the present day, showing how a bit of bluster can be necessary to win a fight. Our favorite line from the movie? Maud's words: "We are in every home, we are of every race. You can't stop us all."
Jem and Holograms (Oct. 23)
Your favorite '80s cartoon about an all-girl rock band finally gets the big screen adaptation it deserves, and we couldn't be more thrilled about it. Jon M. Chu, of Never Say Never fame, directs.
Burnt (Oct. 23)
Bradley Cooper, who reunites with his American Sniper costar Sienna Miller, tries to make three Oscar nominations in a row with this sizzling portrayal of a rockstar chef struggling to keep it all together. We wouldn't bet against him.
I Smile Back (Oct. 23)
There've been so many movies about depression, but this might be the first led by one of our most-treasured comedians. Sarah Silver goes pitch black as a housewife self-destructing under the crushing weight of drug addiction and clinical depression in this small but affecting indie.
Our Brand Is Crisis (Oct. 30)
Based on the 2005 documentary of the same name, this sharp drama follows Sandra Bullock as an American campaign manager hired by a Bolivian presidential candidate to win his country's election. It doesn't sound like the stuff of captivating drama, but in the skilled hands of director David Gordon Green and with a spotless cast that includes Billy Bob Thornton, Zoe Kazan, and Scoot McNairy, the movie—which killed at TIFF—fizzes and pops with the energy of a great political allegory.
Brooklyn (Nov. 4)
Brooklyn is the story of one man's quest to pickle the perfect yam in time for the launch of a new Smorgasburg location... Okay, it's not, though with a name like that you wouldn't be surprised. Instead, Brooklyn tells the story of Ellis Lacey (Saoirse Ronan), an Irish immigrant who comes to '50s New York and finds out she's more interested in Coney Island and local boys than her traditional upbringing might've dictated. She falls for one of those guys—an Italian, too!—but just as she's settling into her life in America, she's forced to go back home upon the passing of her mother. It's a classic story of a woman torn between worlds—past and present—and you'll feel the pull of vintage Brooklyn, pickled yams or not. 
Spectre (Nov. 6)
The debate over who the next Bond will be has been raging on the Internet (Idris gets our vote), which means that it's almost time for Daniel Craig to hang up his Martini, or something. Catch him in one of his final adventures as 007, where he's joined by villain Christoph Waltz, and Bond girls Lea Seydoux and Monica Belucci.
Spotlight (Nov. 6)
One of the most talked-about films on the festival circuit and an early Best Picture frontrunner, this old-school ensemble drama tells the true story behind the Boston Globe's investigative team and their coverage of the Massachusetts Catholic Church sex abuse scandal. Oddly, the movie was written and directed by Tom McCarthy, who made one of last year's most-hated-on movies, the dopey Adam Sandler vehicle The Cobbler. Mark Ruffalo, Michael Keaton, Rach McAdams, and Liev Schreiber lead a distinguished cast.
By The Sea (Nov. 6)
A married couple in the 1970 travels through France, fight a lot, grow apart. Newcomers Brad Pitt and Angelina Jolie star. Yawn.
The Hunger Games: Mockingjay Part 2 (Nov. 20)
Hormonal post-teens! Dystopian conflict! Wigs, glorious wigs! The conclusion to the very popular Hunger Games series has it all. Everything comes to an end as Katniss Everdeen (Jennifer Lawrence) fights for the society she and her friends deserve. What began as a PG-13 Battle Royale is now a referendum on the virtues of armed rebellion, as Katniss and her friends wage war for peace at a devastating cost. Mockingjay, Part 2 has the final appearance of the late Philip Seymour Hoffman, along with a murderer's row of supporting players such as Jena Malone, Stanley Tucci, a handful of Game of Thrones actresses, and more.
Carol (Nov. 20)
Cate Blanchett and Rooney Mara star in this period drama that has already sparked loads of buzz for the lesbian relationship at its core. Blanchett plays a 1950s married woman who falls for Mara's department store clerk, and director Todd Haynes (Far From Heaven) proves yet again that he is one of our most visually sumptuous directors. Mara tied for the Best Actress award at Cannes, and could very well face off against her co-star in that category come March. 
Secret In Their Eyes (Nov. 20)This is a weird one. Two bona-fide superstars, A-list actresses together in the same movie for the first time, and hardly any buzz. Besides a trailer, we've heard almost nada about this old-scholl thriller that also stars Chiwetel Ejiofor, who returns to L.A. to solve the murder of Roberts' child 13 years earlier. The jury's still out on this one, but Kidman and Roberts sharing the big screen should be worth the price of admission alone.
The Good Dinosaur (Nov. 25)
This marks the first time we get two Pixar movies in the same year, and The Good Dinosaur will have some pretty big shoes to fill after the success of Inside Out. Thankfully, dinosaurs are known to have fairly large feet.
Victor Frankenstein (Nov. 25)
A twisted and commerical take on Mary Shelley's monster classic, Doctor Frankenstein reimagines the titular mad scientist (James McAvoy) and his trusted assistant Igor (D. Rad) as handsome and charming scientists who get in over their heads when they decide to, you know, create a man out of dead body parts. With two very likeable leads and a horror/action/comedy hybrid spirit, this looks like the perfect breather for more heady awards bait.
The Night Before (Nov. 25)
Speaking of breathers from heady awards bait, here's Seth Rogen, Joseph Gordon-Levitt, and Anthony Mackie in a holiday-themed comedy about getting blasted with your friends. Put that in your bong and smoke it.
The Danish Girl (Nov. 25)
Telling the story of transgender pioneer Lili Elbe, The Danish Girl already has pundits talking about a potential repeat for star Eddie Redmayne in the Best Actor category, but early notices out of festivals indicate that this is Alicia Vikander's movie, capping her breakout year with a tour de force performance as Elbe's loyal-but-tortured wife, Gerda Wegener.