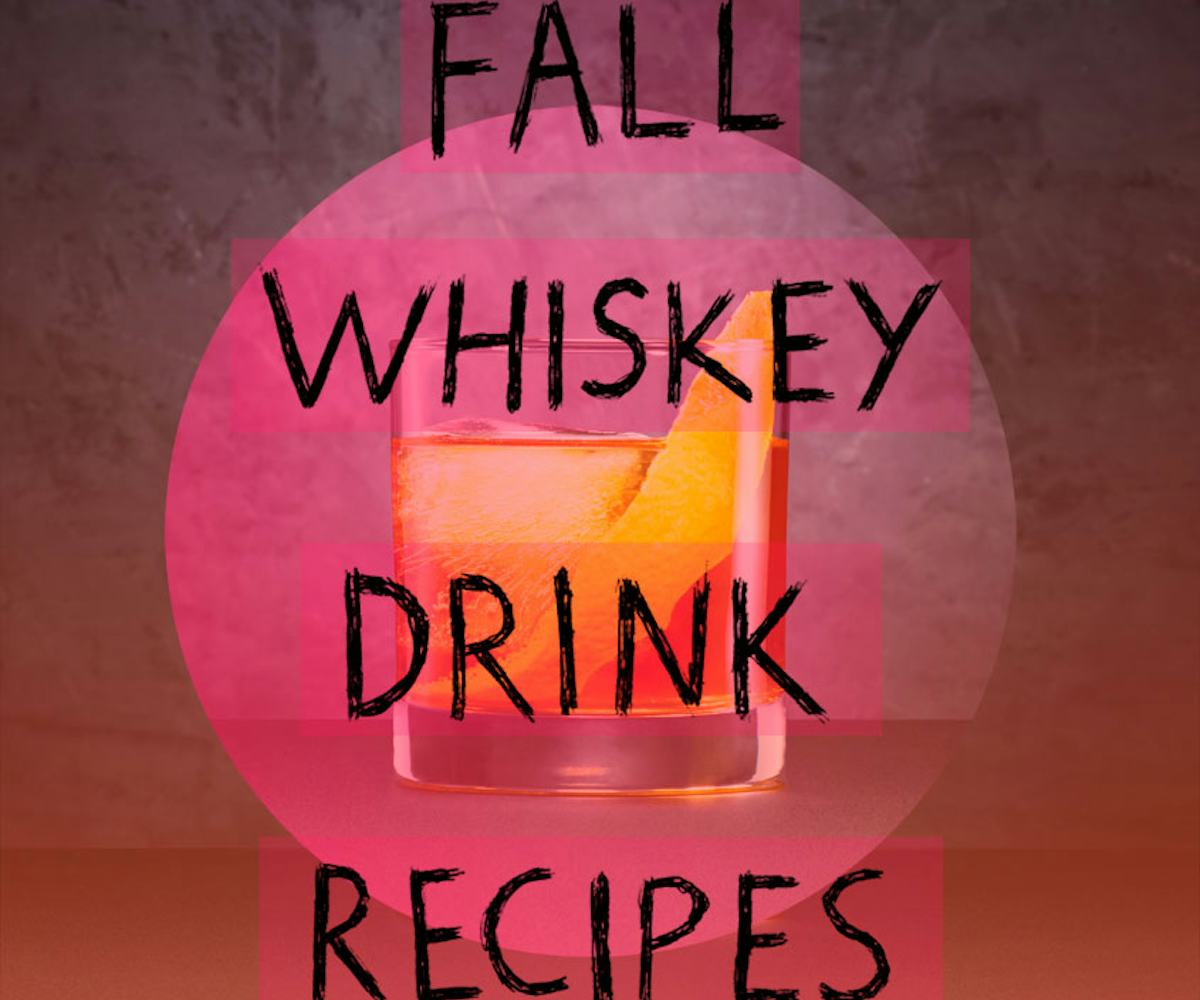 Impress Your Friends With These Fresh Whiskey Drink Recipes This Friendsgiving
+ a tequila cocktail for those looking for something a bit different
Hey, everyone! Here's an idea for your Friendsgiving: Instead of bringing over wine from Trader Joe's, show off how elevated your drinking tastes have become this year and bring over a bottle of whiskey. You'll feel pretty badass saying, "It's cool, y'all. I've got the whiskey."
But, don't just bring a bottle of life's water (whiskey means "water of life"). Bring everything you need to mix up some deliciously autumnal beverages for you to help wash down all the turkey, stuffing, rolls, potatoes, and any other starchy food you shove in to your respective pieholes. We worked with Caskers, a leader in the artisanal spirits industry, who recommended four Friendsgiving-approved recipes that make whatever whiskey and coke mix you were planning look like amateur hour. It's the American thing to do, really. 
The Jameson Old FashionedYou can never, ever go wrong with an Old Fashioned. It's Don Draper's favorite drink, after all. Whiskey adds just the right amount of sweetness to help this classic go down. It's noble choice, but a surefire win.
What you'll need: 2 ounces of Jameson1 cube brown sugar1 teaspoon of superfine sugar3 dashes of Angosture bitters2 dashes of orange bitters1 dash of Peychaud's bitters
What you'll do:Muddle all the ingredients in a mixing glass except for the Jameson. Afterwards, add the whiskey in with some ice and stir. Throw some ice in a rocks glass, pour your drink in, and add either a lemon twist or orange twist for garnish.
The 1824Old Fashioned fans will enjoy this. The 1824 packs a stronger kick,but goes down smooth. It's a sipper, but hey, more time for conversation.
What you'll need: 1.5 parts of Glenlivet Founder's Reserve1 part of Lillet Blac or Lillet Cocchi Americano (an aperitif wine)A dash of orange and angostura bittersA splash of soda
What you'll do:Begin by pouring the Glenlivet, wine, and bitters into an Old Fashioned glass with ice. Top your mix with soda before throwing in an orange twist for a garnish!
The Speyside SpritzerWhoever said you can't enjoy a summery drink in the fall has never had a Speyside Spritzer. It's got just the right amount of bite that refreshes while keeping you warm. The carbonation of the prosecco keeps this cocktail feeling new.
What you'll need: 1.5 parts of Glenlivet Founder's Reserve.5 parts of simple syrup .5 parts of lemon juice A splash of prosecco
What you'll do:Pour Glenlivet, lemon juice, and simple syrup into a Collins Glass (one of those tall, cylindrical glasses) filled with ice. Stir. Then top with a splash of prosecco and garnish using a lemon slice and mint sprig. Classy.
The AmaliaThe richness of a port wine mixes with the tequila to create a refreshingly sweet cocktail. Depending on your taste, adding a little more citrus will give it a little extra kick. It is perfectly autumnal and will make your dinner toast that much more refreshing.
What you'll need:2 ounces of Avion Reposado Tequila1 ounce of fresh lime juice.75 ounce of port wine.5 ounce of agave nectar4 red grapes (for muddle)
What you'll do:Take a mixing glass and muddle your grapes inside. Add in all the ingredients, ice, and begin to vigorously shake for about eight seconds. Then, pour your mix in to your glass! For an extra kick, rim your glass with salt and/or add a lime.