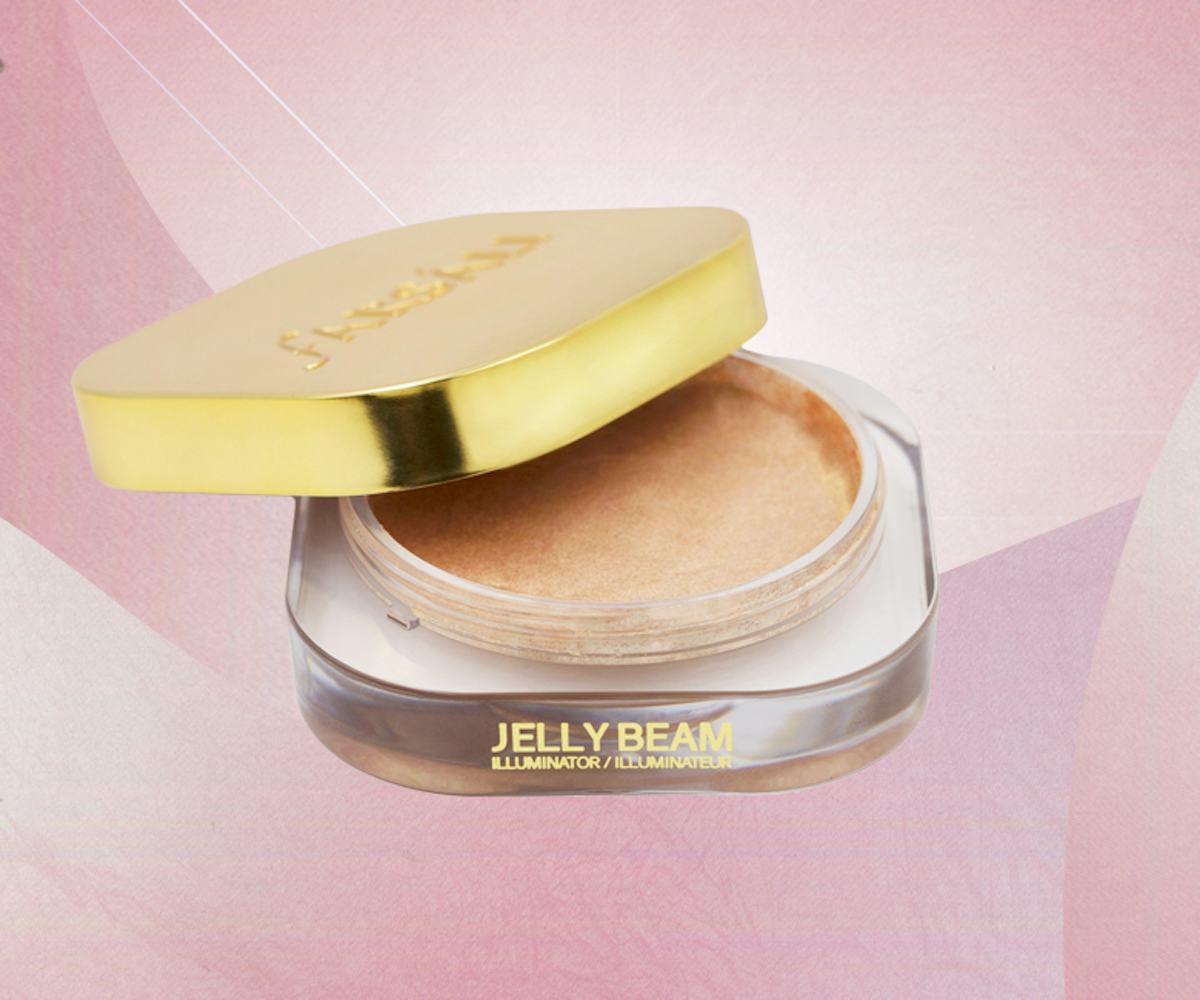 Farsali's New Highlighter Is The Most Fun You'll Ever Have With Strobing
It's available starting today
Halloween just ended, and now the other most wonderful time of the year is upon us, the days when sparkle and glitter roam free—the holidays.
In 2017, when you think glow and makeup, highlighter is probably the first product that comes to mind. It's gotten crazy popular as of late (thanks to the rise of Instagram makeup), and, as a result, it's also become a little played out. One can only tolerate so many super-lit cheekbones on their feed. Which is why we didn't expect to feel the way we do about Farsali's Jelly Beam Highlighter. 
Our fascination mostly stems from the product's unique formula. It's a jelly consistency in the container, but it sets like a powder on skin. The brand describes it as a "wet-satin finish," and that's just about the best damn description out there because it's hard to describe its magic without physically touching it. Here's a video that should help. 
Like other products in the brand's line, it's a hybrid between makeup and skin care and includes brown seaweed extract and hyaluronic acid to help your skin stay hydrated. Is there an advantage of using a jelly over any other formula? Not technically. It's mostly just a lot more fun to touch and play with. But the uses can be stretched farther than your typical highlighter.
For instance, you can use it as you would a typical highlighter—on the cheekbones, the bridge of your nose, cupid's bow—but you can also mix it with your lotion, oil, or foundation to slather on your face and body. It's also fun to tap onto your eyelids and spread across your décolletage. The container itself looks tiny at first glance, but trust us, you don't need a lot of this stuff for it to make an impact. As for how you should apply it, I would recommend using your fingers rather than a brush, since the jelly consistency doesn't adhere to bristles very well. If you're not a fan of doing that (because germs), a beauty blender should do the trick.
"Glazed" (get it?) is likely the first of many highlighters to come from Farsali. Gold is universally flattering, but we wouldn't be mad at a rose gold or a holographic iteration, either. Jelly Beam launches today and goes for $40. Hopefully, you're ready for this jelly, because it'll probably sell out quicker than it takes you to apply the Kira Kira filter to it.