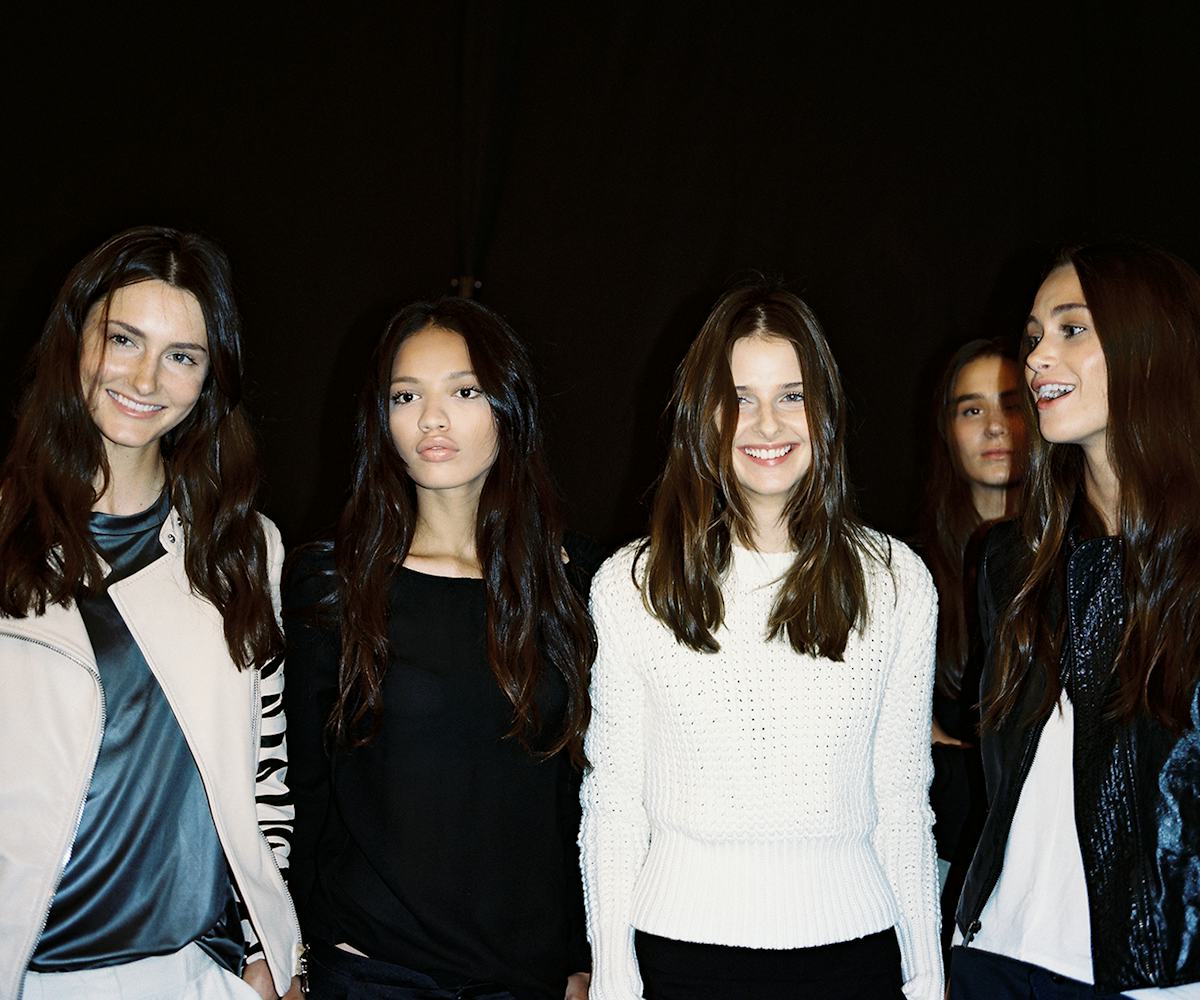 photos by beth garrabrant
in her shoes
comfortable shoes that are model-tested and nylon-approved.
We're only on day two of New York Fashion Week (or #nylonFW as it's known around the office) and our feet already hurt even though we wore flats yesterday!
Instead of continuing to complain for the next five days, we decided to ask the models backstage what shoes they're wearing to keep their toes un-squished and their insteps supported. We figure if anyone would know the comfiest of comfy shoes, it's the girls who's feet really need a break after after spending hours in six inch stilettos. 
What we learned from top faces like Manuela Frey and Mijo Mihaljcic is that looking cool and comfortable from the ankles down doesn't have to be an expensive endeavor, especially if you add some cushioned insoles to your loafers like Tilda Lindstam did. (She also got her epically cool white purse at Goodwill for only one dollar, so clearly she knows what's good.) From Converse, to Nikes, to Steve Madden sandals with socks, the models of Fashion Week taught us how to keep our feet happy and not break the bank. 
Check out all the gals and their go-to kicks in our exclusive backstage gallery from the BCBG and Richard Chai Love spring '14 shows!  
Chanel face Yumi Lambert at IMG picks ballet flats as her go-to kicks.
IMG's Tilda Lindstam is wearing loafers with Nike Air insoles...
Lindstam says, "My dog chewed half of my shoe, but I think he did a pretty good job because you can't even tell!"
"Converse. All the time." Is IMG's Mijo Mihaljcic's mantra.
Ming Xi at The Society is rocking some flamingo slippers from a friend.
Check out these bad boys on Ming Xi.
The Society's Manuela Frey demands her shoes to be both comfy and cool...
... so she picked black sandals from Steve Madden and added maroon socks.
Valerie Kaufman from The Society is spending Fashion Week in wedges Nike's.
"I just got them!" Kaufam told us. "I have a bunch of sneakers with hidden heels because I want to look really tall."
Iris van Berne from NEXT is all about her orange Jordans from Nike.
"I've been obsessed with them for a long time and I finally found them in my size," van Berne explains.
Kayley Chabot at NEXT says, "I'm always wearing my Nike's now. I just got them and I cannot live without them."