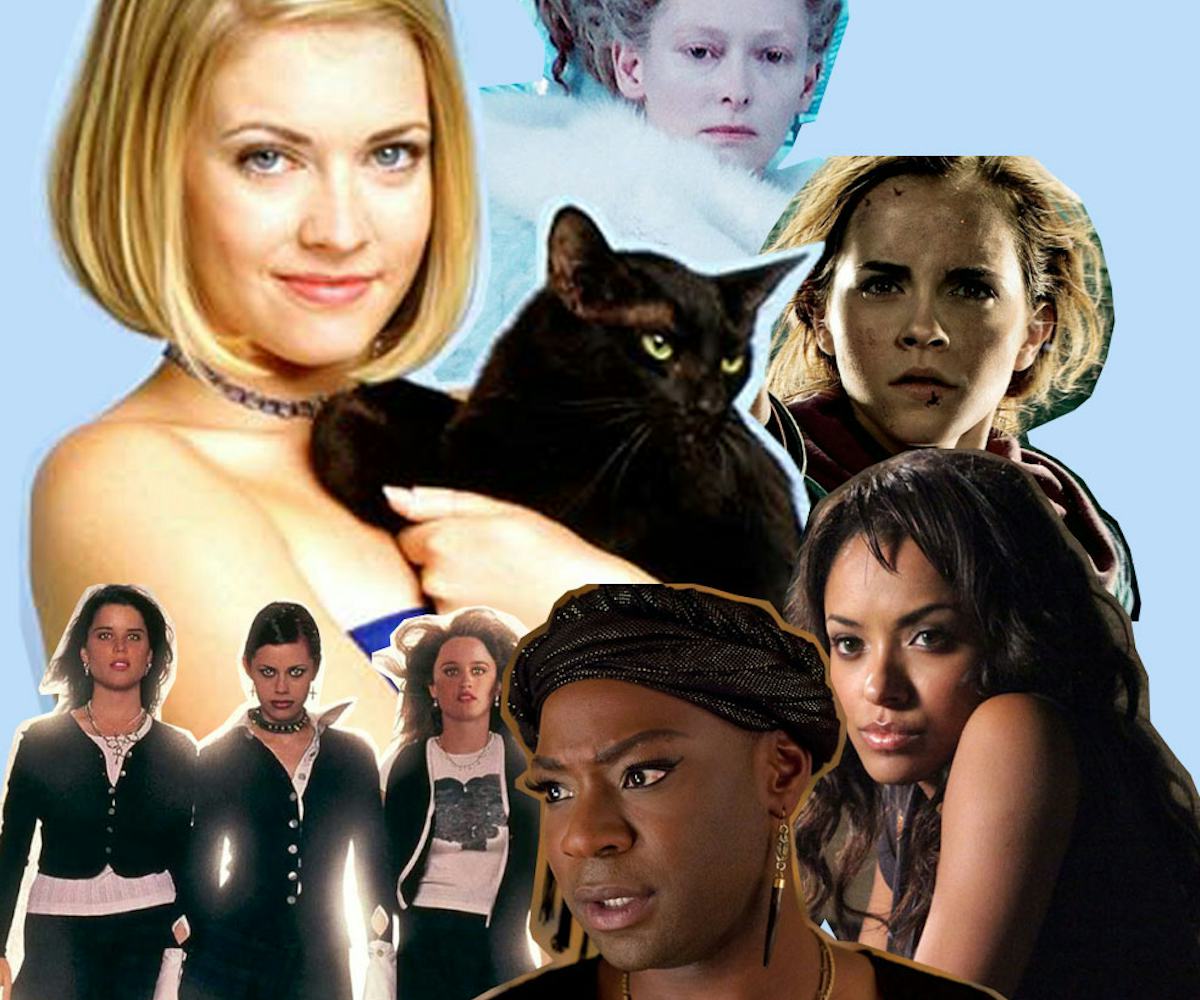 Our 21 Favorite Pop Culture Witches Of The Past 20 Years
In honor of Sabrina Spellman's 20th anniversary
For anyone out there who grew up in the '90s, today marks a very special day. Exactly 20 years ago, the first episode of Sabrina, The Teenage Witch aired. Yes, we know, we're feeling old, too.
For seven years following this date, we grew up watching our favorite witch, Sabrina Spellman, accompanied by her two aunts and talking cat (also witches), perfect her craft; date her mega hunk of a football player boyfriend, Harvey Kinkle (swoon!); and duke it out with her cheerleader rival, Libby Chessler. And, I mean, how can anyone forget that time her dad used his powers to summon a private Britney Spears concert?
In honor of this important anniversary, we rounded up 21 of our favorite pop culture witches of the last two decades.  From the iconic (and downright spooky) Nancy Downs in The Craft to more fun-loving conjurers, such as Samantha Stephens from Bewitched, these fictional, mystical characters will for forever have a place in our hearts—and continue to inspire our interest in the craft.
Click through the gallery below to check out our list.
Melissa Joan Hart as Sabrina Spellman on Sabrina, The Teenage Witch, 1996-2003
Fairuza Balk, Robin Tunney, Neve Campbell, and Rachel True as Nancy Downs, Sarah Bailey, Bonnie Hyper, and Rochelle Zimmerman in The Craft, 1996
Alyson Hannigan as Willow Rosenberg on Buffy the Vampire Slayer, 1997-2003    
Shannen Doherty, Holly Marie Combs, Alyssa Milano, and Rose McGowan as Prue Halliwell, Piper Halliwell, Phoebe Halliwell, and Paige Matthews on Charmed, 1998-2006
Sandra Bullock and Nicole Kidman as Sally and Gillian Owens in Practical Magic, 1998
Emma Watson as Hermione Granger in the Harry Potter series, 2001-2011    
Tilda Swinton as The White Witch in The Chronicles Of Narnia: The Lion, The Witch, And The Wardrobe, 2005
Nicole Kidman as Isabelle Bigelow as "Samantha Stephens" in Bewitched, 2005
Kat Graham as Bonnie Bennett on The Vampire Diaries, 2009-present
Nelsan Ellis as Lafayette Reynolds on True Blood, 2008-2014
Carice van Houten as Melisandre on Game Of Thrones, 2012-present    
Emma Roberts as Madison Montgomery in American Horror Story: Coven, 2013
Elizabeth Olsen as Wanda Maximoff/Scarlet Witch in The Avengers: Age Of Ultron, 2015
Cara Delevingne as The Enchantress in Suicide Squad, 2016