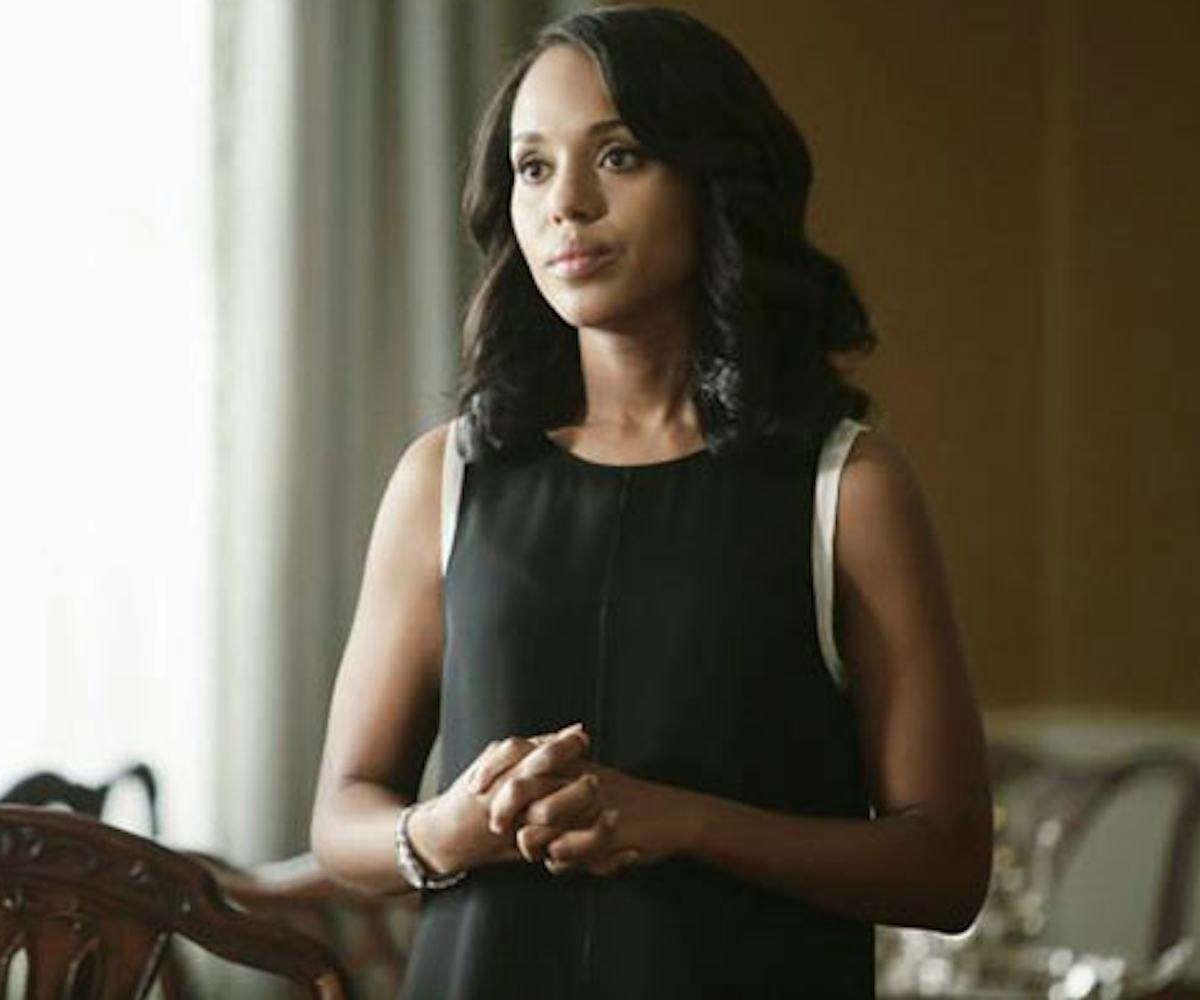 Photo courtesy of Scanal/ ABC
The Shonda Effect: How TV Became A Better Place For Female Directors Than Film
Television is where Hollywood is getting it right
On this year's International Women's Day, March 8, TheWrap published an article about how two of Hollywood's biggest studios, Disney and Fox, would spend the year releasing a grand total of zero films directed by women. But while film experienced a much-discussed decline in female-directed projects, television saw a welcome bump. A report from San Diego State University's Center for the Study of Women in Television and Film, Boxed In, concluded that there was a 6 percent increase in female directors on TV (across broadcast, cable, and streaming programs) between 2015 to 2016 and 2016 to 2017. The Directors Guild of America also reported that the 2016-to-2017 television season saw a "sharp rise" in the hiring of women directors who made up 32 percent of the first-time episodic directors hired—double the amount from 2014. Though these incremental gains speak volumes about the massive change still needed to reach industry inclusivity in this key behind-the-scenes role, they also hint at something else: TV has become a better platform for female directing talent than film.
It has become a favorite excuse of the film industry to suggest that women aren't being hired because they just can't hack it as directors. This false allegation has become a near-constant part of the conversation around women directors—just check out this insane Twitter thread of articles curated by BuzzFeed reporter Bim Adewunmi which includes the following headline: "Can Women Direct Action Films?"
Women have become so conspicuously absent in the directing role that in 2015, the Equal Employment Opportunity Commission opened an official investigation into whether it was a result of discriminatory hiring practices. According to Deadline, a source knowledgeable about this discrimination investigation claimed that "every one of the major studios has received a charge contending that they failed to hire women directors." But it's not just directors, gender bias appears in the hiring practices for all positions in film. The Center for the Study of Women in Television and Film's 2017 Celluloid Ceiling study found that last year "women comprised 17 percent of all directors, writers, producers, executive producers, editors, and cinematographers working on the top 250 domestic grossing films," the same percentage they did in 1998. 
According to Stacy Smith, founder and director of USC's Media, Diversity, and Social Change Initiative, the consistently low representation of women in these positions suggests that, rather than explicit sexism, Hollywood insiders are suffering from implicit biases and beliefs that are unconsciously skewing hiring in favor of men. "But," Smith wrote in an op-ed, "it doesn't take mind control to deprogram those beliefs."
On TV, showrunners like Ava DuVernay (Queen Sugar) and Melissa Rosenberg (Jessica Jones) have adopted a radical approach to the unequal staffing crisis by hiring all-female directing rosters for the second seasons of their shows. 
But women in TV aren't shouldering the burden alone. The CW's super-producer Greg Berlanti (The Flash, Arrow, Supergirl, Legends of Tomorrow), an honoree at this year's inaugural Alliance of Women Directors awards, explained his shock when looking at lists of potential directors for his shows: "You'd look at the director lists and they always seemed like they were from a different era—like something out of Mad Men. It was all white dudes." This prompted his decision to be more conscious of gender diversity in the hiring process which, though it seems like a very small behavioral adjustment, has proven a big success—he announced 50 percent of the directors for his CW show Arrow would be women and/or people of color. 
When Variety reported that nearly 90 percent of the FX Network's TV episodes were directed by men in the 2014-to-2015 season, network president John Landgraf owned up to it as his "failure of leadership" and pivoted toward more equal hiring of episodic television directors. As he tells it, an email about the issue from him to the showrunners of all of FX's shows was met with positive response and resulted in 51 percent of the directors in the 2016-to-2017 TV season being women and/or people of color. Now, these are only a few of the showrunners overseeing a fraction of the 4,000-plus episodes of TV airing per year, but their inclusivity efforts are making a difference.
I reached out to Dr. Martha Lauzen, executive director of the Center for the Study of Women in Television and Film, who suggested another reason for the inverse relationship between television's and film's employment numbers for women directors. "In film," she explains, "directors are typically responsible for the creative vision expressed in the narrative," whereas in television, "writers and producers steer the creative vision of the show." This means that when directors do guest stints on single or multiple episodes of a TV show, they are brought in for their skill and "expected to maintain the continuity of the series," rather than for some belief in their artistic vision the way filmmakers are. This reveals yet another lingering problem for women: In the industry, the auteur-genius is uniquely associated with masculinity as evidenced by the various cults of personality surrounding some of America's most celebrated directors, like Spielberg, Tarantino, and Kubrick.
In a Guardian piece on the subject, Kira Cochrane highlights this gendered appreciation of genius as one of women's biggest barriers to assuming the mantle of director. Cochrane points to a picture of George Clooney in Vanity Fair's 2005 Hollywood issue in which he's depicted as the classic director. He's rugged and shooting on a floating raft in water surrounded by a harem of half-naked women, looking every bit like "a young Orson Welles meets Michelangelo's vision of God." This succession of allusions to great men and their craft is telling. Rarely is the title of genius bestowed upon women. "As image creators, we know the power of images," director Laura Belsey explained to Variety's Maureen Ryan. "The fact that a woman or person of color does not fit the archetypal idea of what a director looks like influences people more than they might know." After conducting interviews with the film industry's gatekeepers, a 2017 USC Media, Diversity, and Social Change Initiative report agreed: "When industry leaders think director, they think male." 
But the auteur label isn't the only thing women directors are denied, the limitations are much more insidious. Most of us didn't realize there was a financial ceiling on women-directed projects until DuVernay shattered it, by becoming the first woman of color to direct a film with a budget over $100 million. This was especially important because Ryan identified women of color as the "proverbial canaries in the coal mine," a litmus test for whether true inclusion across gender and race has been achieved. Also, almost every year sees the release of an R-rated ensemble comedy, but it wasn't until the female-directed Rough Night debuted this summer that we realized a woman hasn't directed a film like that in almost 20 years. 
Stacy Smith joins many in suggesting Hollywood adopt a modified version of the NFL's Rooney Rule, which would require women to at least be interviewed for directorial positions. But the recently closed hiring-firing loop rocking the Star Wars Episode IX set suggests that, despite many a conversation and proposed solution, women are nowhere nearer to consideration for prime director gigs. One of the most recently ousted male directors, Colin Trevorrow, even once said he thinks women have no desire to direct blockbusters. In a still-available tweet from 2015, Trevorrow wrote, "I want to believe that a film-maker with both the desire and ability to make a studio blockbuster will be given the opportunity to make their case [but] many of the top female directors in our industry are not interested in doing a piece of studio business for its own sake." 
This is easily fact-checked. Many women do in fact have the desire to direct sci-fi and action blockbusters, and many do, on TV. One exemplary résumé is that of in-demand director Rachel Talalay who helmed 1995's action movie Tank Girl but now mostly directs episodes of popular TV shows like the BBC's iconic sci-fi show Doctor Who, as well as three of The CW's DC comics superhero adaptations, The Flash, Supergirl, and Legends of Tomorrow. In an interview with Vice, Talalay spoke to the uphill battle for female directors in the film industry in the wake of Wonder Woman's banner year, "I think our battle is only 1 percent won by the fact that [Wonder Woman] was successful." "It's not a meritocracy. It's a business," she continues. "If you aren't pushing to give women opportunities, how are they ever going to show that they can do it?" She's right. On the rare occasion women are given such an opportunity, the stakes are much higher because their status as auteurs hasn't been naturalized, meaning their vision and every move they make to realize it is watched through a microscope. Additionally, studios typically make the bad-faith decision to distribute female-directed films in fewer theaters to avoid potential financial loss. When director Lexi Alexander was asked about her reticence to pursue blockbuster director roles despite being the first woman to direct a big superhero franchise (Punisher: War Zone), she explained, "I don't want to be seen as a risk when I walk on set and then deal with all of the consequences this kind of bias causes." Like Talalay, Alexander has also found a groove directing for television where her credits include episodes of The CW's Arrow and Supergirl.
When I reached out to Jennifer Warren, founder and director of the L.A.-based nonprofit Alliance of Women Directors, she explained how one of the things helping television to move the needle on this issue is that studios are doubling down on professional development for women directors. Shadowing programs, in which an emerging director enters an apprenticeship with an established director to learn the trade, have been offered for years (CBS, NBC, Sony Pictures Television, and Warner Bros. all have a variation), but recently one of these networks expanded its mandate to include an employment agreement. This year NBC Entertainment announced Female Forward, an initiative to grow the talent pool of female directors that places a premium on the combination of mentorship and opportunity. It allows for 10 women to shadow directors from one of NBC's shows for up to three episodes after which they will be given the opportunity to direct an episode of that series. This is a big deal, according to Warren, because "no matter how many hours, days, or years somebody has shadowed a particular show or a particular director, earlier it never lead to being hired." "I hope the guaranteed directing component will have real impact on our shows as well as the industry," NBC Entertainment president Jennifer Salke said in a statement. According to Warren, this clause is "part of the new order." The program, slated for the 2018-to-2019 season, is among the first of its kind from a major network to specifically target women. "We've been around for 20 years, and the first 18 there was no movement whatsoever," Warren says of the AWD, "it's only in the past two years that I have believed that change really will happen."
Another interesting way TV has contributed to the rise of women in the directing chair is internal promotion; in 2017 a whole slate of TV's most popular actresses decided to take on a hyphenate by making their directorial debuts. In 2017 alone America Ferrera made her directorial debut with an episode of her NBC show Superstore ("Mateo's Last Day"); Rashida Jones, who previously directed a Sara Bareilles music video, made her television directorial debut with an episode of her show Angie Tribeca ("Welcome Back, Blotter"); as did Emily Deschanel in the 12th and final season of her Fox show Bones ("The Final Chapter: The Hope in the Horror"); her sister Zooey Deschanel toplines her own Fox show, New Girl, and made the jump to director last year with the New Girl episode ("House Hunt"); after 13 seasons as the lead of ABC's Grey's Anatomy, Ellen Pompeo added director to her actress-producer hyphenate ("Be Still, My Soul"); and in the final season of Freeform (nėe ABC Family) teen drama Pretty Little Liars, star Troian Bellisario made her debut as a director ("In the Eye Abides the Heart"). Just last month, Jane the Virgin's Gina Rodriguez shared she'd be joining this group of women, by directing an episode of her show in a tweet using the hashtag #FemaleDirectors.
This trend speaks volumes about the importance of female-friendly set culture. In a behind the scenes interview about her Pretty Little Liars episode, Bellisario gushed about the climate of the set: "Every single place that I went on the set somebody was waiting with a high-five, and they would always address me as Miss Director." It's no stretch to say that TV's welcoming set culture helped those actresses become the directors they now are. In her profile in Interview magazine, Bellisario explains how she "ended up using Pretty Little Liars as [her] own school for writing and producing, and eventually for directing." This appears to be the case for most of these actress-turned-directors whose directorial debuts all occurred on their own shows. Their ambition was recognized and encouraged in a way women in film are still struggling to achieve. According to esteemed Canadian filmmaker and TV showrunner (Alias Grace) Sarah Polley, who has grown up on sets, film set culture has a punishingly machismo vibe that is hostile to women. She even recently described sexism in the film industry as an "every single day experience." One of Polley's suggestions for how film can self-correct is by hiring more women on top who are in positions to set the tone of the set and can therefore quickly shut down the sexist behavior discouraging female talent in front of and behind the camera.
Shonda Rhimes's production company, Shondaland, is a particularly useful case study on the fringe benefits of female leadership. Pompeo credits her stint in the director's chair to the show's executive producer, Debbie Allen, who needled her into taking on the role. "The directing came about because Ms. Debbie Allen, she'd been after me to direct for a while," Pompeo explains in a featurette released by ABC. "Debbie doesn't take no for an answer and my boss [Rhimes] wrote a book called The Year of Yes, and those two things combined make it pretty hard to say no to people around here." Her co-star Chandra Wilson, who plays Dr. Miranda Bailey, has also directed for the show, and, according to an Instagram post from another female co-star Sarah Drew, Wilson is paying the knowledge forward by letting Drew shadow her in preparation for her own directorial debut. Over on Scandal, Darby Stanchfield, who plays power social climber Abby Whelan, is also getting a shot behind the camera for an episode of the show's final season. In conversation with The Hollywood Reporter, Stanchfield said, "This is a rare opportunity in the industry, but at Shondaland, it's yet another proof point that sets them apart as innovators."
Actresses taking greater creative control of their projects is noteworthy not only because of their self-empowerment—Variety actually used the word "auteur" when describing Pamela Adlon and her turn as director and star of every episode of the second season of her FX show Better Things—but also because it has increased the tragically small number of working female directors. Hiring a woman director even once is an investment that begets more opportunity. According to a DGA report, when women are hired as episodic TV directors, whether they are "series-affiliated" (like actresses-turned-directors) or "career-track" (meaning they are unaffiliated with the series and their focus is directing), they show the most promise of any demographic group to further pursue directing careers. Case in point: After directing several episodes of her CBS show Elementary, Lucy Liu booked a gig as the director for an episode of Marvel's hit series Luke Cage. This summer, DuVernay tweeted a message that sums this up, by being at once congratulatory to two female directors she'd previously hired on her show Queen Sugar and also damning of the industry's excuses, "QUEEN SUGAR directors dominate tonight. @VictoriaMahoney did #PowerStarz. @TinaMabry did #InsecureHBO". Stop yammering. Just hire. It works."
Perhaps the strongest evidence of the growing number of allies for women directors is the fact that the demand for their talent has never been higher. Warren says within the last two years many producers have expressed a growing interest in hiring women directors for their projects and have come to the Alliance of Women Directors asking for names. This prompted the organization to begin working on a publicly available search engine of hirable women directors pulled from within its organization that it hopes to have up and running early next year.
Though women directors are far from reaching true gender parity in either medium (the progress discussed here is modest at best), the film industry can learn from what TV is getting right. According to Dr.Lauzen, contrary to the initiative shown by individual TV showrunners and networks, "there has been little will on the part of those in leadership positions in film, such as the heads of the major studios, to hire more women as directors." She summed up the issue like this, "If industry leaders don't recognize the under-employment of a certain group to be a problem, it is unlikely that they will take steps to change their hiring practices." In 2010 when Kathryn Bigelow won the Oscar for Best Director, she became the first woman in the show's history to do so, but the very next year not a single woman was nominated in the category. The film industry is full of false starts like this, so major film studios will need to follow in the footsteps of TV's progressive leaders to ensure Patty Jenkins's record-breaking hit Wonder Woman doesn't become one of them. Women are not a niche market, so films helmed by women should not be seen that way, they should be all over our screens. Women directors have more than proven their desire, competence, bankability, and genius. It's time to stop resisting female leadership.