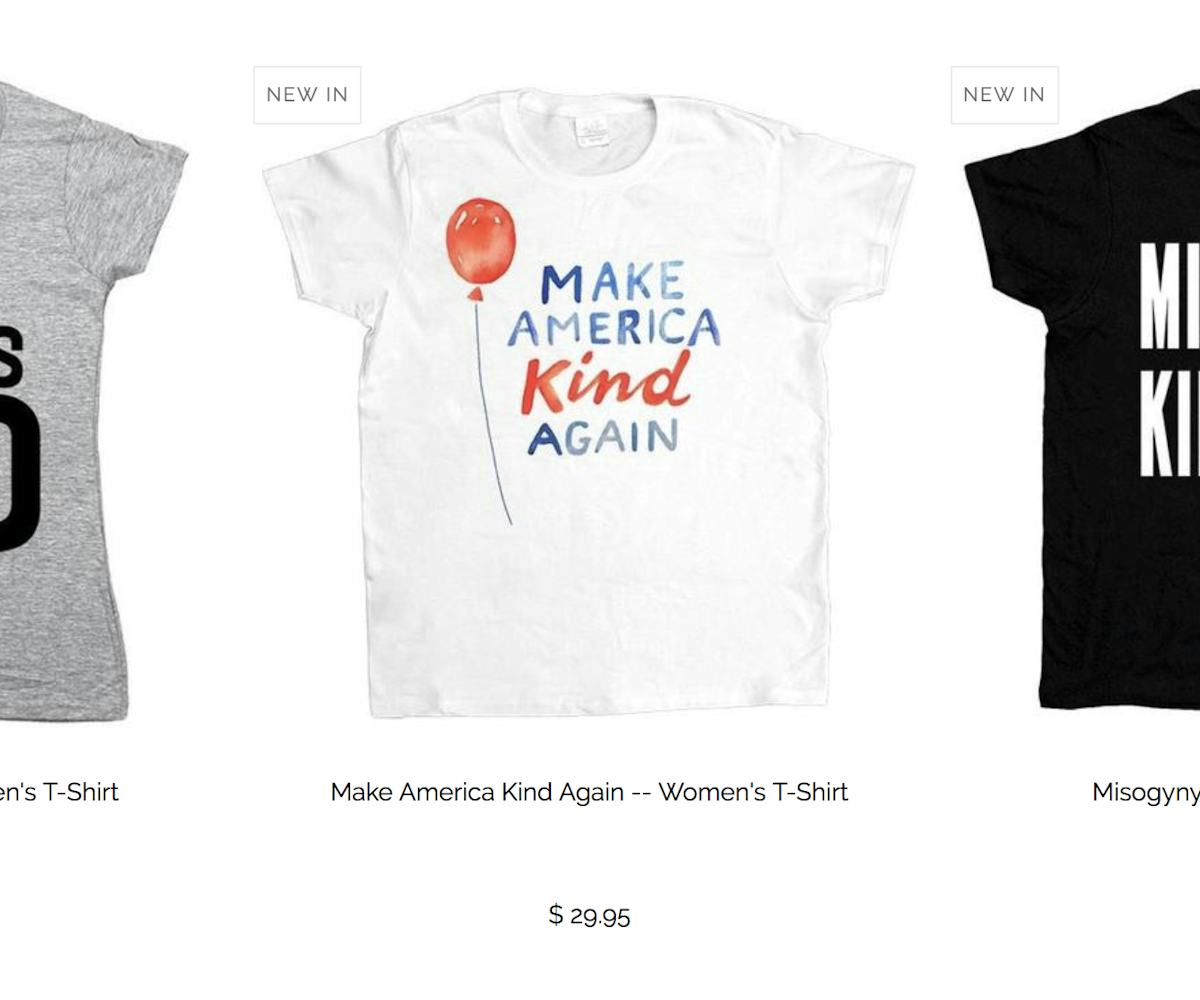 Photo Via Feminist Apparel.
Feminist Apparel's CEO Fired Staff After They Found Out He Sexually Abused Women
Following demands for his resignation, Alan Martofel fired his entire staff
Another day, another scummy man trying to capitalize on the women's empowerment movement. And today's disappointing story comes from popular for-profit clothing brand Feminist Apparel, whose founder and CEO reportedly fired his entire staff after they found out he previously admitted to sexually abusing women, according to a new report from Refinery29.
Known for its shirts and accessories printed with things like "Cats against catcalls" and "Pizza rolls not gender roles," Feminist Apparel has become a popular Women's March staple for many protesters. However, this changed late last month after the company was tagged in a Facebook post accusing Alan Martofel of rape. And upon further investigation, Feminist Apparel's employees found a now-private Facebook post from 2013 authored by Martofel himself, in which he admits to having abused women. Screenshots of the posts can be found here.
"We've all either faced this firsthand, seen it, heard a firsthand account of it, or are guilty of it ourselves," Martofel wrote in between a laundry list of statistics and anecdotes grabbed from recent headlines. "I'm someone who's guilty of it. I've grinded up on women on buses and at concerts without their consent. I've made out with 'the drunk chick' at a party because it was easier. I've put a woman's hand on my dick while she was sleeping." So what's a guy to do in his "humble attempt" to rectify his past wrongdoings and assuage his own guilt? Start a brand and make money, obviously.
The post also made it painfully obvious that Martofel may have twisted parts of Feminist Apparel's origin story. "I learned what feminism is and preaches, and I thought it was incredible," he told Forbes in 2014. "I began working on a documentary about sexual assault on college campuses at my alma mater, and while I was brainstorming ways to raise funds to better carry out that project, I came up with the idea for Feminist Apparel."
Obviously, this finding didn't sit well with his employees, who wrote a public joint statement demanding that Martofel resign from the company. According to the Feminist Apparel team, while Martofel initially admitted to the allegations and said he'd step down, it soon became obvious that things were amiss. According to Refinery29's report, four days after his resignation, Martofel chatted the entire team to tell them "not to come to work for the week, and that he'd fulfill the outstanding orders through a third party." Then, over the weekend, all nine of Feminist Apparel's employees found out their work emails had been closed. A day later, Martofel notified them via their personal email accounts that they had been fired.
"This is the patriarchy and toxic masculinity at its fucking finest," Feminist Apparel's now-former art director Rebecca Green told Refinery29. "I feel righteous and angry. I feel supported by my coworkers and friends. I also feel tired. I feel incredibly sorry knowing that there are survivors in this office who were led to believe that their contributions to this company were directly going to creating a safe space and platform for survivors, feminists, and marginalized identities. As an artist myself creating work based on my own experiences with the patriarchy, toxic masculinity, and harassment for this company—and by extension this man—I feel used and willfully mislead."
According to the publication, Martofel declined to be interviewed, but did tell them that "this entire situation has been sad and difficult, and I'm going to continue needing to take time to reflect on it further before I'll be ready to say more." In addition to a post on Feminist Apparel's Facebook page, Martofel also issued a statement via the company's blog, writing, "While I continue to regret my past behaviors, my ongoing reflection and conversations regarding them have helped to shape me into who I am and have given me the tools to build an organization that has always strived to be a safe and welcoming space for all."
"Sadly, in the meeting that took place with my now-former employees last Friday, I was made aware that they, unequivocally, do not share my views on either business or feminism," Martofel continued. "After much deliberation, and in accordance with both state law and our employee handbook, I made the difficult decision to proceed without them. I truly believe in Feminist Apparel, it's [sic] mission, and in the important causes and individuals it supports. As a result, I also need to do what is best for the company's long-term success."