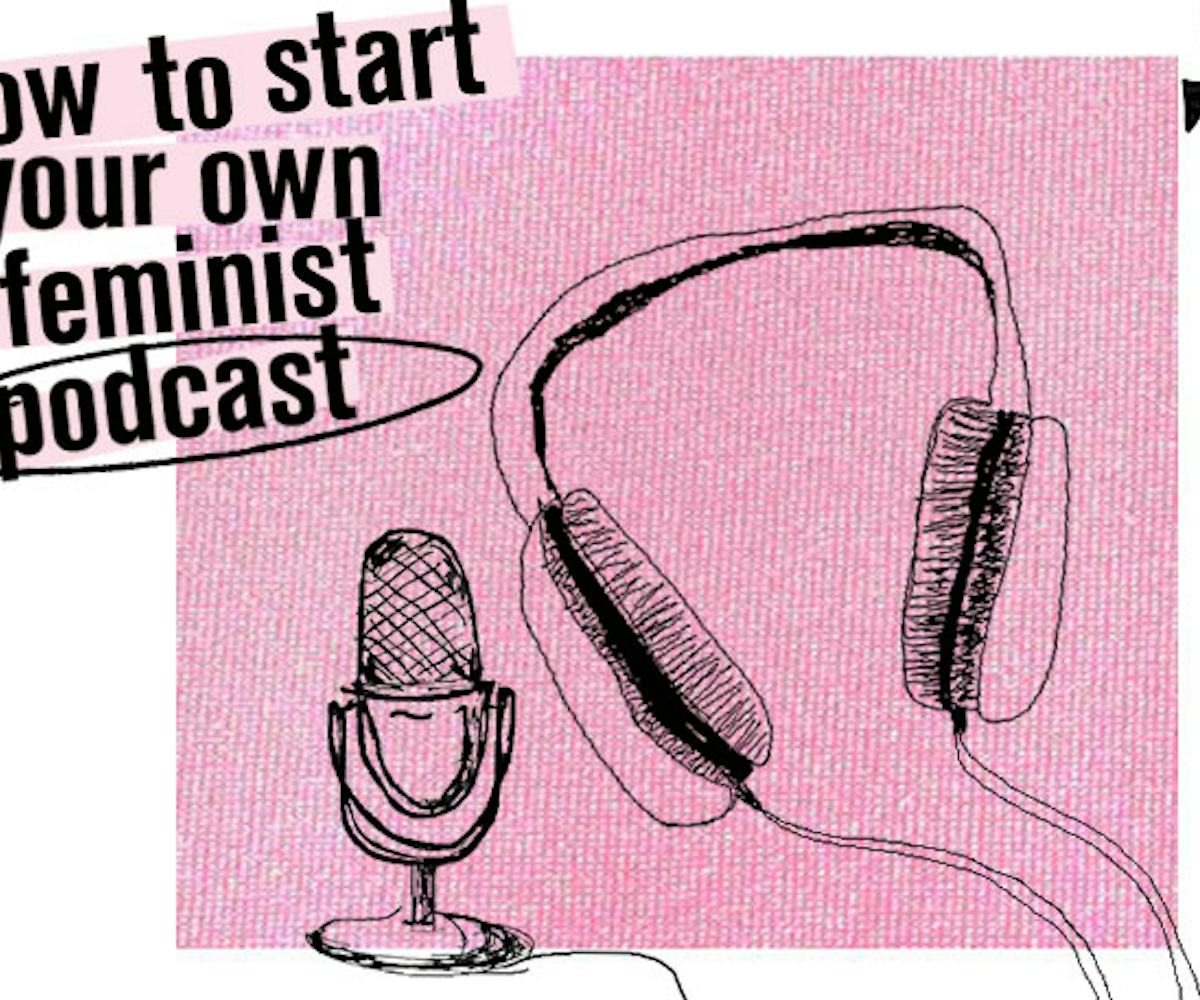 Illustrated by Ricky Michiels
How To Start Your Own Feminist Podcast
girl power on the regular
Lady-friendly podcasts are taking over both our ear buds and the airwaves, and that's a very, very good thing. Over the last two years, pro-femme shows with subtly feminist content have been on the rise, and we couldn't be happier.
Even so, there's only room for more. If you're thinking of starting a feminist podcast, a few of our favorite experts have some words of advice for you. We spoke to the women of Guys We Fucked, Call Your Girlfriend, and She & Her about their experiences in the world of podcasting. Before you hit the airwaves, you may want to keep these three tips in mind. 
Would-be lady podcasters, take note.
1. Get your tech straight
First thing's first. When it comes to a podcast, sound quality matters majorly. Without the right equipment, your message will go nowhere fast. To start, comedian Corinne Fisher of Guys We Fucked, also known as the Anti-Slut Shaming podcast, advises that you invest properly. "…A lot of podcasters don't put enough T.L.C. into sound quality. It's a podcast, and all you have are the voices at the other end of your ear buds—so they'd better damn well be crisp," she says.
According to fellow comedian Krystyna Marie Hutchinson—Corinne's podcast partner—they may now sound like experts when talking about their equipment, but it wasn't always this way. They learned right away that they needed help in the audio department. "Corinne and I were fortunate enough to get [my boyfriend's] technical expertise when it came to purchasing equipment. Now our setup consists of a Zoom H6 audio recorder, four Shure SM7B mics, a Behringer MicroAMP HA400, four sets of headphones, mic stands, cords to connect everything, and the occasional glass of Maker's Mark," says Krystyna.
Only the necessities, of course.
2. Know what you stand for
Podcasting is an incredible communication tool that's accessible to (almost) anyone. That's a lot of power, so before you begin, think about it this way: If you decide you have something you want to say and are going to start a podcast to say it, make sure you say what you mean, and mean what you say. In other words, know what you stand for and choose a topic that you will be comfortable discussing at length.
For example, Anita Rao and Sandra Davidson of still-new podcast She & Her took the conversations they were having IRL about feminist issues and decided to bring those topics to a larger audience. "…We found ourselves often having conversations about our experiences as Millennial women trying to figure out how to navigate work, life, relationships, and everything in between. We decided that we wanted to create a space for other women to reflect on these same topics, and so we started brainstorming what that would look like."
And today, it looks like real, honest conversations talking about family, religion, marriage, and more with a diverse set of Millennial women.
3. Still not sure? Give it a try anyway
If you're still feeling a little unsteady on your feet with the whole podcasting thing, we'd like to play the role of encouraging friend and suggest you give it a try. They key with podcasting—as with most things—is practice, and in this case there's no better time to start than the present.
Also, consider this: You have a whole army of pro-femme ladies out there who want to hear what you have to say. Take it from the internet's favorite feminist, Aminatou Sow of Call Your Girlfriend: "The awesome thing is that the barrier to entry is low and there are so many opportunities for experimentation, so don't be afraid to add your voice. Hearing more women's voices on podcasts is directly leading to even more women starting their own shows. Come join us on the airwaves."
See you there, ladies.