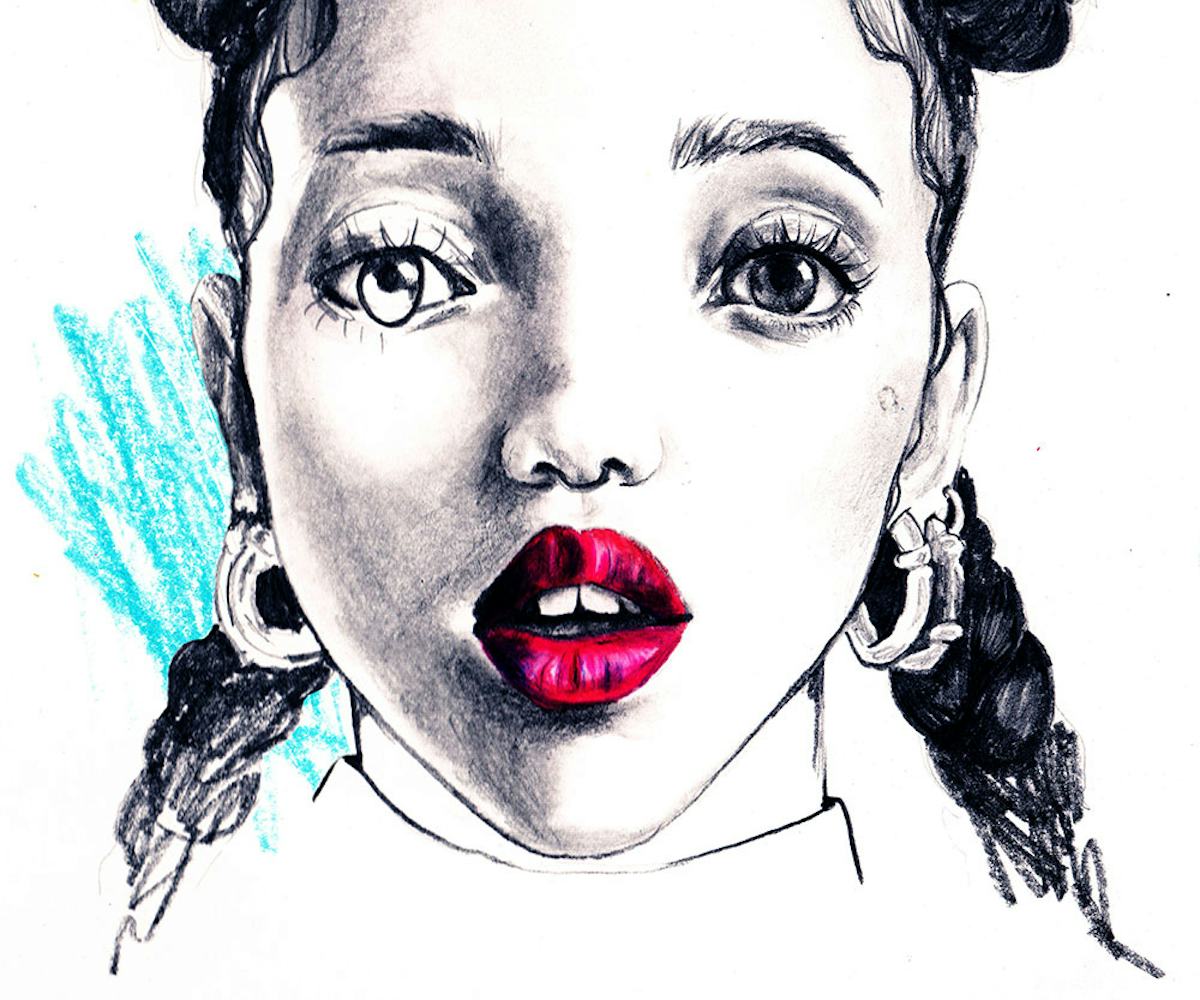 illustrated by dessie jackson
An Illustrated Guide To FKA Twigs' Style
a look back at her biggest fashion moments
With an ethereal voice and striking visuals to artfully mismatch, musical multi-hyphenate FKA twigs summoned a cult following with her 2012 debut, EP1. Now, with countless game-changing videos, red carpet appearances, and a superb third EP, M3LL155X, the U.K. artist born Tahliah Barnett has entered the mainstream in a big way. She's come far from being the self-described self-conscious sole biracial girl in her class with prominent front teeth and wide-set eyes. And we've gleefully watched as her unique aesthetic, which incorporates everything from couture to krumping, has evolved, solidifying her status as a cultural icon. Here, we chronicle (and bow down to) the undeniable brilliance that is FKA twigs. 
BABY TWIGS
Her affinity for boldness is apparent even in her #tbt posts on Instagram; you'd be hard-pressed to find a toddler who could rock recital makeup better than this.
2011: COMING OF AGE
A relatively well-known backup dancer in the U.K. by the late aughts, twigs finally found her way to center stage with the help of Carri Munden, creator of the quirky brand Cassette Playa. Munden introduced her to people who would help kick-start her career, and to the Tank Girl comic, with which she immediately identified. Thanks in part to Munden, twigs further embraced her individuality, putting her confidence on full display in her early works, as seen in this image from a Cassette Playa lookbook.  
2013: FINDING HERSELF
The "Water Me" video's visuals serve as the semi-official debut of twigs's signatures: two braids, a matte red lip, septum ring, and Josephine Baker-style slicked baby hairs. By emphasizing some of the very qualities that made her most insecure, the closely shot video also symbolized what can be construed as the artist's newfound self-acceptance.
2014: ROYAL TREATMENT
With June 2014's "Two Weeks," twigs proved her versatility, working with director Nabil Elderkin on a regal video that channeled Aaliyah's Queen of the Damnedcharacter. "Her manager sent me the song, and I was like, 'Wow, this is cool,'" Elderkin told NYLON shortly after the video dropped. "She's such a great dancer and a performer, so I was like, 'I could do a whole thing with different versions of you, and there will be a part where you'll be feeding yourself.…' She was really into it." 
MARCH 2015: STEPPING OUT
Twigs's appearance at a private viewing of the Victoria and Albert Museum's "Alexander McQueen: Savage Beauty" exhibition in London helped cement her status as a force within the fashion world. Her striking look brilliantly paid homage to the vision of the late designer, melding his wild high-fashion with her flawless aesthetic—and it caught the eye of the mainstream media, who finally started recognizing her as more than just Robert Pattinson's main squeeze.
MAY 2015: STEPPING UP
The 2015 Met Gala marked a turning point in twigs's style: She toned down her makeup and accessories and ditched the exaggerated baby hairs, which—despite enjoying a rise in popularity partly because of her—were starting to become exploited, she told New York magazine. Even with the notably understated outfit, however, she stayed true to her attention-grabbing creativity (see: the penis on her dress!).
AUGUST 2015: OWNING IT
Twigs hit yet another stylistic pinnacle this summer at the Osheaga Music and Arts Festival in Montreal, where her vibrant makeup and pastel ensemble created a happy medium between her polished and bohemian inclinations—a combo that only FKA twigs could pull off so well.