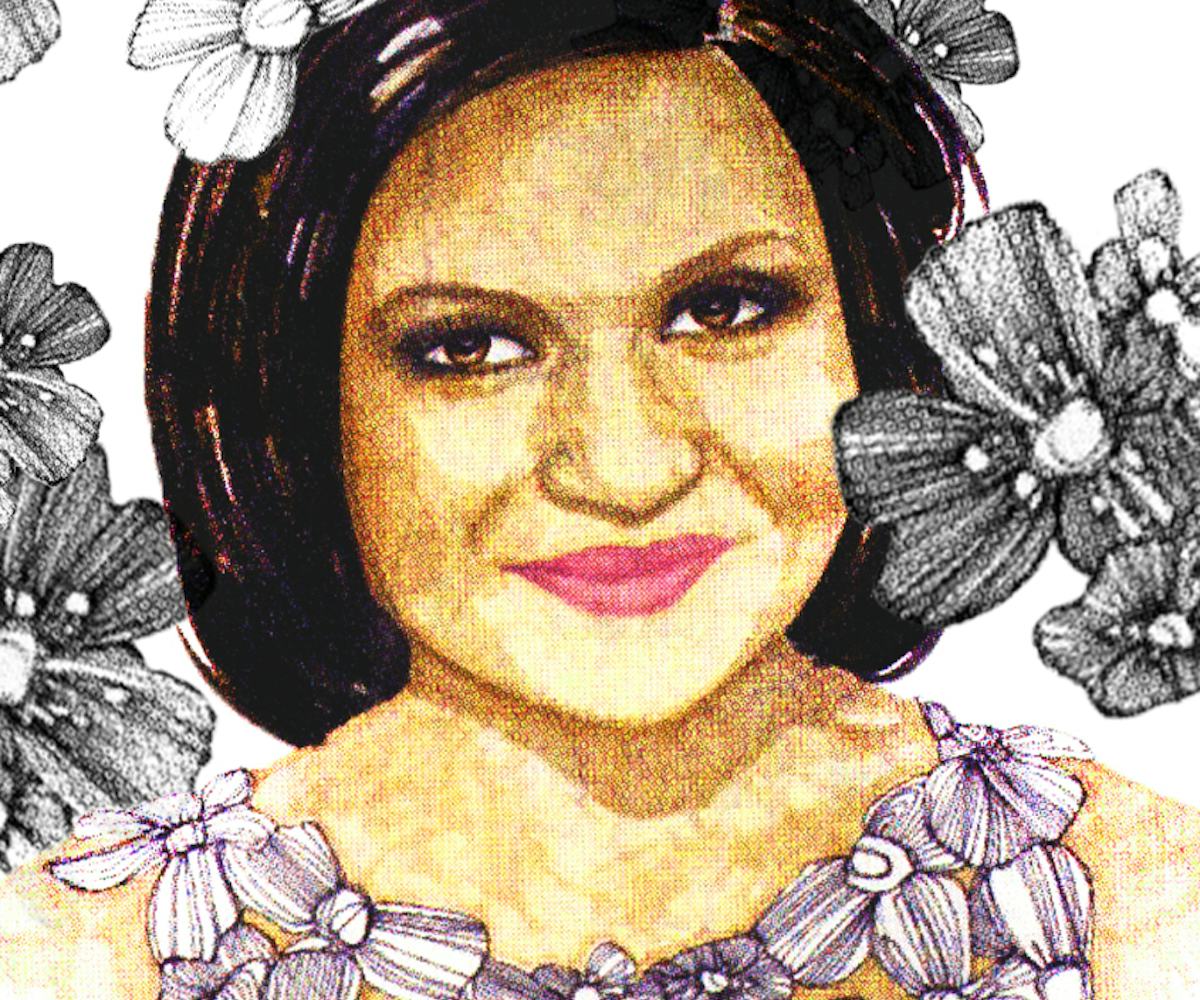 illustration by niki pilkington / editing by james kim
flashback friday: mindy kaling's mixtape
from our september '10 issue.
The last song The Office star and writer Mindy Kaling (better known as the ditzy Kelly Kapoor) had stuck in her head was "Somewhere" from West Side Story. The last concert she went to was LCD Soundsystem in Los Angeles. Clearly, Kaling's taste in music is nothing if not eclectic. Same goes for the playlist she put together for us. 
"TELEPHONE" lady gaga ft. beyoncé
I think it's great when people take the right to dance or party really seriously in songs. Lady Gaga is all about just owning it. As a girl, owning the right to get dressed and go to a party and not be bothered by some dude is very appealing to me.
"20 DOLLAR" m.i.a.
One of the only ways to get me through a workout is to pretend that I'm the protagonist in a murder-revenge movie: Someone murdered my husband and so I have to get into Linda Hamilton's shape in Terminator 2 and avenge his death. "20 Dollar" is the best example of a song with which I can do that.
"BLONDE ON BLONDE" nada surf
I loved this song for the longest time without even knowing that Blonde on Blonde was a Bob Dylan album. It's so embarrassing, but I feel like that's such a testament to the song.
"WORDS GET IN THE WAY" gloria estefan
When this song came out, I remember thinking as a little kid, Oh, I know what that feeling is! Like when I want to tell my mom that I'm angry, all I know is to stomp my feet and start screaming.
"MANDY" barry manilow
I've always had this dream that at my wedding (to whomever I marry), Barry Manilow would make a surprise appearance and sing it to me, but change it to "Mindy." And I'd be like, "Aw, I can't."
"TEMPLE OF THE DOG" hunger strike
I was 11 when it came out, and I remember thinking, This is my song of rebellion.
"GHOSTBUSTERS" ray parker jr.
I feel like there's no better song in any movie. There's no other person who completed the assignment of "Please go write a song about ghostbusters for this movie we're doing called Ghostbusters."
"RUDE BOY" rihanna
I love when artists use pejorative phrases, like "rude boy," and it actually means the exact opposite. Like, "awesome boy who I wanna sleep with over and over again."
"AMERICA" simon and garfunkel
My family listened to Simon and Garfunkel so much. We'd take these insanely long car trips–from Boston to Disneyland–and listen to their greatest hits.
"I WANNA BE WITH YOU" mandy moore
When I first heard this, I thought it was a Saturday Night Live parody of a pop song. It's like what a Disney cartoon girl would sing about marrying a prince. 
*Originally published in the 'Culture Club' section of our September 2010 issue.