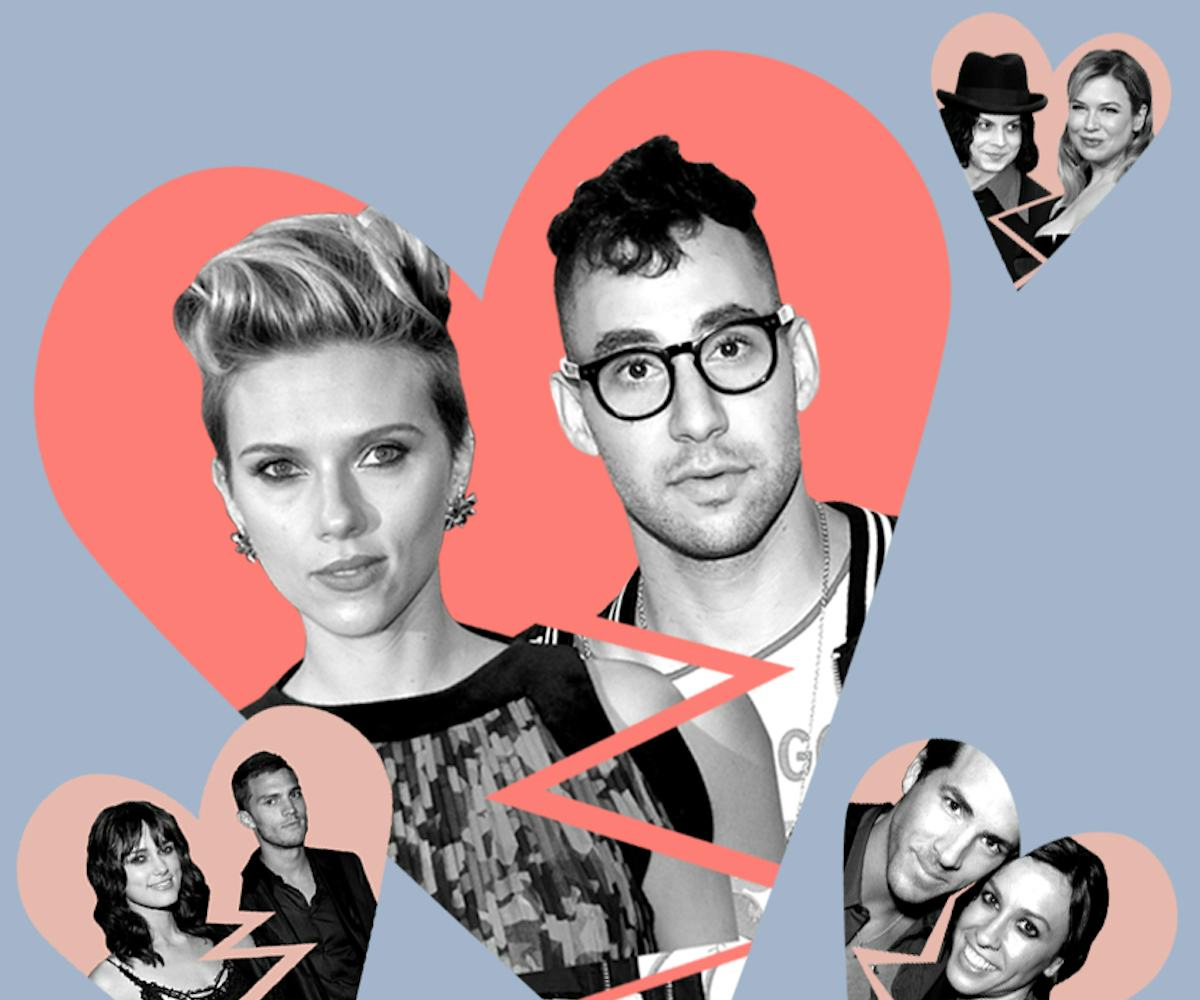 13 surprising celebrity couples that we all forgot about
The thing is, the media has a job to make you feel like everything is urgent—or else, we would cease to exist or, worse, head into writing about politics. (Kidding—political writers are our heroes.) But in that be here now, two-second mediated memory, a lot is lost along the way. The landfill of forgotten pop-cultural milestones include TV shows that never made it past a season, musical reinventions that didn't stick, and odd celebrity couples that simply do not make sense. And it is the latter that is endlessly interesting, especially since some of these super-famous folks seem so impossibly incongruous.
Hopefully, a few of these strange, forgotten celebrity romances might make for good watercooler conversation. Just casually drop that Christian Grey dated Cecilia from Atonement and, bam, all of your shipping dreams will come true. 
Alanis Morissette and Ryan Reynolds
Cuz I'm here...to remind you—that Ryan Reynolds and Alanis Morissette dated for five years, and were engaged for two of them, because everyone in Hollywood who is from Canada knows each other (this is a fact). This was, of course, pre-Scarlett and Blake but post-Dave Coulier. So, if you think about it,
from
Full House
has kind of had sex with Scarlett Johansson.
You, you, you oughta know.  
Sisqo and Beyoncé
This is a great piece of trivia for you to have at dinner parties and other situations where you may need to break the ice: The dude from the "Thong Song" used to date Beyoncé. Or, at least, "date" Beyoncé, in the way that Beyoncé dated in 2000, back when she lived under the watchful eye of Mom and Pop Knowles. You know how we know they "dated?" They showed up to the '00 VMAs together wearing coordinating outfits, which, back then, is a step below a proposal.
Jake Gyllenhaal and Taylor Swift
Half of you are probably like, "Didn't that just happen, like, last year?" The other half are totally, utterly shocked because two people couldn't have a less opposite trajectory—one spends all of their time fighting baddies in high-budget movies...and the other is Jake Gyllenhaal. (Ha ha. Get it? Because "
"? No?) But Gyllenhaal and Swift were indeed an item that spent a lot of time "getting coffee" and being photographed in the street. In fact, my local café had a drink called "The Jake & Taylor." It had maple syrup in it, and was really good. I miss that drink. 
Ben Affleck and Gwyneth Paltrow
Yes, each half of two of the highest-profile divorce cases of this decade dated during the last—and, in true Batfleck fashion, 
starred in a poorly received romcom together
. (Spoiler: The movie does not look good, and it has a Sarah McLachlan song in the background, as movies in 1999 tended to do.) But, could you imagine their lifestyle brand if they did work out? It would truly be annoying, but passionately so. 
Bradley Cooper and Jennifer Esposito
Bradley Cooper, who is slowly inching his way towards Leonardo DiCaprio territory when it comes to dating the most beautiful women in the world, was once
married
. Yup, not only was the Coopertino wedded, but he was wedded to someone who, at the time, was more famous than him, thanks to a string of beloved TV parts. (Bradley's claim to fame at this point was
making out with Michael Ian Black
.) The marriage was brief—and 
Jennifer dished on the whole thing in her recent book
, calling Bradley a "master manipulator." Yikes. 
Paris Hilton and Eddie Furlong
Come gather 'round, children, and hear a tale of a time long, long ago called "the early 2000s." In this far away, mythical land, women wore rhinestones on everything and had pink, fuzzy pants with words written on their bottoms, and the men practiced the ancient art of "manscaping." During this magical era, two completely random, seemingly disparate entities could meet and court with nary a Tweet wondering, "WTF?" For instance, we have heiress and socialite Paris Hilton who was wooed and smitten with a young Eddie Furlong, most notable for being an obviously pubescent John Connor. Because, back then, anything was possible.
Anything
. 
Matt Damon and Winona Ryder
When you think of Winona Ryder's past relationships, there is one that sticks out: The incredible, undeniable wacky love of Johnny Depp and his "Winona Forever" tattoo. But while his bestie Ben was off dating Gwyneth Paltrow, Matt Damon was kicking it with Winona Ryder—whom he met
through
Gwyn. The rumor goes that Winona
ditched her friendship with Gwyn after the latter won an Oscar for Shakespeare In Love
, since Winona originally turned down that role. Both Matt and Winona have wonderful, humane things to say about each other, which is apparently remarkable in Hollywood. 
Scarlett Johansson and Jack Antonoff
So, this is documented not because of paparazzi pictures, but because of
yearbook photos
. Further proving that everyone who grew up in New York knows each other (this is an undisputed fact) and had a way hipper adolescence than the rest of America, the Bleachers singer and ScarJo dated for two years in high school. In fact, 
their prom photo is the definition of "cool"
—which is saying a lot, where prom photos are concerned. Slightly related: Could you imagine if your boyfriend's great high-school romance was Scarlet Johansson? You'd have to, like, have your own hit HBO show and be a best-selling author to get over something like that...
Kiera Knightly and Jamie Dornan
This couple had more high cheekbones and well-defined jaw lines than a barrelful of runway models—and, yet, all that English beauty could not last. The couple met in 2003 during an ad photoshoot for Asprey (naturally) and kept it up for two solid years before deciding to share their precious, perfect faces with other people. We weep for the ultra-human offspring they never had.
Billy Corgan and Tila Tequila
Yeah, this happened. And not ironically, either.
Jack White and Renée Zellweger
As we mentioned before, the early '00s were a time of infinite possibilities—a time when a lanky, pale, resolutely indie MTV2 rockstar could date America's heart-faced girl next door. It was also a time when MTV2 had indie acts on it and America actually 
had
a girl next door (one who won an Oscar). Times, alas, are always changing.
Angelina Jolie And Jenny Shimizu
Before she was penning op-eds for the New York Times and saving babies, Angelina Jolie was one of the baddest babes of the '90s. On the set of the 1996 girl-power classic Foxfire, which is either "the best movie ever" or a "total flop" depending on who you ask, she met the androgynous lesbian supermodel Jenny Shimizu. "I fell in love with her the first second I saw her," Jolie told the now-defunct lesbian magazine Girlfriends in 1997. Of course, Jolie had a husband at the time, but he was apparently totally cool with the whole thing, ish. 
Sandra Bullock and Ryan Gosling
Ah, yes. The Holy Grail of Forgotten Couples. The Perfect Pairing That Never Worked Out. The American Sweetheart meets Canadian Demigod, uniting North America Once and for all. Sandy and Ryan met on the set of
Murder By Numbers
in 2002, and dated for about a year. At that time, Ryan had not quite grown into himself and Sandra had not yet flexed her chops as a serious actor, so the whole thing was relatively low-key. But the photos of them together are...well,
. Like watching your older sister make out with the gym teacher, maybe? It feels fun, but not quite right.