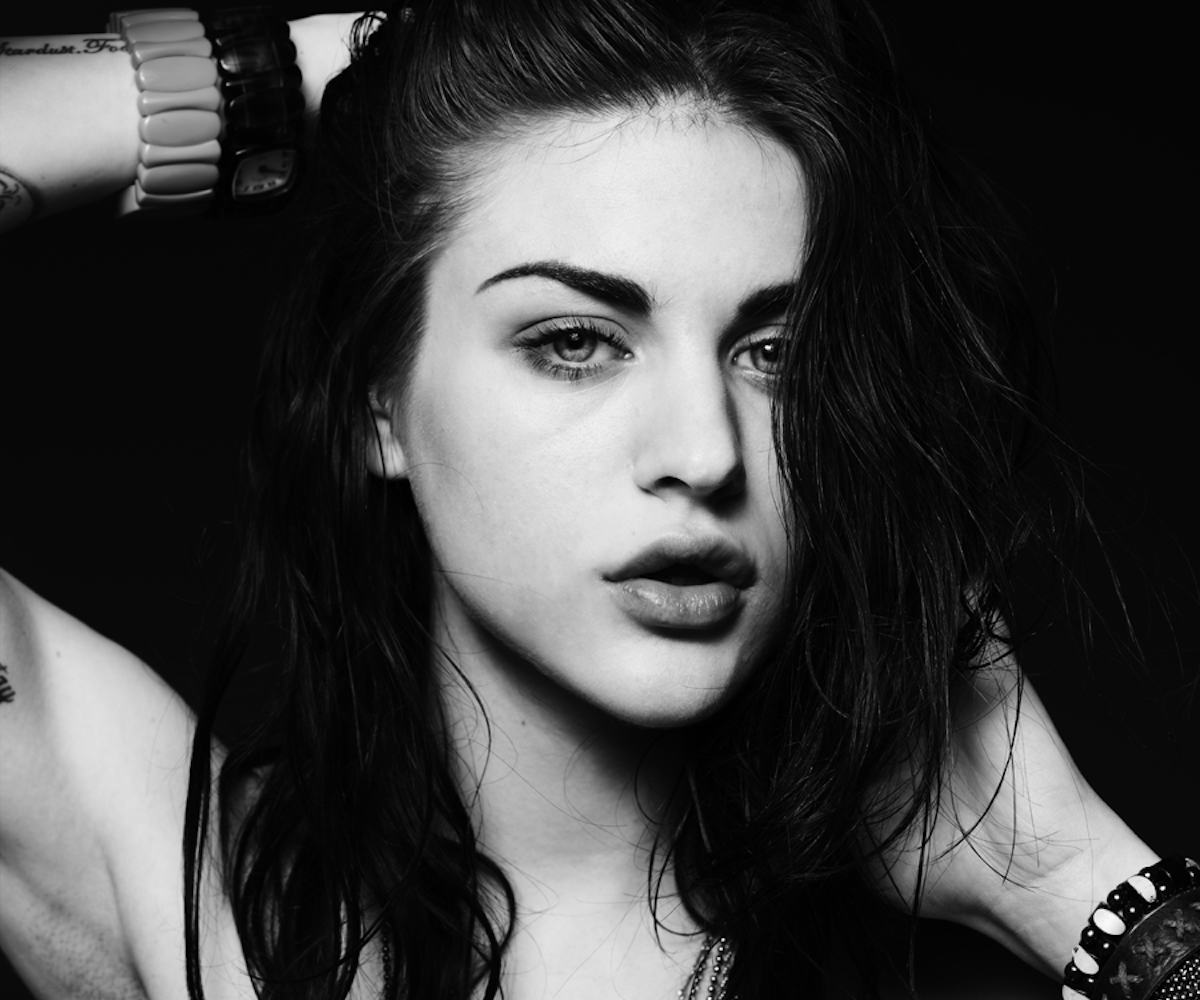 photo by hedi slimane
frances bean cobain opens up about her relationship with her father
For the past few years, Frances Bean Cobain has managed to escape the overwhelming media attention that plagued her childhood. But, as executive producer of the upcoming documentary Kurt Cobain: Montage of Heck, Frances has put herself at the helm of what may very well be the most important pop culture commentary of the past 20 years. The visual artist sat down with Rolling Stone to speak about the film, and in doing so, she opened up about her father, life after his death, and her complicated relationship to her mother, Courtney Love. 
"For me, the film provided a lot more factual information about my father–not just tall tales that were misconstrued, misremembered, rehashed, retold 10 different ways," Frances, who was less than two years old when her father committed suicide, said. "It was factual evidence of who my father was as a child, as a teenager, as a man, as a husband, as an artist. It explored every single aspect of who he was as a human being."
"Kurt got to the point where he eventually had to sacrifice every bit of who he was to his art, because the world demanded it of him," Frances declared. "I think that was one of the main triggers as to why he felt he didn't want to be here and everyone would be happier without him." But, "In reality, if he had lived," she said, "I would have had a dad. And that would have been an incredible experience."
In a 1992 Vanity Fair interview, Courtney Love reportedly admitted to using heroin while pregnant with Frances. The mother and daughter were later estranged for a few years, but the film seems to have brought them closer together. The film contains a scene that depicts "a clearly intoxicated Cobain struggles to sit upright as his infant daughter sits in his lap getting a haircut." That scene, Frances said, helped her connect to her mother. "My mother held me, cried on me and just said, 'I'm so sorry, I'm so sorry, I'm so sorry. Just kept saying it over and over. But then she said, 'Do you realize how much your father loved you?' And I said, 'Yeah, I do.'" According to Rolling Stone, "Frances said it was the first time her mom and apologized for anything relating to her youth."
"What really surprised me was watching my parents' love story," Frances said. "Because they were so close to my age now. It was like friends falling in love—I did not expect that."
Despite all the heartbreaking things that were said in the interview, the one thing that media outlets have been picking out of the conversation is the 22-year-old's confession that she isn't a Nirvana fan. She said, "I don't really like Nirvana that much [grins]. Sorry, promotional people, Universal. I'm more into Mercury Rev, Oasis, Brian Jonestown Massacre [laughs]. The grunge scene is not what I'm interested in. But 'Territorial Pissings' [on Nevermind] is a fucking great song. And "Dumb" [on In Utero]–I cry every time I hear that song. It's a stripped-down version of Kurt's perception of himself–of himself on drugs, off drugs, feeling inadequate to be titled the voice of a generation."
When asked if it was awkward to grow up disliking her father's music, she said, "I was around 15 when I realized he was inescapable. Even if I was in a car and had the radio on, there's my dad. He's larger than life, and our culture is obsessed with dead musicians."
As for the film, Frances says, "It's emotional journalism." When she first met the film's producer and director Brett Morgen, she says, "I told him, 'I don't want the mythology of Kurt or the romanticism.' Even though Kurt died in the most horrific way possible, there is this mythology and romanticism that surrounds him, because he's 27 forever. The shelf life of an artist or musician isn't particularly long. Kurt has gotten to icon status because he will never age. He will always be that relevant in that time and always be beautiful."
(via Rolling Stone)