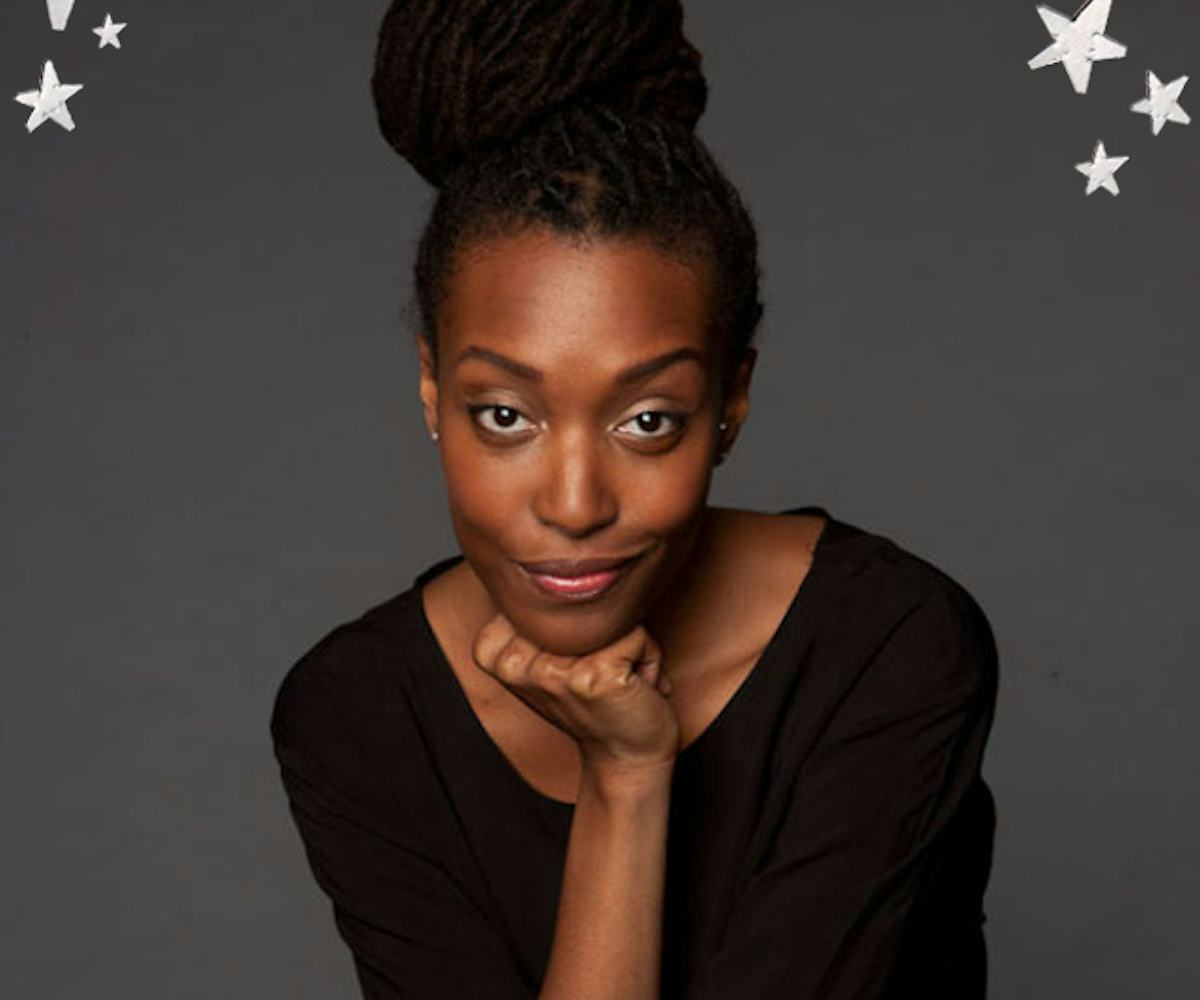 Photographed by Lesslie Hassler
Comedian Franchesca Ramsey Speaks The Truth One Joke At A Time
the breakdown on mtv's decoded star
In celebration of Black History Month, NYLON is running a spotlight series called Black Girl Power... The Future Is Bright. Every day, phenomenal black women from different industries will be featured to tell their stories—revealing how they became who they are, showing what they have accomplished, and pinpointing how they navigated their careers. Black women deserve to be celebrated 365 days of the year, and we hope that this series will inspire everyone to believe in the power of #blackgirlmagic. 
Franchesca Ramsey has become a household name for anyone who watches MTV's Decoded...and YouTube. The 32-year-old comedian's breakout claim to fame was her "Shit White Girls Say...to Black Girls" video that went viral in 2012, as you may remember (and you really should).
Growing up, she attended performing arts schools and then went on to study acting at the University of Michigan. During that time, Ramsey switched her major to graphic design and dove deeper into the world wide web. Before she knew it, she was on her way to becoming one of the most popular vloggers. "I got into YouTube shortly after I graduated from college in 2006 because I couldn't find anything online to help me with my locs," Ramsey told us in an email. "While I started making hair videos, I still really wanted to be an actress and was struggling to find acting work in Miami, so YouTube was the perfect place for me to create stuff I thought was interesting/funny, and make friends."
In 2011, she won the YouTube NextUp contest. With the money that she earned, Ramsey invested decided to invest in better camera equipment and video strategies. Following the viral success of "Shit White Girls Say...to Black Girls," Ramsey got herself an agent and more work flew her way. The rest as we know it is history, but we obviously wanted to know every single detail! Despite the fact that it's her job to make us laugh, Ramsey is 100% serious about working in the entertainment industry. (As a writer, actor, and vlogger she quite literally does it all!) Get to know more about how she found her way in the interview, below!
How were you able to breakout and turn comedy into a full-time career? 
"Shit White Girls Say...to Black Girls" really turned things around for me. Prior to that I had been working as a graphic designer for a clothing brand and just making videos on the weekend for fun. It wasn't a real source of income at that time, it was just a hobby. When SWGSTB went viral, suddenly I made a ton of money, and had all these awesome opportunities coming in that I just couldn't pursue with a full-time job, so I took a risk and quit. 
How did you conceptualize your Decoded series on MTV?
In 2013, I pitched a sketch comedy show to MTV that was loosely based on my YouTube channel. Lots of topical, socially concious sketches, characters, and song parodies. MTV eventually passed on the show, but I kept going in for meetings and auditions, hoping to find the right fit. In 2014, MTV launched
Braless, 
a webseries produced by Kornhaber Brown about feminism and pop culture hosted by Laci Green. The series did really well and so the production company pitched the idea of doing a similar show but about race and pop culture. Because I had already pitched a show to MTV, they connected me with Kornhaber Brown and from there we spent around 6 months developing a pitch that blended our visions for the show. After we got the green light it took another two months to figure out the name and look and feel of the show. We launched in June of 2015 and have been having a blast ever since. 
What is your whole process when you write your scripts?
It really depends. If there's characters, I have to write everything out so it's easier to stitch the footage together during editing. Otherwise, the reactions and dialogue won't fit together. I usually start with notes on my phone or journal, and then move to Google Docs where I drop in links/sources and flush everything out.  
How do you maneuver your respective industry as a black woman? 
Being a black actress can be really difficult. Unfortunately, there's a lot of stereotypical roles out there that aren't interesting or challenging. I often find myself turning things down or just not auditioning at all because it's not the right fit for me. That's why YouTube and the ability to write my own stuff has been so great. I always try to make things that are smart and funny, largely because I think it's important for black women in media to be shown in diverse and authentic ways.
Could you describe a moment where you felt like you defied the odds or broke a barrier?
Honestly, every time I deal with harassment online (which at this point is almost daily) I feel like I'm defying the odds by continuing to exist in this space and talk about issues that matter. I've learned over the years that for many people a conscious, opinionated and self confident black women is an extreme threat. So just existing and continuing to share my voice and uplift others is groundbreaking because so many people don't want to see black women succeed. 
How did you grow into your black identity?
The internet has played such a huge role in shaping my blackness and social consciousness. I grew up going to predominately white schools and dealing with lots of microagressions and internalized racism that I didn't understand or have anyone to talk to about it. So when I started making videos I was able to put some of those experiences into sketches, not knowing they would resonate with other black people. After SWGSTBG I became friends with some incredible women on Tumblr who gave me all sorts of education that I'd missed growing up and so desperately needed.
Growing up, where did you look for inspiration? Who or what inspires you now?
Music has always been my favorite place to find inspiration. My favorite artist in high school was Lauryn Hill. From her music to her locs, I wanted to be all things Lauryn. Everything about her just radiated intelligence and confidence, both of which I severely lacked as a kid. I found her music to be really smart and empowering and at the time she was one of the few mainstream artists with natural hair (let a lone locs!) so she really inspired me to embrace and love myself without compromising my intelligence or my art.