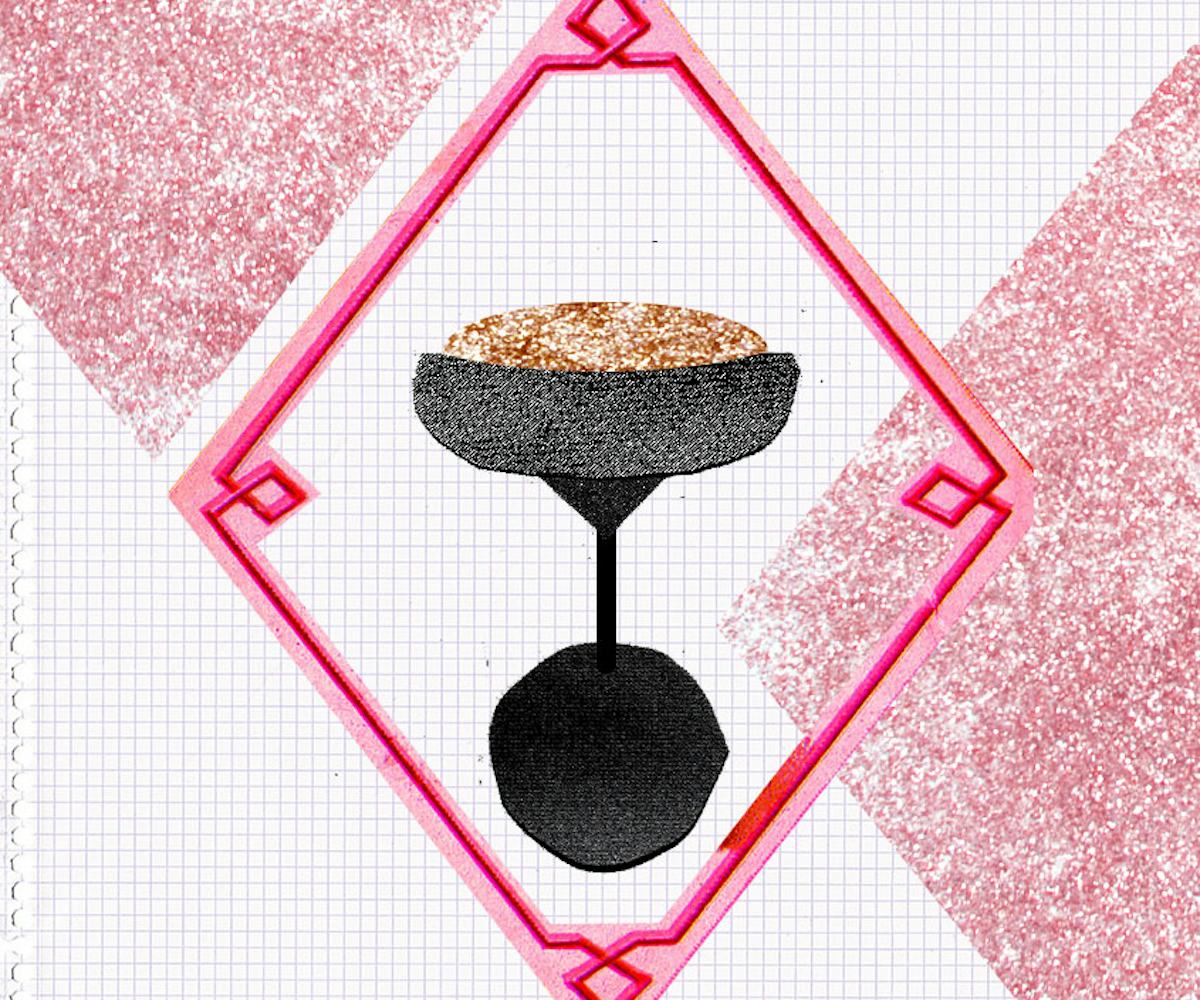 illustrations by liz riccardi
Fresh Holiday Cocktails for Your Inner Mixologist
because punch is so last year
When it comes to holiday boozing, we've all been brainwashed. Drinking this time of year either means dumping liquor into a hot beverage or pouring whatever's left in your cabinet into a punch bowl. Of course, there's good reason for this—these options are easy and don't force you to live in your kitchen shaking drinks for guests. But 'tis the season for generosity, and what's more charitable than mixing signature cocktails for your family and friends?
We pulled out our jiggers, shakers, bar spoons, and ice molds to craft a set of inventive drinks perfect for the holidays, whether you're entertaining a roomful of guests or just yourself during a Love Actually binge. While some of the libations ahead involve more time or a bit of technical skill, others simply require the ability to pour, measure, and stir or shake. No matter the method, they'll all conjure the spirit of the season—think of it as our gift to you.
The John McClane
This spirit-forward cocktail is like your favorite Christmas cookie in a glass—nutty, chocolatey, and rich, with a hint of cinnamon spice.
1 1/2 oz bourbon (I prefer Wild Turkey 81)
1/2 oz semi-dry sherry, like amontillado or manzanilla
1/2 oz cinnamon simple syrup (h/t Food & Wine)
Chocolate bitters
Brandied cherry for garnish
Add ingredients to rocks glass with ice and stir for 10 seconds. Garnish with brandied cherry.
Highland Nog
Not quite a real nog, this eggy cocktail (traditionally called a flip) is custardy, candy-ish, and somewhat floral drink. Think of it like a more adult version of a creamsicle, thanks to the Drambuie and orange-blossom water.
1 1/2 oz cognac
3/4 oz Drambuie
3 dashes orange blossom water
1 whole egg
Ground nutmeg for garnish
Add all ingredients to a cocktail shaker and whip vigorously to emulsify egg, about 5 seconds. Add ice and shake until tin feels cold, about 5 seconds. Strain into coupe or any sort of stemmed glass. Garnish with ground nutmeg.
Garnet Cocktail
While holiday cocktails tend to be heavy, dessert-inspired, or hot, this French 75 riff is refreshing and light—perfect for your (hopefully many) New Year's Eve toasts.
1 oz London dry gin
1/2 oz fresh lemon juice
1/2 oz black-tea honey syrup
Pomegranate seeds
Sparkling wine or Champagne
Add gin, lemon juice, syrup, about 10 pomegranate seeds, and ice to cocktail shaker, shaking vigorously until tin is cold, about 5 seconds. Strain into coupe or Champagne flute and top with sparkling wine. Garnish with pomegranate seeds.
Black-Tea Honey Syrup
1 c water
1 bag black tea, like English Breakfast
Scant cup honey
Boil water, add to heat-proof container, add tea bag and steep for 5 minutes. Remove tea bag and add honey, stirring to fully incorporate. Chill before use.
Upside-Down Hot Buttered Rum
Is there any holiday cocktail more classic than hot buttered rum? This version, inspired by pineapple upside-down cake, throws tradition out the window with the addition of pineapple juice and cherry whipped cream.
Makes 4
Hot Buttered Rum
1/4 c butter
3 tbsp brown sugar
1 1/2 c water
3/4 c unsweetened canned pineapple juice
2/3 c aged rum
Freshly ground nutmeg
Freshly ground cinnamon
Melt butter in medium saucepan over medium-high heat, stirring frequently until lightly browned and aromatic. Remove from burner, stir in brown sugar, and slowly add pineapple juice, water, and spices. Simmer for ten minutes, stirring frequently to reincorporate butter. Remove from heat and add rum. Divide into mugs and top with whipped cream.
Maraschino Cherry Whipped Cream
1/2 c heavy whipping cream
3 tbsp maraschino or brandied cherry juice
Electric-mixer method: In a medium mixing bowl, beat whipping cream until it's fluffy and forms soft peaks. Add cherry juice and mix slowly to incorporate.
Cocktail-shaker method: Add cream and a few tiny (about pea-size) pieces of ice to cocktail shaker. Shake vigorously until you can no longer hear ice, about 10 seconds. Add cherry juice and shake vigorously again, about 10 seconds.