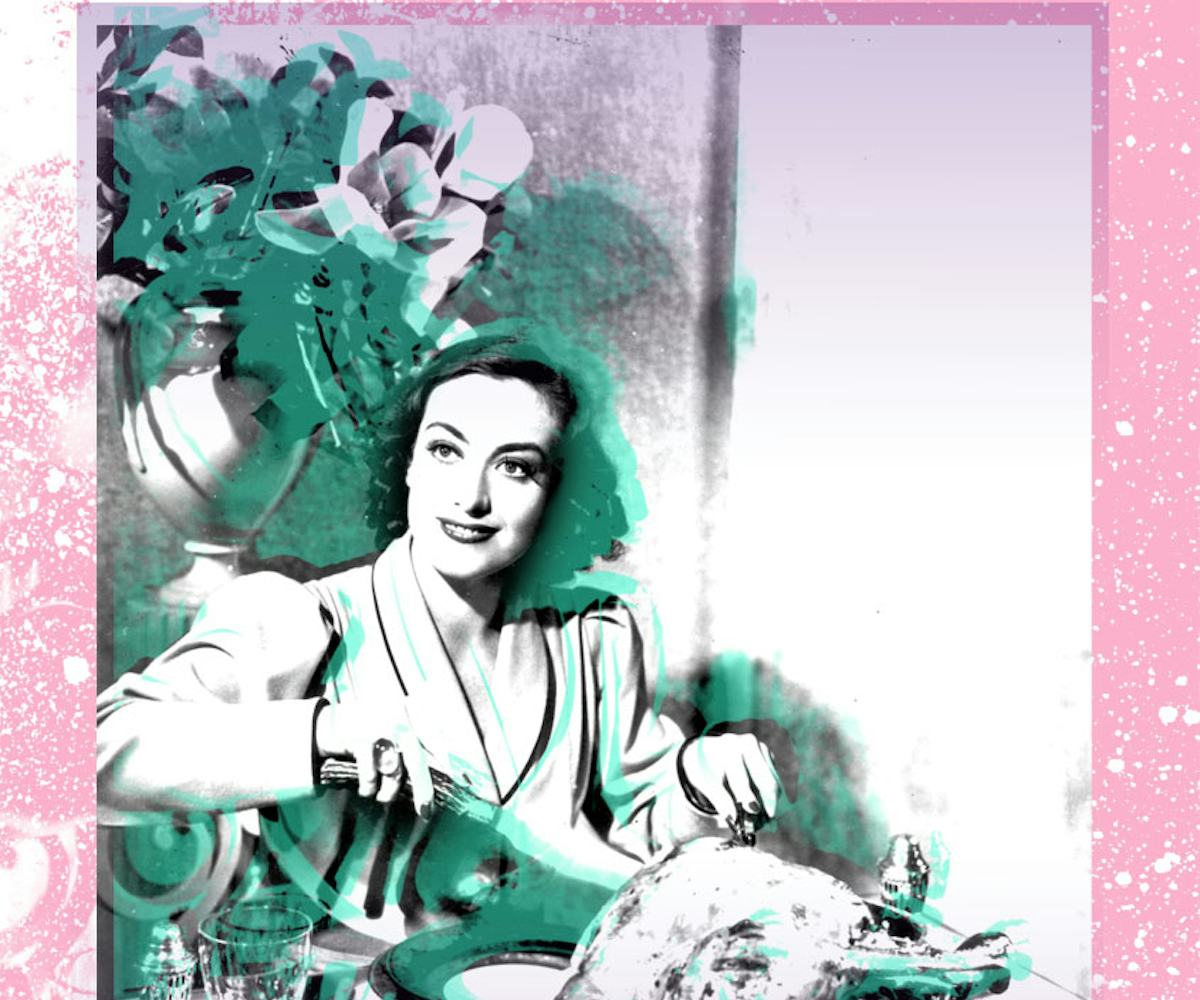 photo via getty images
how to have the ultimate friendsgiving dinner
With a bevy of craft beer, bottles of wine, a killer soundtrack, a massive meal of potluck sides, and a table full of good friends, you can take back Thanksgiving. No more prying aunts, strange acquaintances, and Montague-Capulet-esque family dramas—there's only one rule for Friendsgiving: stacks of sweet potato pie and barrels of stuffing must be consumed. So begin preparing for grocery store battle and read our tips and tricks from etiquette expert Diane Gottsman to have most epic Friendsgiving of all time.
Serve friend-friendly food. You may be down with eating anything and everything—from Cheez-Its to Irish Oatmeal—on Thanksgiving, but remember that your guests may not. Make sure to have some vegan-friendly, gluten-free, dairy and nut-free options at the ready. If you're hosting, ask guests if they have any dietary restrictions; if you're attending, ask your host if you can bring any specialty items.
Speaking of food, bring lots of it. Leftovers are a blessing.
Don't run out of water, wine, or ice. "Ask a friend if you can borrow an extra cooler to keep a couple of bags of ice and some spare bottles of water and wine. If you don't use it, you can save for later—it's better than being caught off guard."
Keep the heat down in the kitchen. "When you are planning on multiple guests in an often small space, there may not be a lot of room to cook a 20-pound bird. Rather than cooking a whole turkey, buy legs and breasts, and wings and cut down on cooking time, carving and the mess associated with the process. Not to mention the kitchen will stay cooler, and you will be less stressed if you don't have to worry about basting and overcooking your first turkey." Winner winner turkey dinner.
Who is responsible for the gravy? "The rule of thumb when it comes to etiquette: the person who invites pays and tips. They are also responsible for seasoning and cooking the turkey. They should also have first call on making the gravy compliment the main course." So keep the store-bought cans of gravy at home.
Add a little nostalgia to the table. "Keep in mind that a perfectly cut cylinder of cranberry jelly can bring back happy memories for even the most extravagant cook. Offer a can of cranberry sauce on a plate, with the lines from the sides of the can boldly visible just like it used to look at grandma's house."
Mix and match your china. "Scour the flea markets and garage sales for some great buys on pretty dishes and serving pieces. Go to thrift stores or check out dollar stores for some great deals on wine glasses and table pieces. Or, borrow what you need from your friends and family."
Learn how to properly set a table. Let the graphic below be your guide.
Kick it (literally) with a game of flag football. "Sharing a laugh with friends and not taking yourself so seriously is part of the fun of Friendsgiving. So what if you are a terrible runner and you don't know a football from a tennis ball?! What matters is spending quality time with friends."  
Play DJ. "Designate a person to come up with a playlist...Move the furniture or go out on the balcony and dance!"
Dress to the nines. "If it's an easy day of eating and shooting hoops in the driveway, jeans and a nice shirt would probably suffice for the guys and the girls would look great in a pair of jeans, sweater, and a pair of killer boots. If the Friendsgiving invitation was sent through the mail and it has 'dressy' or 'cocktail' as the noted attire, you need to step it up: a suit for guys and a sparkly dress for girls." Remember, Instagram is a thing.